A year ago I suggested that PDC Energy's (NASDAQ:PDCE) bull-run had further go (see PDC Energy: Why It Was Up 25%+ In 2015). Indeed - PDCE was up another 40% in 2016. But what now? Due to a recent and significant deal to pick up acreage in the Delaware Basin (and 7,000 boe/d of production), the bull will run into the Permian this year.
Let's check out some valuation metrics as of the end of Q3:
PDC Energy Valuation Metrics
| | PDC Energy |
| --- | --- |
| Stock Price | $76.06 |
| Market Cap | $4.4 Billion |
| Cash | $1.2 Billion (~$285 Million)* |
| Debt | $1.1 Billion (~$1.7 Billion)* |
| Net Debt | - (~$1.4 Billion) |
| Net Debt-to-EBITDAX | <2.5x* |
| Q3 Production | 65,263 boe/d |
| Q3 % Liquids | 63% |
| Proved Reserves | 273 Million boe |
| Proved Reserves/share | 5.6 boe/share |
Sources: Google Finance, Q3 EPS report, 2015 Annual Report, proved reserves as of year-end 2015. *pro forma to Delaware Basin deal - see below.
At the end of Q3, PDC Energy effectively had no debt and $100 million in cash (net). Production during Q3 was up 14% sequentially and 39% yoy. In addition to production growing at an impressive clip, LOE/boe also improved dramatically yoy (down 27%):

From an operational standpoint, the company continues to show strong results driven by its excellent Wattenberg leasehold. In the Wattenberg field, crude oil, natural gas, and NGLs production was up 18.6%, 49.8%, and 85.2%, respectively, yoy.
Meantime, the number of shares outstanding have grown from 40.1 million as of Q3 2015, to 48.8 million as of the most recent quarter. At the end of the day, and based on 2015 year-end proved reserves, that means shareholders own 5.6 boe/share or proved reserves. That is quite high as compared with companies like Newfield Exploration (NYSE:NFX) and Continental Resources (NYSE:CLR) - which come in at 2.5 and 3.3 boe/share, respectively (see STACK Showdown: Newfield Exp. Vs Continental Resources).
Permian Acquisitions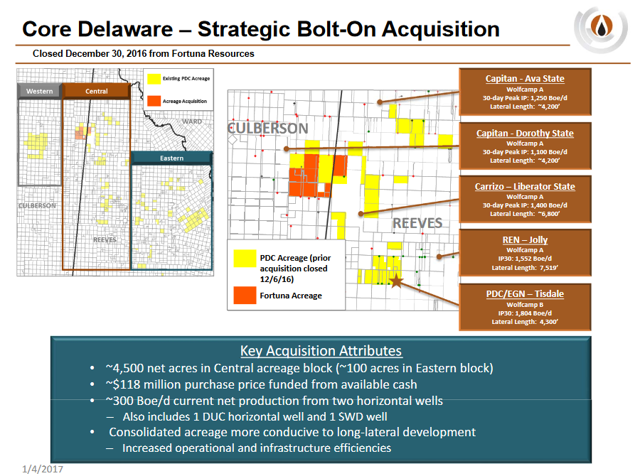 Yesterday, the company announced it had closed a deal to purchase ~4,500 net acres in the core Delaware Basin of the Permian for approximately $118 million in cash. This was a small bolt-on acquisition following the purchase of 57,000 net acres in the Delaware Basin for $1.5 billion which will add ~7,000 boe/d of production to the company.
To fund the big deal, PDCE issued approximately nine million shares for net proceeds of ~$560 million, issued $200 million of 1.125% convertible senior notes due 2021 and $400 million of 6.125% senior notes due 2024.
That would leave the company with an estimated $285 million in cash and $1.7 billion in debt for a net debt to EBITDAX ratio of <2.5x (pro forma).
If we consider the new shares, the proved reserves per share drops from 5.6 to 4.7 boe/share, but note that does not include proved reserves from the new Delaware acreage as that number was not yet available. However, with ~530 MMBoe of preliminary estimated net reserve potential based on a combined total of only 4-12 wells per section, it would be a safe assumption that over time the acquisition could potentially and conservatively add at least 50-70 million boe to the proved reserves column. That would equate to another estimated ~1 boe/share. In other words, the proved reserves per share will likely not change much - despite the newly issued shares - because the proved reserves should increase in-step with the share increase.
Summary and Conclusion
PDC Energy continues to perform very well on the backs of its excellent acreage position in the Wattenberg field. Production is growing at a fast clip while lease operating expenses per boe are falling significantly. The company's strong balance sheet enabled it to pick up some prime Permian Basin assets without stressing its financial foundation and is still in very solid shape with a pro-forma debt-to-EBITDAX estimated to be less than 2.5x. There is still value in these shares. So, as it has done for the last two years, PDE Energy should continue to outperform its peers during 2017.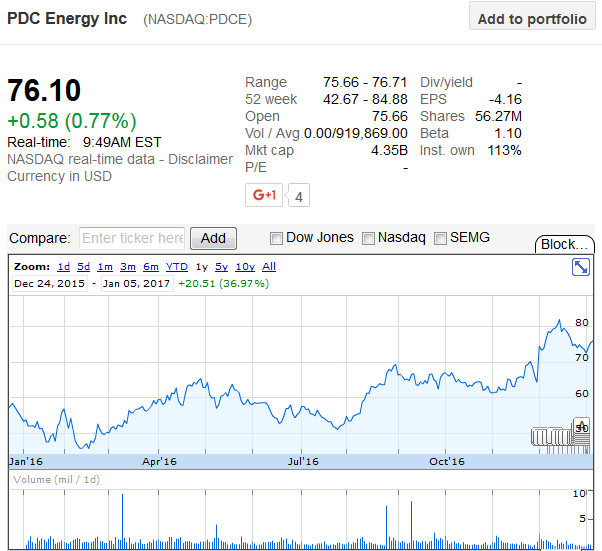 Disclaimer: I am an engineer, not a CFA. The information and data presented in this article were obtained from company documents and/or sources believed to be reliable, but have not been independently verified. Therefore, the author cannot guarantee their accuracy. Please do your own research and contact a qualified investment advisor. I am not responsible for investment decisions you make.
Disclosure: I/we have no positions in any stocks mentioned, and no plans to initiate any positions within the next 72 hours.
I wrote this article myself, and it expresses my own opinions. I am not receiving compensation for it (other than from Seeking Alpha). I have no business relationship with any company whose stock is mentioned in this article.