A couple of weeks ago, I wrote an article on gold (NYSEARCA:GLD), in which I said that the precious metal had touched oversold boundaries and some stability could be expected around $1,140. At the time of writing this article, gold is trading up 1.6 percent at $1,183.7 per ounce having established a short-term base close to $1,130. So, is it all glitter from here on out?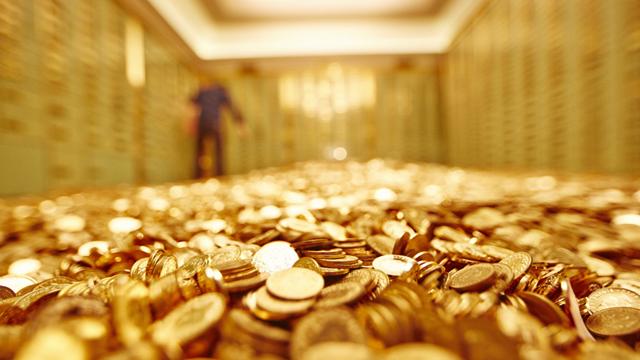 Source: Mining.com
Yesterday, I submitted an article on silver (NYSEARCA:SLV) wherein I concluded that investors can create small long positions at the current level since a bottom was effectively in place. Today, I do the same for gold and support it using technical analysis.
As one can see from the daily gold futures price chart below, it breached the 30-day SMA of $1,161.82 with a strong bullish candle. The commodity will now face stiff resistance from expected selling pressure near $1,200, which earlier acted as a crucial support. Calls of $1,200 as support are still etched in my mind, but probably too much faith was put into that. The 50-day simple moving average of $1,200.98 will pose additional stress on the commodity. But I am optimistic, and with adequate time and patience, the metal can cross this bear's mansion as well.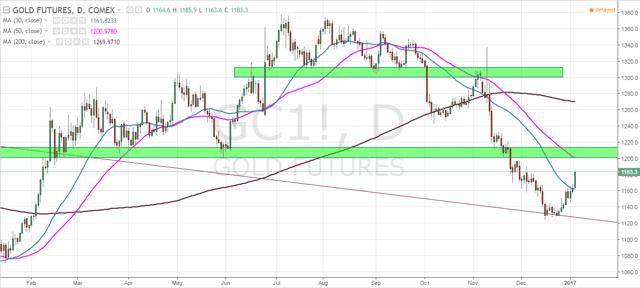 Source: TradingView
The reason I stress on the importance of gold piercing $1,200-1,220 is not unfounded. Gold has been trading in a classic lower-top, lower-bottom pattern since August, and it would mark the first time in many months that bulls actually show strength. They have been resilient, but not enough.
From the daily chart, it must be noticed that bulls attempted a similar rebound in October as well, only to be nullified by aggressive selling pressure following the election of Donald Trump. Even then, gold attempted to clear the resistance posed by the previous support of $1,300 (highlighted in the green rectangle). It is doing the same now, but the result is likely to be positive. If it fails to do so, then it runs the risk of violating the near-term cushion around $1,120 and witnesses steep losses.
Note: In technical analysis, according to the principle of polarity, a breached support becomes a resistance while a breached resistance becomes a support.
Another reason why I am slightly optimistic on gold is because the technical indications are improving on the weekly futures price chart as well.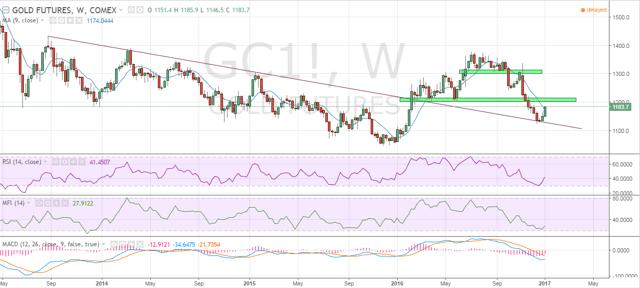 Source: TradingView
The bounce-back is supported by an improving 14-week RSI which had earlier dropped to oversold levels. As of this moment, the RSI value has jumped to 41.45.
The 14-week MFI is, however, still languishing closer to the oversold territory with a current value of 27.91.
Even though MACD is still negative at -34.6475, the histogram has begun reducing the losses. The value has improved from -21.8954 to -12.9121 in the last couple of weeks.
This is a stringent test for gold: To breach the crucial resistance zone of $1,200 with slightly improving technical indications. Can the bulls do that? Will the buying force be able to handle the bouts of profit-booking which may occur as gold nears the resistance? I am optimistic and I am patient. If you are as well, then do not book profits near the discussed resistance zone and ride this rebound which can last longer than many think.
Note: I cover several stocks in different sectors as well as S&P 500, crude oil, gold and silver, U.S. dollar, etc. So, if you liked this update, and would like to read more of such informative articles, please consider hitting the "Follow" button above. Thank you for reading!
Disclosure: I/we have no positions in any stocks mentioned, and no plans to initiate any positions within the next 72 hours.
I wrote this article myself, and it expresses my own opinions. I am not receiving compensation for it (other than from Seeking Alpha). I have no business relationship with any company whose stock is mentioned in this article.