I have always believed that there is a strong long-term correlation between copper price and world economic conditions. The below figure is very informative in this regard and shows copper's long-term correlations with different economic Indicators and other commodities.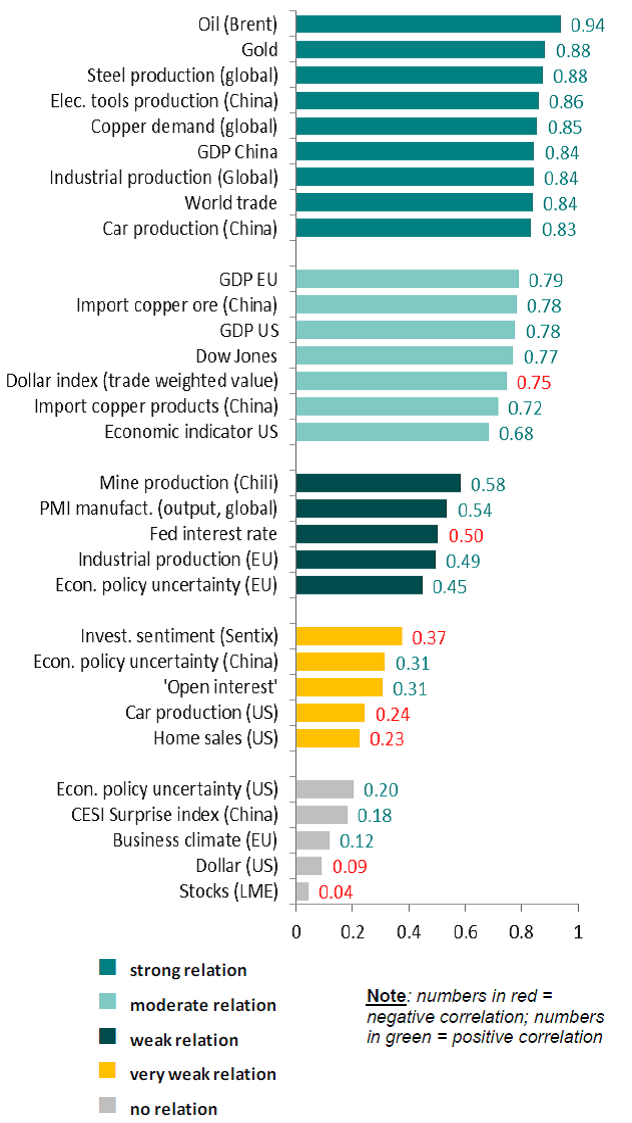 Source: insights.abnamro.nl
However, some analysts say that its correlation has dropped in recent years (see here and here). So to see what happened to copper correlation with world economic conditions I chose China GDP which, according to the above figure, has a strong correlation with copper (84%). Moreover, the above figure shows that Copper has moderate correlation with U.S. and EU GPDs, so I also studied the recent changes in their relations with copper to get to the big picture about the copper's relation with world economic conditions. The below figure shows the copper price and China, U.S. and EU GDP trends over the last five years.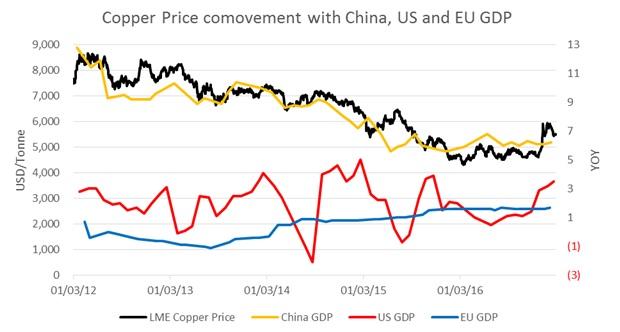 As you can see, Copper and China GDP are still moving together, and I think that is because China is the biggest consumer of commodities like copper. However, as the above figure shows, EU GDP and Copper price went opposite directions in the last five years. EU GDP rose back to the positive territory while copper price dropped dramatically in the same period. So I guess that in the recent years their correlations should be negative. Finally, it seems that announced U.S. GDPs have been too volatile to have a meaningful correlation with copper during this period. I also performed a correlation analysis to make sure that I came to the right conclusion. Table below shows the analysis of China, U.S. and EU GDPs correlations with Copper price (Probability less than 0.05 means the correlation is meaningful).

The above results justify my conclusion and show that Copper-China GDP correlation has remained strong (89%); however, there is no meaningful correlation between copper and U.S. GDP, and also Copper-EU GDP correlation has been negative in the last five years. so we can say that copper may not be a powerful indicator of the whole world economic conditions anymore, but it is still a powerful indicator for commodity-based economies like China.
But of course our conclusions may be correct in the long-term because we investigated the subject in a five year span. But there are some analysts who believe that copper is not only a powerful long-term indicator of world economic conditions, but also a powerful predictor of economic changes in the very short-term, and may even predict surprises that may change the world's economic outlook. For example, when I was browsing Seekingalpha and reading articles about copper I came across this interesting case: according to Andrew Hecht"It is interesting that copper predicted the election result as it broke out on November 7, the day before the citizens of the United States went to the polls. Dr. Copper has a habit of providing a prognosis for global economic conditions and when all of the polls and pundits predicted that President-elect Trump would lose the election, copper broke out to the upside in a sign that the candidate who campaigned on a platform of rebuilding the nation would be victorious".
So I thought to myself, wow this is huge. If copper is such a powerful sort-term predictor and can predict surprises like that, it would be a really powerful criteria for short-term investment decisions. So I investigated the copper price role in predicting China, U.S. and EU GDP announcements surprises (when the Actual announced GDP is deviated for Consensus) one day ahead of the announcement date, like what happened in the case of U.S. presidential election 2016. For instance, the below table shows the deviation (percentage change) of China Actual announced GDP from its Consensus. These kind of deviations also happen in the U.S. and EU GDP announcements.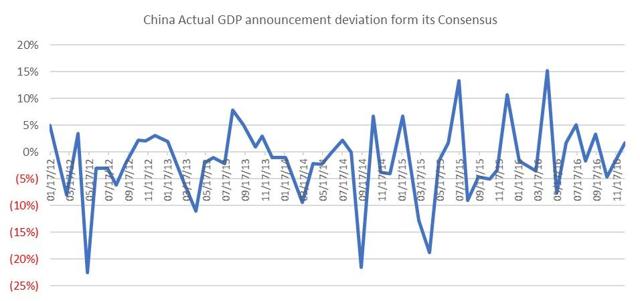 Source: FXStreet
Then I checked the copper price change one day before the GDP announcements to study the short-term predictive power of copper. My hypothesis was if copper is such a strong short-term predictor of economic surprises, when actual announced GDP is more than its consensus, copper price would appreciate one day ahead of that (and vice versa). In the below figure, China's announced GDP deviations from consensus are demonstrated by the blue line and copper price change directions are the yellow area. If the blue line is in the yellow area then copper has correctly predicted the surprises. But as you can see, it hasn't happened so often. I did the same for U.S. and EU GDP surprises and came to the same results.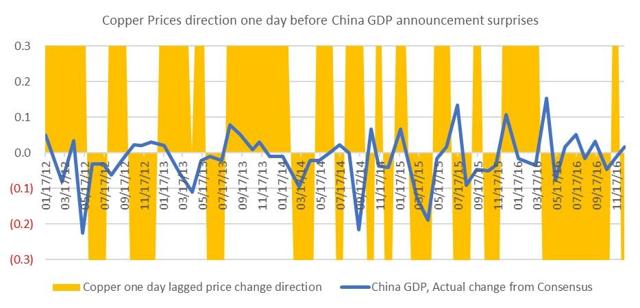 Moreover, to study their relation more precisely, I performed a correlation analysis (I modeled their relationship with more complicated methodologies but they all came to the same results so I will not bother you with the technicalities). The below table confirms that copper price is not a very powerful short-term predictor of China, U.S. and EU GDP surprises.

To sum up, I think that copper may not be the same powerful long-term indicator of world economic conditions because a lot of economies such as U.S. and EU countries are now less dependent on commodities and their economic growth drivers have changed over the time. However, commodity investors and analysts still can count on copper as a strong long-term reflector of the economic conditions in commodity-based economies like China. But investors should be careful and do not overestimate the copper power, especially in the short-term. We should not read too much into some news and take them as a rule. Based on my studies, copper price is not a very strong short-term predictor of economic surprises. So use copper price as a "Long-Term Indicator" for commodity-based economies, not as a "Short-Term Predictor".
Disclosure: I/we have no positions in any stocks mentioned, and no plans to initiate any positions within the next 72 hours.
I wrote this article myself, and it expresses my own opinions. I am not receiving compensation for it. I have no business relationship with any company whose stock is mentioned in this article.