It's a wrap. 2016 is now history. And what a year it was -- with twists and turns and lots of surprises. The U.K. voted to leave the European Union; Donald Trump won the U.S. presidency; the Fed hiked interest rates for only the second time in more than 10 years. And through it all, short-term volatility aside, most markets chugged higher -- some much higher. Domestic and emerging market stocks, for instance, all finished the year with double-digit gains.
The "January effect" misdirects: Some investors look to the market's performance in January for clues on how the year will potentially unfold. In 2016, this strategy backfired. As you may remember, last January saw a sharp downturn, yet the equity markets went on to recover their losses -- and more -- as oil prices recovered, central banks offered support, and economic data grew stronger. In the third quarter, in fact, the U.S. economy grew by a robust 3.5%.
Elsewhere, U.S. bonds struggled later in the year as investors reset their expectations for future inflation and interest rate levels.
Domestic equities
Moderate gains in December marked the end of a very strong year for U.S. stocks, especially small caps. Here's a look at the numbers.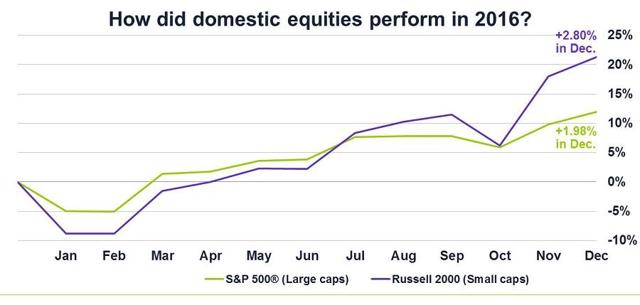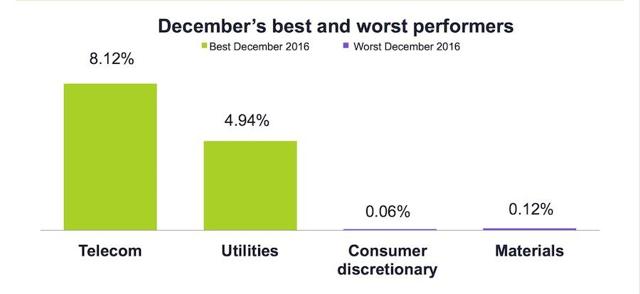 Source: Morningstar Direct
Because small caps conduct most of their business domestically, they continued to benefit from a sense among investors that U.S. growth might accelerate, as well as the perceived protection small companies may offer from a sustained rise in the U.S. dollar.
Among sectors, energy was the year's clear winner, rallying on a sharp recovery in the price of oil. (Crude has more than doubled from its mid-February lows.) Telecom also performed well, as stocks in the sector jumped on the potential for easier government approval of mergers and acquisitions.
In U.S. equity styles, there was significant divergence in 2016. Both value and growth were up, but the former went gangbusters, outpacing growth by more than 11 percentage points (18.40% vs. 7.39%). Value includes some of the biggest names in energy and telecom, as well as financials and other sectors that rallied on the year.
International equities
International stocks had a tumultuous year -- starting with weakness in China, continuing through Brexit, and more. Despite losing ground after the election, emerging markets were much stronger in 2016 than their counterparts from developed economies.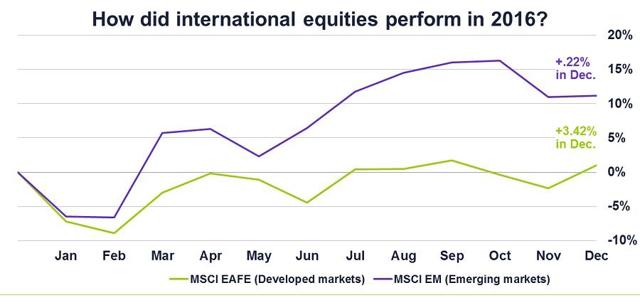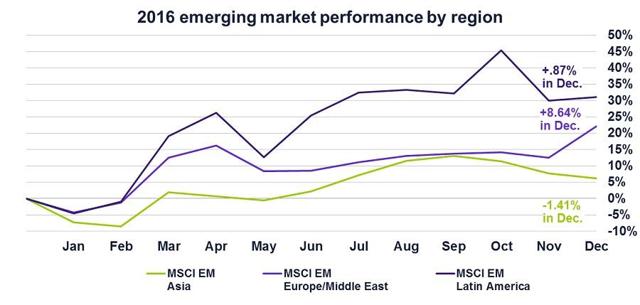 Source: Morningstar Direct
In emerging markets, Latin America won the year. Rebounding oil prices buoyed stocks in the region, as did political change in Brazil. And Russian equities (reflected in "Europe/Middle East" in the chart above) also moved sharply higher, likely due to oil prices and the expectation among some investors of greater cooperation between Washington and Moscow.
Fixed income
Domestic bonds ended the year on a weak note, most likely in response to Trump's win fueling inflation concerns, and the U.S. Fed telegraphing higher-than-expected rates for 2017. Even so, U.S. bonds posted positive returns for the year.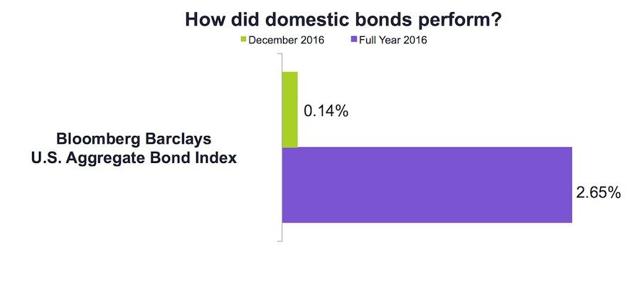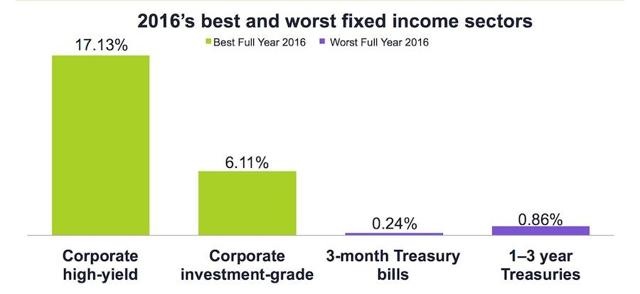 Source: Morningstar Direct
Among fixed income sectors in 2016, corporate high-yield bonds stole the show. They tend to be highly correlated with U.S. stocks, which rallied sharply. In addition, because a meaningful number of energy companies issue high-yield debt, high-yield bonds may have benefited from oil price gains.
The bottom line
Despite all of the surprises, it was a very good year for many markets. But unlike other recent periods, there were wide, sometimes even dramatic differences in the performance of various asset classes. For instance:
There was the huge performance gap in 2016 between U.S. growth and value stocks (more than 11 percentage points), and between developed and emerging markets (more than 10 percentage points).
In fixed income, in a year when the broad investment-grade market posted gains of 2.65%, corporate high-yield bonds crushed it, beating the average by more than 14 points.
The moral of the story, in our view, is that broad diversification is essential to long-term investing. While some pieces of an investor's portfolio might be soft for extended periods, others may shine. The performance of the overall portfolio matters most, not its individual segments.
As the new year gets underway, here are a few ideas to keep in mind:
Build a diversified portfolio (if you haven't already).
Don't forget international equities. They can provide a welcome counterbalance to domestic equities and bonds. Plus, even though developed international markets have been weak for quite some time, they could be ripe for a rebound.
Review your portfolio and rebalance as necessary. The start of the new year can be a great time to "kick the tires" on a portfolio. Investors who regularly review their portfolio can proactively determine if their allocations still align with their personal investment goals and objectives. If there are holdings that have strayed too far from their target weights, making a few adjustments may help bring things back in line. And tax on any gains incurred early this year would typically not be due until 2018.
Disclosure: I/we have no positions in any stocks mentioned, and no plans to initiate any positions within the next 72 hours.
I wrote this article myself, and it expresses my own opinions. I am not receiving compensation for it. I have no business relationship with any company whose stock is mentioned in this article.