Despite a protracted downturn in the agricultural sector, Deere & Company (NYSE:DE) has been one of the better-performing stocks recently. Perhaps the most surprising thing is that its share price has little correlation with that of corn. They have essentially moved in opposite directions, despite the fact that sales have consistently declined. Important questions pertain to prospects for future revenues, in contrast to ongoing expense cuts.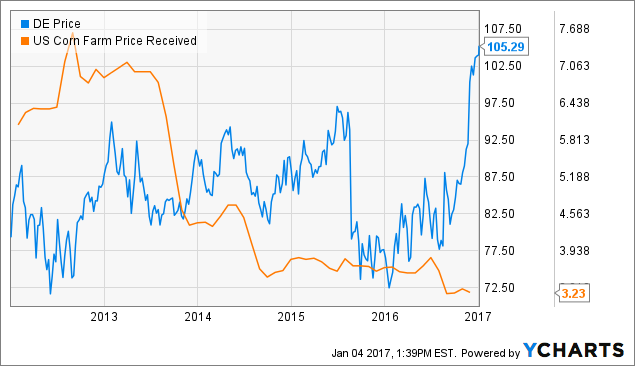 If you are buying the stock here or unwilling to sell, chances are that you have the underlying perspective that the "cycle" is going to turn. There is a notion that some farms stagnate for several years in a row, and then there is a drought, ethanol mandate, or other occurrence that sends corn way up so that farmers spend on Deere's equipment. In the down years, which have been ongoing, crop insurance and subsidies help everyone to get by.
Virtually everyone following the stock knows what is going on. There is no surprise that sales are down after each and every earnings report. Further, most people are aware that a lot of farms have newer tractors and that the company leases products:
lending essentially steals sales from the future. All else being equal, that means fewer customers in coming years.
Investors know of competition from Agco (NYSE:AGCO), CNH Industrial (NYSE:CNHI) and perhaps Kubota (OTCPK:KUBTY). The Case Optum 270 sounds formidable.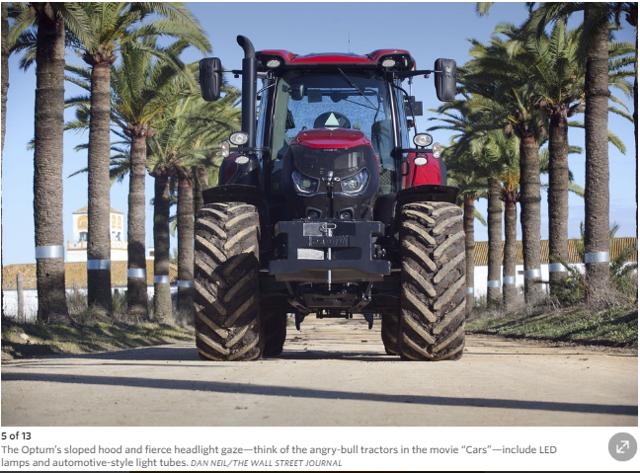 Further, investors are probably aware that sales might let up in Brazil because of the Tier 3 emissions process. Even if grain prices are substantially higher in 2017, it would be surprising to witness resurgent demand for Deere's farm products.
So, it seems, a most important matter is to value the stock in anticipation of a future cyclical trough. According to past research by UBS, Deere has had a trough PE multiple of 24x. Despite the technical high, the shares remain below that valuation. If you apply 24x to the $5.17 consensus for next year, then it can make sense that the stock would trade as high as $124!
Again, sales might falter even with a recovery of commodities. Under such a scenario, savings on expenses are needed to maintain earnings. Material costs are perhaps one means. However, upon observing further decline in shareholders' equity, from $6,743 to $6,520, the main difference is an increase in retirement benefits and other liabilities. Another method of managing the downturn is by eliminating employees.
In the past the stock has declined upon the announcement of a job cut. This is not to say that any future press release describing worker severance presents substantial downside to investors. Information pertaining to a reduction in manpower would then signal questioning about the near-term "bottom" perspective. The stock might just dip lower. Under the assumption that sales should eventually recover, it could easily be a buying opportunity.
However, if there are future analyst statements that, pursuant to discussion with management, they are upgrading the stock or increasing estimates, it may telegraph that no layoffs are coming.
Issues pertaining to Deere sales are known. Even if the stock trades down upon a future announcement of job cuts, persons might maintain the perspective that the market will eventually pay 24x corporate results - in 2018 or after. Others might be wary of a better deal on an Optum 270 and peak earnings that are a thing of the past.
Disclosure: I/we have no positions in any stocks mentioned, but may initiate a short position in DE over the next 72 hours. I wrote this article myself, and it expresses my own opinions. I am not receiving compensation for it (other than from Seeking Alpha). I have no business relationship with any company whose stock is mentioned in this article.