Goldman Sachs put many Internet stocks on its conviction buy list for fiscal-year 2017. Giants such as Alphabet (NASDAQ:GOOG) (NASDAQ:GOOGL), Pandora (NYSE:P), and PayPal (NASDAQ:PYPL) headlined the list with Amazon (NASDAQ:AMZN) joining in the upgrade. While analyst expectations are low for the Internet companies, Goldman is projecting that these companies will prove to be more valuable than currently perceived. Goldman's Heath Terry, who rates all of the aforementioned companies a Buy, stated that:
"We expect Internet stocks to outperform the broader market in 2017 as strong growth, particularly in e-commerce, high rates of return and relatively attractive valuations are partly offset by an expected increase in equity issuance and margin pressures in some segments, most notably travel."
F.A.N.G. stocks, Facebook (NASDAQ:FB), Amazon, Netflix (NASDAQ:NFLX), and Alphabet, all look to start 2017 with a bang. While F.A.N.G. stocks are poised to grow for another year, Amazon is already making moves in line with Goldman's predictions. Stay long on Amazon as its 2017 product line, acquisitions, and production growth will surely result in a profitable year.
After an exceptional 2015 where Amazon realized 118% growth, 2016 brought a modest 11% rise. Nonetheless, AMZN performed better than the other F.A.N.G. members. In Wall Street Breakfast yesterday morning, it was reported that Amazon is expanding its production outlets in Florida. Subsequently, it is hiring 1,000 more workers. Per Seeking Alpha, "that brings the company's announced footprint in Jacksonville to a total of 2,500 employees and more than 4,000 full-time staff in the Sunshine State." While this may seem minor to some investors, this move helps to expand Amazon's production lines throughout the United States.
Fulfillment centers are what allow Amazon to ship products at such fast speeds. Shipping and handling take only two days for my fellow Prime subscribers. With over 100 of these centers around the globe and counting, it becomes harder for any competitors to even attempt to match Amazon's scale. As Amazon pushes further into Florida, its competitive advantage moat continues to grow.
This new expansion comes days after Amazon's monster holiday season where the retailer held on to over 50% of U.S. e-commerce sales. Consumers are beginning to demonstrate stronger tendencies to shop online, and without any formidable competition, Amazon is likely to take a bulk of those profits. As this trend continues, Amazon will continue to grow. This is further displayed by the increase in Prime membership. Because Amazon does not publicly disclose its Prime membership statistics, we look to experts. John Blackledge of Cowen and Company "estimates there are 49 million existing Amazon Prime members, comprising 44 percent of homes nationwide." As that figure approaches 50% and beyond, the network effect of Prime will be very compelling. CEO Jeff Bezos would like to eventually make it "irresponsible" for a household to not be subscribed to Prime. Investors hope that this pressure exerts itself in 2017 to drive down the currently enormous PEG ratio of the firm, which is currently at 4.8.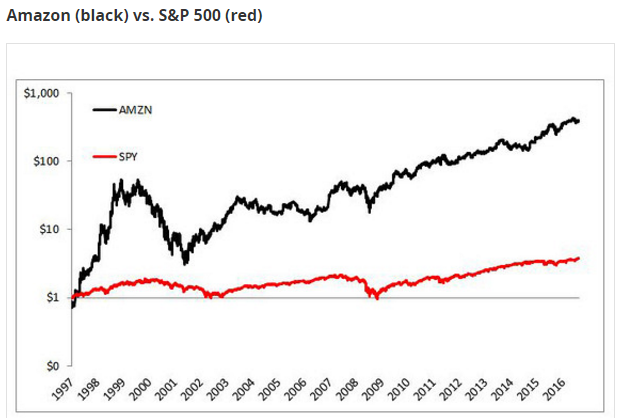 Source: MarketWatch
Since its IPO in 1997, Amazon has returned 38,155%. Compared to the S&P Index, Amazon has performed about 100 times better. While it is not cheap to hold a position in Amazon, the expansion of e-commerce as well as new developments in Alexa, Prime, and Amazon Video make the retailer a compelling option.
Amazon, currently selling at $758.30, has a P/E ratio of 172. Historically, Amazon has held a P/E of around 500 even though stocks in the S&P index remain between 15 and 20. Don't allow the high cost of Amazon to lure you away from the stock. With an impressive set of potential revenue streams in 2017 and quiet competition, this stock is still valuable.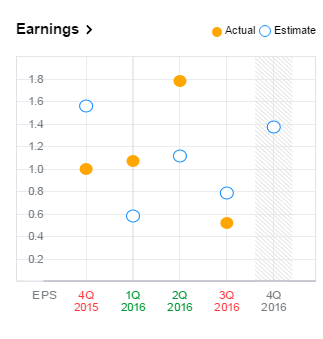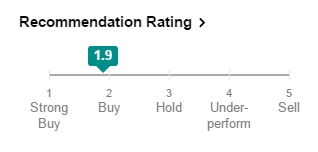 Source: Yahoo Finance
Amazon has delivered inconsistent earnings over the past few quarters, but analysts are projecting a better performance when it releases earnings in February. Price targets currently average around $929.00 for the next 52 weeks, representing a vote of confidence for the company. Analysts, on average, are also recommending to buy Amazon despite its costly price.
New Global Opportunities
In unique news, Amazon reported possibly challenging Nike (NYSE:NKE), Under Armour (NYSE:UAA), and Lululemon (NASDAQ:LULU) in the line of athletic clothing. The company currently owns seven unique brands that it markets, but is hoping to spend 2017 expanding into the athletic and leisure industry. Current brands include the names Franklin & Freeman, James & Erin, Lark & Ro, and Society New York. These brands compete with the pricing and style of H&M (OTCPK:HNNMY) and Urban Outfitters (NASDAQ:URBN). Currently, the marketplace is searching for passionate apparel brands that it can market to the athletic community. If this plan leads to another fashion acquisition, Amazon's shares in the apparel market could jump to 14% by 2020 (from 5% in 2014). As Eugene Kim of Business Insider writes, "Amazon's focus on clothing will add at least $0.25 in EPS by as early as next year." As apparel is a fragmented industry that is fairly perfectly competitive, barriers to entry will be of no issue to the big market retailer. With Macy's (NYSE:M) about to cut 10,000 jobs and 100 stores in the coming months, Amazon has an opportunity to gain footing in the highly lucrative apparel industry.
Further, AMZN announced a drive-up grocery store that will allegedly soon hit Seattle. Amazon Go, the working title, automatically detects what products are taken or returned to the shelves and places them in a virtual shopping cart. Using the same technology as that found in a smart car, Amazon is modeling its services with the latest innovation. It plans to open its first store in Seattle in early 2017 as an experiment for product continuation. Just Walk Out Shopping and Amazon Go could be available in time for your next holiday meals, and if so, investors should hop on the stock early. If this becomes the retail trend for 2017 and beyond, Amazon will surely reap most of the profits.
While you may have heard recently that Amazon's Alexa might aid in a murder case, the digital assistant is making moves opposite of the perceived legal direction. Now Amazon is allowing Prime customers to order food via Alexa and Amazon Restaurants. This new idea marks a progression in CEO Jeff Bezos's goal to eventually make it irresponsible to not have a Prime membership. If Alexa and Prime can help make the little things easier, like ordering food, this market trend could catch on in 2017.
It is important to look at these opportunities as investments for Amazon. The 2016 holiday season was the best-ever period for Amazon as the Echo Dot, the Fire TV stick/tablet, and the Amazon Echo piled up as Christmas presents across the globe. In the grand scheme of Amazon's stock, the company has truly failed to disappoint. And going forward, the product line of AMZN reminds us that it is on the frontline of innovation. In 2016, the stock returned 16% compared to the S&P's 12%. Although the firm missed earnings expectations in the past quarter, analysts project a target price over 100 points greater than the firm is currently selling. After all this news was publicized today, the stock has risen 19 points (2.61%) as it is. Investors would be wise to hop on the Amazon train before the market bakes in its value in its price.
As more and more sellers begin to use Amazon as a marketplace, its network effect in the e-commerce industry continues to grow. Sellers using Amazon production centers grew 70% in the last year. With more fulfillment centers popping up over the United States and new innovative opportunities in line for the coming year, do not expect the giant to go anywhere anytime soon. Go long on Amazon as it opens the new year in full stride.
Update: Sears (NASDAQ:SHLD), Kmart, and Macy's among retailers to close down hundreds of shops in 2017. Competition is slimming for Amazon in the retail market.
Disclosure: I/we have no positions in any stocks mentioned, and no plans to initiate any positions within the next 72 hours.
I wrote this article myself, and it expresses my own opinions. I am not receiving compensation for it (other than from Seeking Alpha). I have no business relationship with any company whose stock is mentioned in this article.