There are still a couple of potential "Mungers" in US Banks
I've always found questions about underlying investment philosophy to be tricky. The task I set myself (basically selling assets for more than I paid) can just about be stretched to embrace entry and exit levels within a value and risk matrix, but doesn't extend to a "philosophy" in itself.
Favorite investment quotations are another one: how can the task of investing be captured adequately in a couple of sentences in quotation marks? So often, they fall in the true but useless category and it doesn't help after a bad experience to hear pearls of wisdom from wealthy investor who started when growth was structurally that much higher and industry penetration rates were all so much lower.
However, I came across this little gem from Charlie Munger that struck me as (1) true and (2) adequate in capturing why the discretionary investment industry is under so much pressure on the one hand and why individual investors have such a great opportunity.
Here it is:
"It's not given to human beings to have such talent that they can just know everything about everything all the time. But it is given to human beings who work hard at it, who look and sift the world for a mispriced bet, that they can occasionally find one."
With no disrespect to the great man, "looking for a Munger" should become a mantra for individual investors seeking to build wealth long term.
Of course, there's little that is "occasional" about discretionary fund managers' expectations of finding misplaced bets. The message they give their own clients, and that their own clients very often want to hear about, is how they are going to achieve their fund's objectives (namely alpha, whichever definition is being used) in quite a near term time frame. It actually doesn't have that much to do with "investing" at all as most of us would understand it.
Some of you will disagree with this - perhaps even a few professional PMs can weigh in and say they have patient investors and long term mandates that allow for exactly the "occasional" opportunity described by Munger as what human beings should realistically aim for. However I think we all know that the issue of client impatience, which is really a quality of capital issue, is often a big one for human beings engaged in the business of trying to think clearly while investing other peoples' money. Incidentally, this isn't a swipe at the clients. They have their pressures too, and presumably invested in their managers on the back of well articulated reward expectations.
So, in search of a mispriced bet, how are US Bank PEs looking on this particular Friday?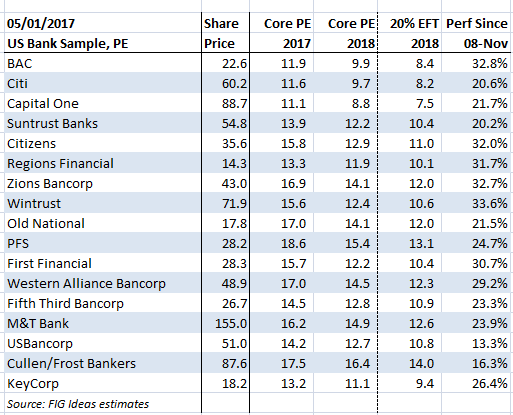 In this sample of the US bank coverage at FIG ideas, I can't find that many that would qualify as a "misplaced bet", except perhaps the global banks at the top of the list, Bank of America (NYSE:BAC) and Citi (NYSE:C). Those low valuations reflect their business mix (capital markets and geography in Citi) and their SIFI status, which puts them in the sharp end of capital and compliance constraints, while some will point to derivatives books as an unquantifiable risk dragging on values. Still, all that was there back in February when BAC traded under $12. I think that Citi's capital distribution capacity and BAC's capacity and intent of improving its operating leverage are undervalued by the market here. Perhaps it is a just question of delivery and therefore time.
Outside of these names, I would emphasize the banks around 12-13x 2018E as relatively attractive, and my bet would be at least one of them steps on the gas if Trump does provide a period of inflationary growth in which banks should do well. Do they qualify as one of those "occasionally mispriced" investments we might find? not so much. Still, the difference in value between that group of banks and the likes of PFS and CFR seems to be to be something worth thinking about and watching the development of.
Disclosure: I/we have no positions in any stocks mentioned, and no plans to initiate any positions within the next 72 hours.
I wrote this article myself, and it expresses my own opinions. I am not receiving compensation for it (other than from Seeking Alpha). I have no business relationship with any company whose stock is mentioned in this article.