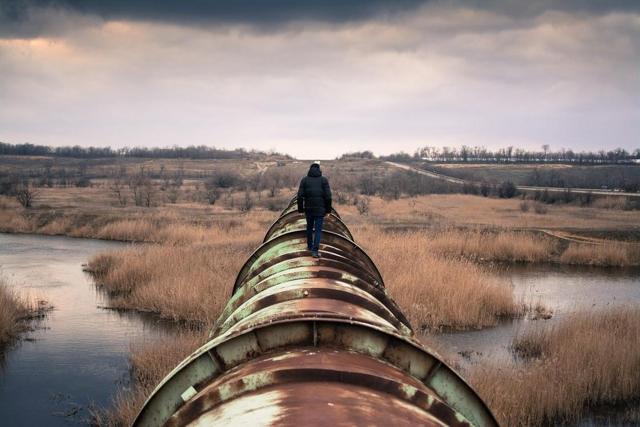 source: Stock Photo
There are a number of reasons behind Saudi Arabia pushing so hard to secure a production cut deal with OPEC and others. In this article I want to focus on what is probably the primary reason for it doing so, with the caveat there are so many variables involved that will undermine the effort, it's not going to do much to change the desired goal of supporting the price of oil by significantly working down inventory levels around the world.
That said, the Saudi had to make the attempt in order to buy time for market demand to climb, which will sustainably support the price of oil once it catches up with supply, and in the case of exports, find new markets now that it's been losing share in the largest market in the world.
When you consider Saudi Arabia pumps out more than 10 million barrels per day, adding a few dollars to the price of oil is a major coup for it, even if it only lasts for a few months. That will allow it to retain more of its capital reserves while it transitions from a monoculture economy to one with more diverse revenue streams.
Along with trying to temporarily prop up the price of oil, Saudi Arabia is also scrambling to find new markets as its share in the U.S. market continues to decline. To that end it has focused mostly on Eastern Europe and Asia for oil export growth.
With a Trump presidency that wants to further eliminate reliance on foreign oil, it is likely Saudi Arabia will experience a further loss of share at a potentially rapid rate, as U.S. shale and Canadian oil producers do most of the heavy domestic oil lifting in the near future; Canada has already made huge strides in that regard, now accounting for about 43 percent of all imports. A lot of that is coming at the expense of Saudi Arabia and OPEC.
At the end of 2015 Saudi Arabia's share in the U.S. market had dropped to 14.3 percent, with OPEC's overall share plunging to 36.3 percent. The embargo in 1973 sealed the doom of OPEC when the cartel imposed an embargo on Western nations which resulted in a lot of economic pain.
source: EIA via GoldSeek
Rise of Canadian oil
There has been a lot of negative news coming out of the oil industry in Canada, primarily from the high costs of extracting oil from Canadian sands, which has resulted in a lot of major players abandoning the play.
That hasn't stopped the U.S. from acquiring a lot of oil from Canada though, and from the push for more pipeline capability by both nations, it's obvious the U.S. wants to buy even more of its oil from Canada, which should increase its share even as U.S. shale producers provide more oil for the needs of the U.S. market.
To give an idea of how quickly Canadian oil has become vital to U.S. interests, it has soared from 16.1 share in 2005 to the 43 percent share it enjoys today. With a Trump administration, which is very favorable to oil, there is a strong chance more oil will come from North American sources than ever before. That is good news for Canada, but bad news for Saudi Arabia and other OPEC producers.
If Trump ends up reversing the decision by Obama concerning the Keystone XL pipeline, Canada's share of U.S. imports will continue to grow at the expense of Saudi Arabia and OPEC. The impact will be determined by how quickly the process is put into action.
I believe Saudi Arabia sees the handwriting on the wall, and is one of the reasons it unexplainably changed its mind concerning engaging in a production cut. It had clearly stated many times in the past it didn't have an answer to the emergence of U.S. shale production, so obviously nothing has changed there, which means something else was a catalyst pressuring the Saudi to change their minds.
While I see there being several catalysts involved with that, the biggest one, alongside the U.S. shale industry, is the transition to importing as much oil as the nation needs from Canada. In other words, Saudi Arabia and OPEC are losing share quickly in the largest oil market in the world, and making the production cuts may be reflecting that more than an actual attempt to support oil prices.
What I'm saying is OPEC is probably struggling to find export outlets for some of its oil, and making the cut could be masking that probability.
Two strong Canadian companies to consider
With some of the volatility of the Canadian oil market because of higher costs and political uncertainty, I'm looking at companies that have a good foundation in the Canadian sands to work from, and my favorites in that regard are Suncor Energy (NYSE:SU) and Cenovus Energy (NYSE:CVE).
Both CEOs have stated they aren't scrambling to divest of any more assets, suggesting a stabilization of the market and the outlook for the companies. The energy needs of the U.S. aren't going to stop growing, and with the emphasis on safe and predictable energy sources, it doesn't get much better, outside of domestic production, than Canada, even with its socialist Prime Minister.
My question is how protectionist is Trump going to get, and what it'll mean when he opens up a lot more federal land for energy development. In the short term I don't see any problems in regard to Suncor or Cenovus, but further out it'll depend upon the time it takes to develop those assets for the domestic market.
As for the companies themselves, they both came off good quarters, and that is likely to continue over the next year.
Suncor grew cash flow by 15 percent above market expectations, while Cenovus already achieved its goal of cutting costs by about $500 million in 2016. Suncor appears to be more susceptible to a negative impact if the price of oil plummets, while Cenovus, because of its cost cuts, could outperform if the price of oil dips again.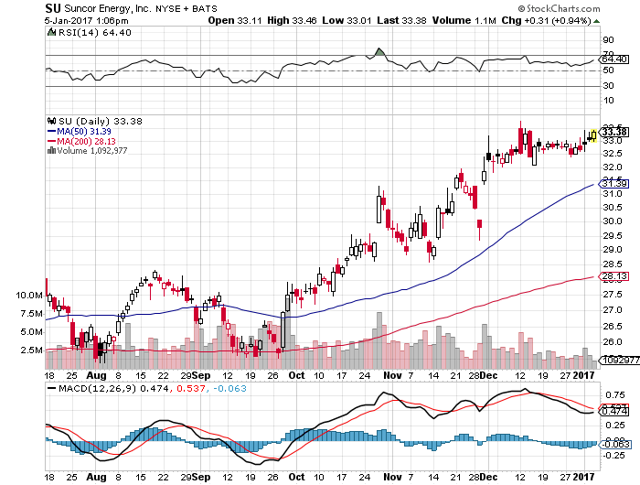 source: StockCharts.com
Suncor has stated it will use more capital to support its dividend and buy back shares, while Cenovus will continue to develop its existing assets, but do so at a "more modest pace."
These and other Canadian companies will continue to enjoy the benefits of the transition away from reliance on OPEC for U.S. energy demand.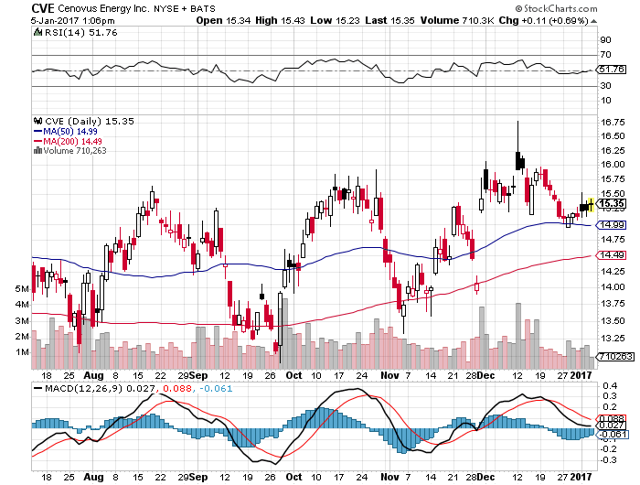 source: StockCharts.com
The U.S. shale export factor
Another key challenge for OPEC and Saudi Arabia is the removal of laws concerning the exporting of U.S. oil by shale producers. Now that they are allowed to compete on a global basis, it further adds to the problems afflicting OPEC.
It'll take some time to increase exports meaningfully from the U.S. because of the restrictions associated with the size of the ports, which force companies like BP (NYSE:BP) to load and unload more times as it has to use smaller tankers to transport it from the smaller ports to larger tankers waiting to make the longer voyages. Another factor is the orders themselves, which require in some cases for the tankers to split its cargo and load it on ships heading to different markets.
As these logistics are improved and solved, U.S. oil will become more competitive and available to the global market, which will put further pressure on OPEC, which when it competes directly against U.S. energy companies, aren't nearly as good as they are.
This is evident from the attempt to crush and slow down the U.S. shale industry as it rose to compete against OPEC and others. The result was a vast improvement in efficiencies and productivity, which lowered costs and improved production levels. This is a key reason why they can now compete at a much lower price point for oil than even a couple of years ago.
Not only is domestic U.S. production reducing dependence on oil from Saudi Arabia, it is going one step further and getting ready to flood the market with exports of its own, which will put OPEC and Saudi Arabia on the defensive.
All the volatility of the Middle East in particular, and the unreliability of energy imported from the region, has positioned U.S. oil as a very reliable and desirable source of oil. All that remains to be done is for the methodology to be worked out before it really takes off. It's one of the reasons BP looks very good in the years ahead, as it's the leader at this time in working out the most efficient way of transporting U.S. oil to other markets.
Conclusion
I believe Saudi Arabia specifically entered into a production cut deal because it is losing market share in the world, and also because domestically it had entered into a slowdown in demand from cooler temperatures. It really isn't giving up much if anything at this time, and during the 6-month period of alleged cut in output, it won't lose much if anything in revenue, as it is building up its other refined products to make up for whatever revenue it loses from the loss of exports.
This is why the decision to cut by the Saudi wasn't that hard. It only had to be couched in terms that made it look like it's based upon the same reasons as in the past, when in fact it's because U.S. shale has become the new swing producer, and the Saudi are being forced to develop other petroleum-based products in order to make up for the loss of export share to the U.S., and to compete better once the U.S. enters the global export market.
While there is the additional benefit of temporary support for the price of oil that all competitors are benefiting from, it's not the real reason behind the production cut deal. This is all about North American oil taking a lot more market share, led by U.S. production and backed up by Canadian oil that can be imported for domestic use, while the U.S. shale industry ramps up production and starts taking market share away from all its competitors in the years ahead.
Disclosure: I/we have no positions in any stocks mentioned, and no plans to initiate any positions within the next 72 hours.
I wrote this article myself, and it expresses my own opinions. I am not receiving compensation for it (other than from Seeking Alpha). I have no business relationship with any company whose stock is mentioned in this article.