On December 30 we published an article highlighting how Synergy Pharmaceuticals (NASDAQ:SGYP) prospects were better than ever. With recent two positive phase 3 results for Plecatanide for IBS-C and a PDUFA date of January 29, 2017 for the CIC indication on Plecatanide, Synergy is no longer a purely speculative play but rather it's transitioning into becoming a rapidly growing GI biotech play. Shares have rallied over 30% since the positive test results. Today we want to give to our followers a trade that will provide 32.8% in downside protection before any losses happen and the potential to make up to 9.8% during the next 43 days as long as the stock doesn't losses more than 23% in value. We are very passionate about capital conservation so we always like giving followers trades that will reduce their risk while providing compelling returns.
Before the trade
We will use options to make this trade so before you try doing this trade make sure your account is allowed to trade options. If you aren't allowed call your brokerage account customer service and ask them for help to let you use options in your account. Also on your first trade you should consider using a broker to guide you through the process.
Options, if used correctly can help significantly mitigate risk. Don't let the word "options" scare you.
The Trade
We are going to take advantage of February's high implied volatility on Synergy's options currently sitting at 142.54%. This means that much movement is expected between now and February 17, 2017 when the options expire.
The reason for this volatility is the FDA January 27, 2017 event where the FDA will decide whether to approve or not Plecatanide for CIC. If approved we expect the shares to rally and if not we expect the shares to fall though not so much thanks to the positive tests for IBS-C.
As mentioned on our previous article we expect strong resistance for the shares at the $10 area and strong support at the $4.50 area.
So we recommend investors to sell February 17, 2017 puts with a strike price of $5 for a total premium of $.45 per share ($45 per contract sold).
What's Happening
You are agreeing to a counterparty to buy 100 shares of Synergy Pharmaceuticals for $5 a piece should the stock close below $5 on February 17, 2017 for every contract you sell. In exchange for that risk you are taking you will receive $45 dollars in premium for every contract sold. Taking into account the cost of every share at $5 dollars minus the premium you are receiving your break even price for this trade is at $4.55. Below that price you will be sitting on paper loses. If you are interested on other trades for the pharmaceutical industry
The Risk
Should the stock fall below $5 dollars on February 17, $500 will be taken out of your account and 100 shares will be deposited into your account. Then you could immediately sell the shares, wait for the shares to go higher, or sell premium against your shares. Regardless of the outcome we will provide our readers with an update to their trade.
If the stock were to raise significantly higher then your maximum profit to the upside is limited to the $45 premium per contract that you received. (9.8%)
Why we like this trade
We like using options because you don't have to be 100% right on your trade. If you were to buy shares at $6.55 right now and the shares were to drop to $5.01 by February 17. You would already be sitting on 23% losses. With this trade if the stock would close at $5.01 on February 17 you would be sitting on a profit of 9.8% (excluding trading fees.) If the stock were to drop to $4.55 you would be sitting on 32.8% losses, on our trade you would break even. Here's a screenshot with a summary of the trade.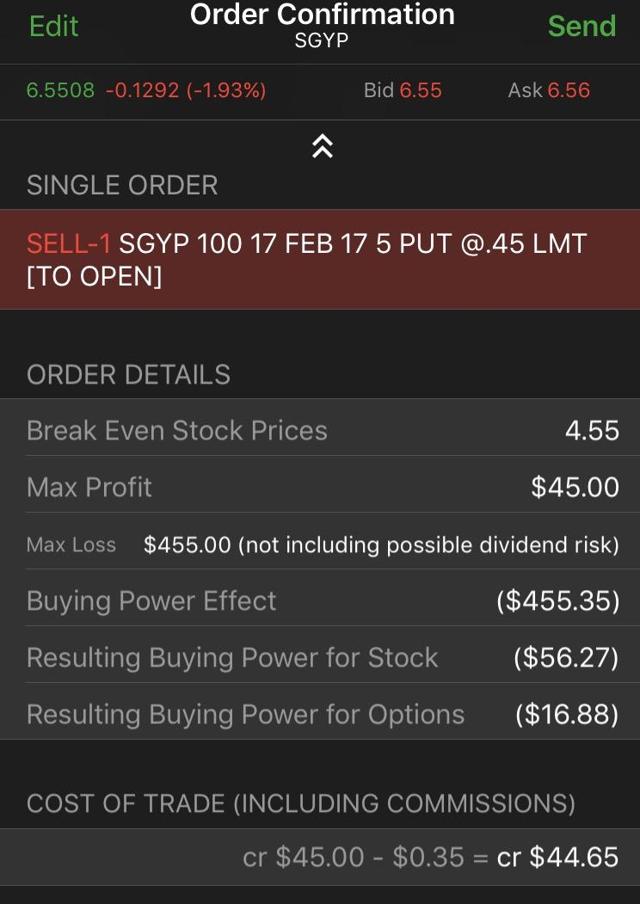 Conclusion
Selling puts allows you to collect premium on the stocks you like with downside protection in exchange of the "risk" of owning what you already like at a better price. In this case we would like owning 100 shares of Synergy at $4.55 a lot better than owning them at $6.55. For more trade ideas look at our recent article describing an up to 73% profit potential on Valeant Pharmaceuticals (NYSE:VRX).
Disclosure: I am/we are long VRX, AGN, CELG.
I wrote this article myself, and it expresses my own opinions. I am not receiving compensation for it (other than from Seeking Alpha). I have no business relationship with any company whose stock is mentioned in this article.
Additional disclosure: Options prices change on a daily basis. The profit percentages on this trade can change at any moment due to price swings. Make due diligence on your own before placing any trade.