The end of the year is a bit arbitrary for a lot of investments - especially if you have a multi-year or multi-decade investing time horizon - but it's still a nice chance to "check in" and see how pricing bids bounced around.
Today, I'd like to look at the performance of the Dividend Aristocrats - companies that have not only paid but also increased their respective payouts for 25 consecutive years. For this article, I'll highlight the same 47 names that I presented around this time last year.
The idea will not necessarily be to find a trend and it's definitely not about haphazardly coming up with an investment thesis based on this information. We all know that past results do not dictate future performance. Instead, this is merely a reference point for the year that was, with some useful reminders mixed in. Let's begin.
Performance alone doesn't tell you much (and indeed, it can be correctly argued that a one-year performance record is much too short) so you'd also like to know what a comparable but passive investment vehicle would have looked like. The SDPR S&P 500 ETF (NYSEARCA:SPY) generated a return of 11.8% last year, while the ProShares Aristocrats ETF (BATS:NOBL) generated an 11.6% return. Those will be our sorting baselines.
Unsurprisingly, roughly half of the Aristocrats were above these marks and the other half were below. Here's a look at the 23 names that were above: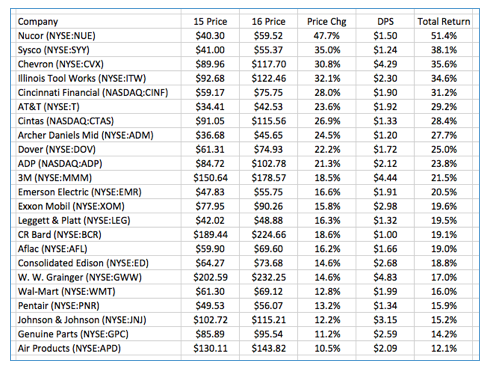 These types of returns represent true wealth building. Some of them would be quite solid for five years, much less one. The interesting part to me, which we'll get to in a moment, is that some of the best performers this year were some of the worst last year. Nucor (NYSE:NUE) and Chevron (NYSE:CVX) were both down 14% last year, and this year, the securities have seen gains of 51% and 35%, respectively.
It's interesting to me because of the artificial timing we place on certain time periods - in this case, a year. If I were to tell you that Chevron's share price was up 7% during the last two years, this probably wouldn't be seen as out of the ordinary. Yet the way in which it occurred - down double-digits first, then up even greater double-digits later - captures the volatility idea that is everyday pricing bids.
Here's a look at the 24 Aristocrats with 2016 investment performance of less than 11.6%: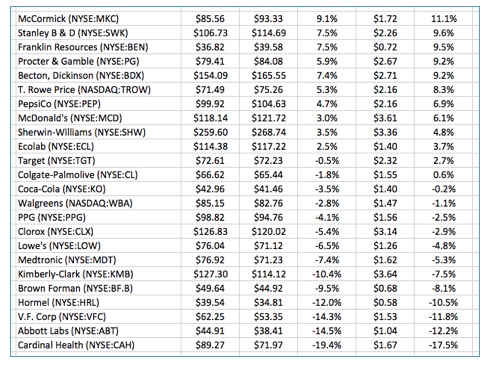 Taking the two tables collectively, you have 2016 returns (including dividends) ranging from negative 18% all the way up to 51%. It's easy to talk about nice and smooth 7% or 10% annual return assumptions, but you need to recognize the reality. Over time, these types of compound average gains are certainly conceivable. However, in the short term, the range of returns is going to be a whole lot more erratic.
I'm not trying to "back-test" anything, but for curiosity sake, it can be interesting to review how the "best" and "worst" performers of 2015 turned out in 2016. Here's a look at the "best:"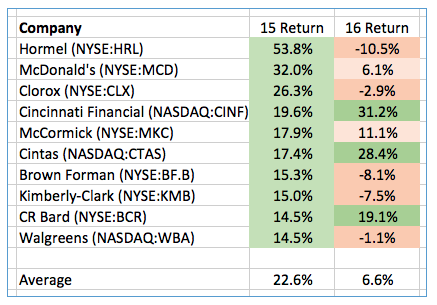 The middle column shows the top 10 performers, including dividends, for 2015. There were some spectacular gains in a short amount of time, including Hormel (NYSE:HRL), McDonald's (NYSE:MCD) and Clorox (NYSE:CLX) all generating 25%+ gains for the year. For a small company, it's conceivable that this type of growth could continue (perhaps not infinitely realistic, but conceivable). For multi-billion dollar companies, it's still conceivable, but I'd contend that a "valuation reality check" is much more likely. When you're already in the multi-billions, few investments continuously grow to the sky.
And this is what happened to some degree in 2016. Notably, there were three of the top 10 from 2015 that actually turned in better performance: Cincinnati Financial (NASDAQ:CINF), Cintas (NASDAQ:CTAS) and C. R. Bard (NYSE:BCR). This is a good thing to keep in mind: just because you suspect a security has gone "too far, too fast" does not mean it's so. Personally, I would be even more cautious when I saw something like this, but there's nothing preventing those securities from trading ever higher, at least for a while.
Aside from those three, the other seven securities turned in marginal to lackluster results in the aggregate. The top 10 of 2015 went from an average return of 22.6% down to 6.6% - and if you excluded the three outperformers mentioned previously, the average turns negative.
I like to keep the above table in mind as a nice lesson. We all know that past performance does not dictate future results, but I think there's an even better takeaway. Not only does it not indicate future results, there could actually be a "carry-through effect" or valuation drag that ultimately acts as a counterpoint.
We can see this play out to an even greater degree if we look at the "worst" performers of 2015: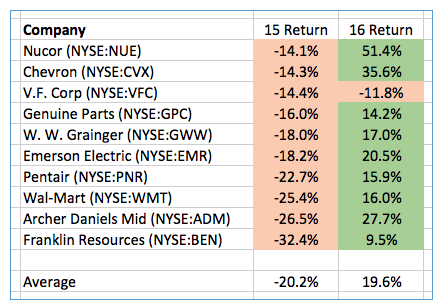 This table is instructive in the opposite way. The previous numbers hinted at the adage: "trees don't grow to the sky." For this one, I'd advocate something along the lines of: "there's no need for perpetual doom and gloom."
In nine of the 10 instances, the "worst" performing securities of 2015 turned in double-digit gains for 2016 - there was a tremendous bounce-back effect. Granted we're dealing with exceptional businesses, but that's sort of the point. While it may feel like say Wal-Mart (NYSE:WMT) or Emerson Electric (NYSE:EMR) are going down "forever", the reality is quite different. With an ultimately improving business and growing dividend, eventually, the share price rebounds to reflect this. So it should not be surprising that lower short-term prices often lead to much higher prices in periods to come.
The lone exception in the table above was V.F. Corp. (NYSE:VFC), which I'd more or less chalk up to valuation (it can be dangerous to point to a single factor, but the gist is right). Shares of V.F. Corp. went from trading around 24 times adjusted earnings in 2014 down to 20 times earnings by the end of 2015 and now sit around 17 times earnings. The historical norm has been in the mid-teens, so you had a moderate uptick in earnings paired with what you could describe as "valuation burn off" - or getting back to a range of reasonableness.
It doesn't have to work out on a set time schedule - a year is very arbitrary - but the fact that you eventually saw share prices rebound should not be surprising.
We can look at it another way. 30 of the 47 securities saw total gains in 2016 that were better than the gains generated in 2015. However, the distribution was certainly not equal.
Here's a look at the top 24 securities of 2015 (as measured by total gains) along with their respective returns in 2016: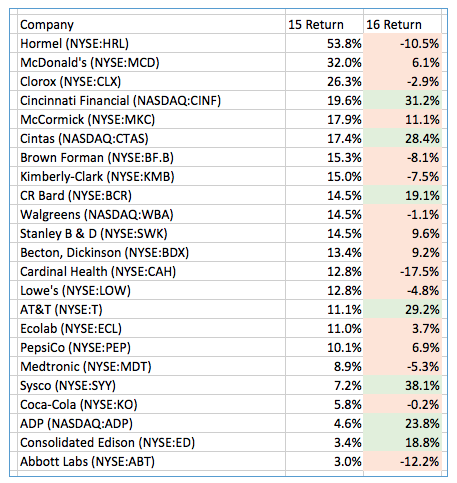 Just seven of the 24 securities saw better performance in 2016 as compared to 2015. This highlights the "trees don't grow to the sky" idea mentioned above. There are notable exceptions: Cintas or AT&T (NYSE:T) and Sysco (NYSE:SYY). Yet in the aggregate, you can see that it can be difficult to repeat a robust return year after year.
Here's a look at the bottom 23 securities as measured by 2015's total gains: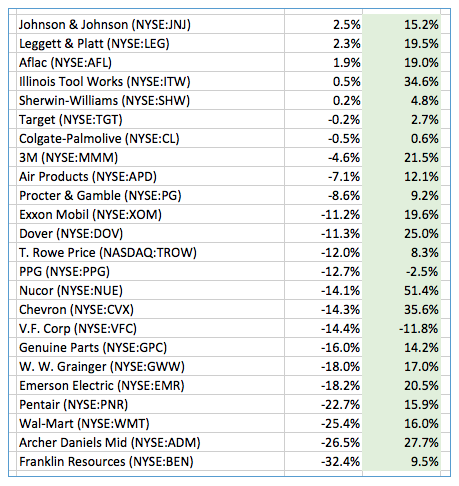 In opposition to the previous table, 23 of these 23 securities generated performance in 2016 that was better than 2015. Naturally, this doesn't always have to hold - a year like 2008 comes around and you may not see any performance that ousts the previous year. The point is that this shouldn't be surprising. The top-half of performers of 2015 turned in average returns of about 7% in 2016 against an average gain of about 16% in 2016 for the bottom performers in the prior year.
While it might be tempting to think "doom and gloom" when you see say Exxon Mobil (NYSE:XOM) or Genuine Parts (NYSE:GPC) fall by double-digits, the reality is that eventually prices work themselves out.
My goal here is not to develop an investable thesis. Someone could look at the above and think, "ah, I'll take a contrarian approach and invest in the worst performers, a la the Dogs of Dow or something of the sort." There's a lot of problems with that. For one thing, the data, just two years here, is very limited. For another, there are a lot of factors that prevent this from being a science - a security can outperform or underperform for years and there are business and outside aspects that have a lot of influence.
The takeaway is twofold. For one thing, it's a point of reference. Instead of blindly taking this as the last step, I like to use it as the first step. For instance, you could see that V.F. Corp. has generated negative double-digit returns the last two years. Yet when you get into it, you may realize that the valuation simply went from relatively high to more or less reasonable. The point is to create a baseline for further investigation, not treat it as an absolute.
The second takeaway is that it provides a bit of "real life" experience for the anecdotes you hear. We all hear that "trees don't grow to the sky" but watching a security that returned 25% or 50% in the previous year fall this year cements that notion. Likewise, seeing a security that was down 25% last year jump more than that this year reminds you that "doom and gloom" doesn't last forever (especially in the aggregate with very profitable and successful businesses).
In effect, the above should remind you to become neither too optimistic nor pessimistic about security pricing. Moreover, it ought to be instructive to see how the pricing bids ebb and flow over the years. A lot of people have this nice, constant growth rate in mind. Over decades that often turns out to be the result, but in the interim, you're apt to see a whole lot of volatility. This isn't the important part, the key is recognizing this, staying the course and bringing a logical framework to the investing table.
Disclosure: I am/we are long CVX, T, XOM, JNJ, PG, PEP, MCD, KO, CAH.
I wrote this article myself, and it expresses my own opinions. I am not receiving compensation for it (other than from Seeking Alpha). I have no business relationship with any company whose stock is mentioned in this article.