Shares of Kohl's (NYSE:KSS) are getting hammered Thursday, 1/5, after putting up ugly November/December comp numbers despite a strong consumer backdrop. The poor performance is concerning, and the sell-off feels largely warranted. Even at this price, we do not think shares of KSS are attractively valued, and think investors looking to buy can afford to wait for lower prices.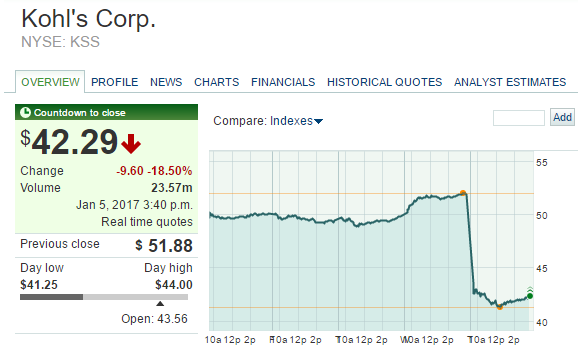 (Source: MarketWatch)
The biggest concern is that there have been plenty of reports of strong consumer spending, yet KSS still underperformed expectations. That makes it somewhat difficult for KSS to play off macro-retail headwinds because some of the most common recent excuses (weather and political uncertainty) are no longer all that relevant. Rather, there is a clear transformation in the retail landscape, and KSS appears to be one of the retailers struggling to adapt.
All that said, comps weren't that bad, falling in the LSD range. Sales so far this year are down less than 3%, so the topline isn't reeling. Gross margins are contracting, but only 20-30 basis points on the year. Operating margins are contracting more significantly, but that is due to impairments, store-closing, and other costs, which shouldn't necessarily repeat in future years. Cash flow remains healthy, and the company sports a healthy dividend and continues to buyback shares.
Our take is the situation isn't that bad, but it won't get much better. Sales will likely continue to fall in the LSD range, but at a slowing rate given brick-and-mortar isn't going away completely, and we think annual sales look pretty stable around $18.5B. Gross margins will remain under pressure as the competitive discounting environment continues thanks to the growing e-commerce presence, but some SG&A leverage thanks to strict expense control should partially offset the gross margin contraction. We think operating margins should be able to stabilize around 6.5%, so that is annual operating income of around $1.2B. Taking out roughly $350m in interest expense, we get to $850m in annual pre-tax income. A 35% tax rate brings net income to just north of $550m, or about $3.10 per share. We think that is sort of a stable level for EPS with upside driven by share buybacks, a lower tax rate under Trump, a rebound in brick and mortar traffic, and other big box department store closures.
A $42 stock implies 13-14x in what we see as stable EPS in our base case, and that isn't terribly attractive considering the leverage on the balance sheet and the no-growth situation of the company. We think investors looking to "buy the dip" can afford to wait for lower prices or look for better bargains elsewhere in retail, which is reeling across the board in trading on Thursday, 1/5.
Disclosure: I/we have no positions in any stocks mentioned, and no plans to initiate any positions within the next 72 hours. I wrote this article myself, and it expresses my own opinions. I am not receiving compensation for it (other than from Seeking Alpha). I have no business relationship with any company whose stock is mentioned in this article.