Home Depot Inc. (NYSE:HD) has long been a reliable and solid investment. Over the past five years, HD stock has shot up 240% compared to 80% for the S&P 500.
It would've seemed like 2016 was primed to continue that trend. The company's earnings and revenues so far in 2016 have been encouraging. Both earnings per share and revenues have outperformed year over year for the first three quarters. However, Home Depot stock is up less than 4% year to date.
A reason for concern? No. More like an opportunity for those looking to add a quality long-term holding like HD stock to their portfolios.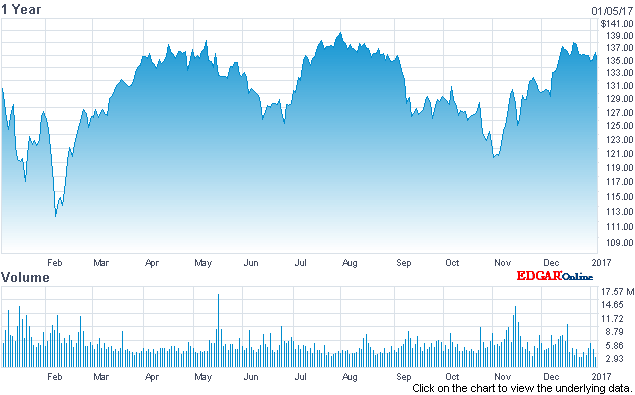 This creates an opportunity as the successes of the year have yet to translate into stock value.
-In the first half of the year, the firm has engaged in stock buybacks of $2.4 billion. This is a nice return to shareholders; as well as an aid to increasing diluted earnings per share for the third quarter by 18% year over year.
-Dividends are growing at a nice rate, which is likely to continue in 2017 considering the large sales growth and operating cash flow. While 2% is by no means the best dividend out there, the 140% growth over the past 5 years is a welcomed thing.
-The potential return to shareholders is enticing. Housing markets could create further incentive for spending on homes. The sheer number of standing homes vs. the time and expense of building have shifted the housing recovery toward revamping/flipping existing buildings.
-This spending for remodeling and repair work on homes has been projected at over $300 billion this year; while the number of occupied listings (percentage wise) has hit record lows. Basically, people are choosing to fix up their current dwellings as opposed to moving. The fact that 65% of homes are over 30 years old also helps spur the desire for updating. Cue Home Depot.
Outperforming the competition and the future
This year's success has carried the firm well above competitor Lowe's (NYSE:LOW) in regards to performance. In fact, it's not a short-term trend. Home Depot has been outperforming Lowe's in sales growth and profitability for quite a few years now.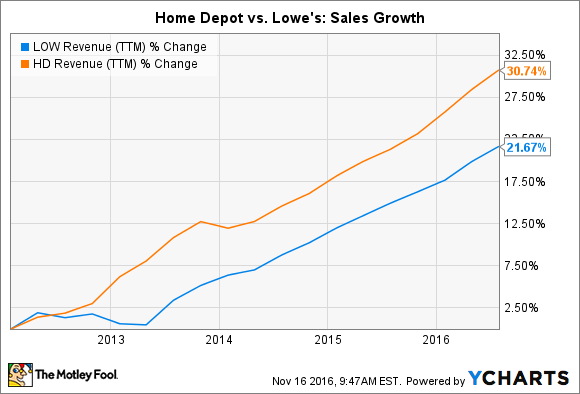 (Source)
Moving forward, management seems confident in their ability to gobble up more market share. They cite growth being fairly even paced across departments, as well as geographically diverse. Buoyed by an eCommerce revamp, what was a fledgling online presence has grown into a viable business competitor to players like Amazon (Nasdaq:AMZN). Home Depot's online business grew sales by 17%. In short, the business is growing everywhere.
Watch closely for a pullback
It's worth noting that now is not necessarily the best time to buy. Home Depot cycles up and down. Based on history, a $10 pullback from current levels is when you would want to get your hands on some.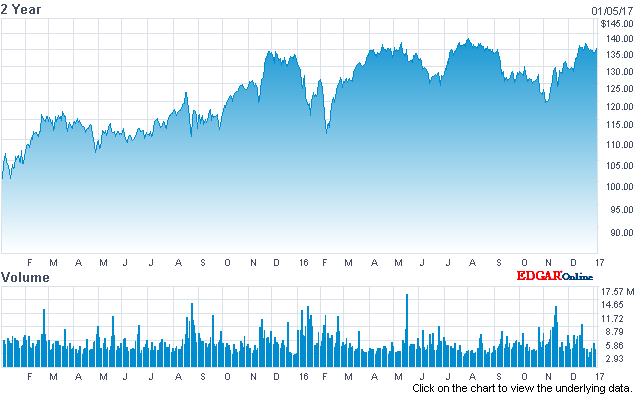 The pattern may be beginning, as the stock is hitting resistance after rallying off its earnings.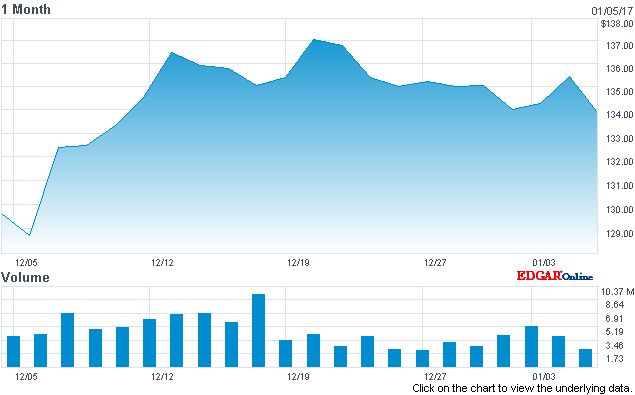 If you reference the charts above, we've seen this pattern more than once this year. Home Depot climbs to heights in the $130s and falls back to $125. This should be the target range. Upside above $135 will require another catalyst. That will require a strong end of the year; something we won't find out about until the end of February. In the mean time, momentum will likely falter. That will be the moment to get a position before the next results.
The 4th quarter tends to be one of the weakest due to the cold weather. Last year's winter was milder and results were decent. Estimates have this year doing even better. While the first half of the 2016-2017 winter is expected to be colder than average, overall temperatures could be warmer. Oh global warming, you really scare me sometimes. This could in turn drive February 21st's earnings results in the right direction.
Despite the successful growth that Home Depot has accomplished this year, the stock market has largely ignored it until recently. This opens it up as a real opportunity. The stock is volatile, even during the good times. There should surely be opportunities to get in under $130 if not lower. That buy-in point would also provide a better P/E (opening up that value I'm talking about) and dividend yield for a long-term position.
Disclosure: I/we have no positions in any stocks mentioned, and no plans to initiate any positions within the next 72 hours.
I wrote this article myself, and it expresses my own opinions. I am not receiving compensation for it (other than from Seeking Alpha). I have no business relationship with any company whose stock is mentioned in this article.