In terms of revenue, TE Connectivity (NYSE:TEL) finished fiscal 2016 virtually at the same level as 2007. The unchanged top line number hides the many changes that has occurred in its business in the past decade.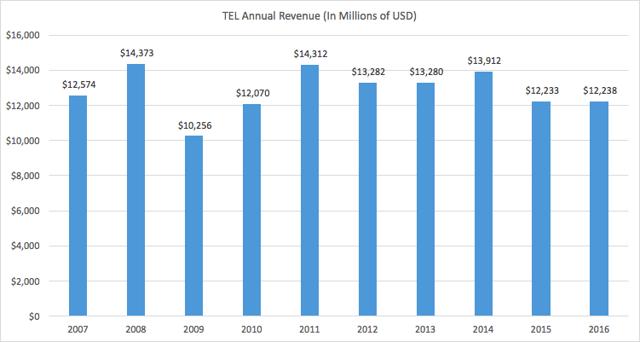 Exhibit: TE Connectivity Annual Revenue (Source: Company Filings)
TE Connectivity brings a strong application solution focus to its business lines rather than a focus on a specific industry, like automotives. That focus can be summed up by the phrase "Harsh Environment". The company focuses on bringing connectivity and sensor solutions to market for environments that are the most demanding. These are environments where failure is not an option, and so, the highest quality, reliability and performance are essential.
Gross Margins Stood at 33% in 2016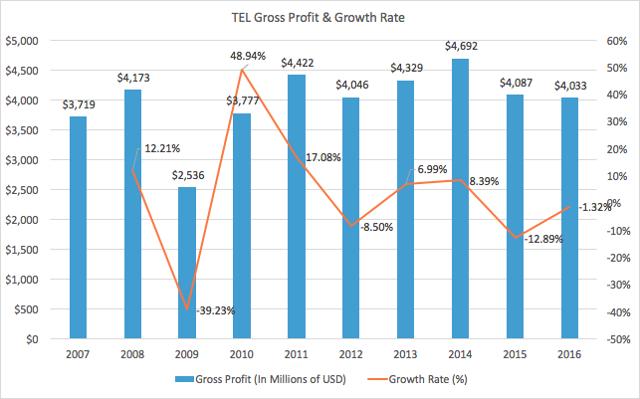 Exhibit: TE Connectivity Gross Profit & Growth Rate (Source: Company Filings)
Increased Reliance on Automotive Sector
Over the past decade, TE Connectivity has increased its share of revenue in the automotive sector from 27% in 2007 to 40% in 2016. The company has capitalized on the strong sales of autos worldwide. Sales to the automotive sector have also shown good organic growth over the years.
TEL Automotive Revenue is 40% of Total Revenue in 2016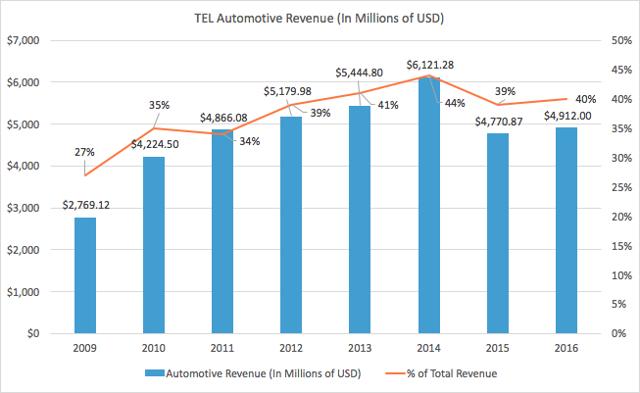 Exhibit: TE Connectivity Revenue from the Automotive Sector (Source: Company Filings)
TEL Automotive Revenue Shows Good but Uneven Organic Revenue Growth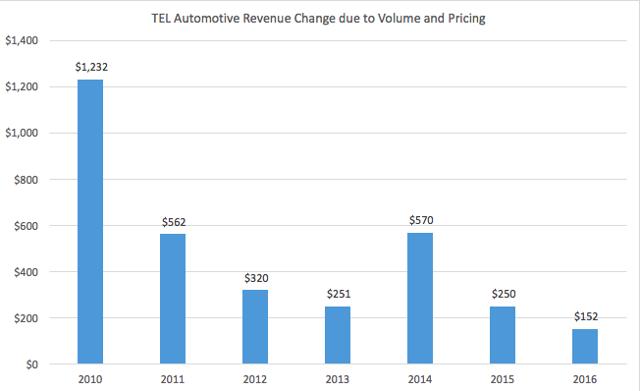 Exhibit: Organic Revenue Growth for TEL's Automotive Sector.
Note: Organic Revenue Growth for 2014 to 2016 in the above chart represents Transportation Solutions and not specifically automotive. Automotive is part of the transportation solutions business segment.
Total organic revenue growth has been sluggish at times, and TE Connectivity has bolstered revenue in some of the years with acquisitions. For instance, in 2012 and 2013, acquisitions added $481 million and $291 million, respectively, in revenue.
TEL Total Revenue Shows No Organic Growth in some years, but Revenue Bolstered by Acquisitions!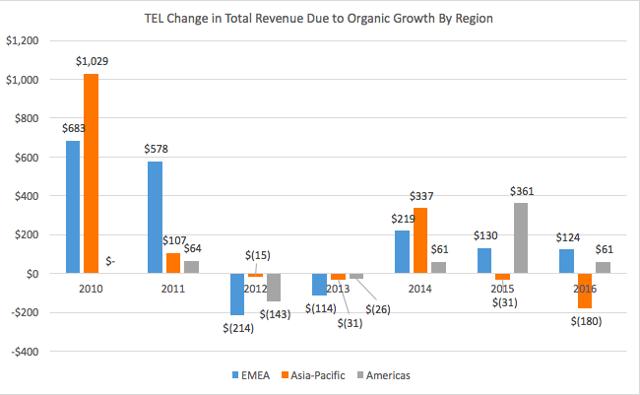 Exhibit: TE Connectivity Total Organic Revenue Growth by Region (Source: Company Filings)
To underscore the importance of the automotive sector to TE Connectivity, look no further than the operating income contribution by this operating segment to the overall company. The automotive sector is represented under the transportation solutions operating segment.
Transportation Solutions Account for 53% of Total Revenue and 62% of Total Operating Income in 2016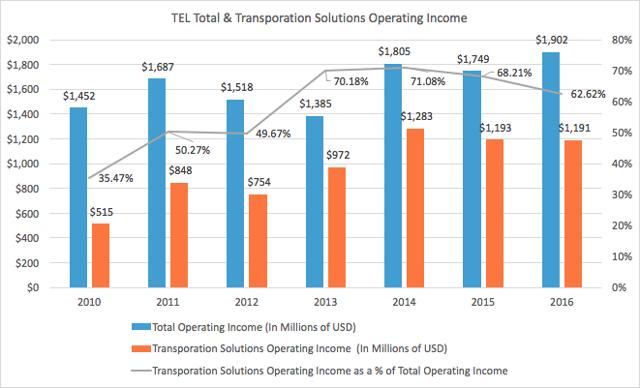 Exhibit: TEL Total and Transportation Solutions Operating Income (Source: Company Filings, Author Calculations)
The mega trends of increased safety and autonomous driving features in vehicles is driving a need for increased electrical and electronic connectivity in cars. These mega trends also drive increased use of sensors in cars. In 2015, TE Connectivity acquired Measurement Specialties, Inc., a designer and manufacturer of sensors, to help bolster its sensor business for approximately $1.7 billion. TE Connectivity has been selling sensors to the automotive sector for years, but has increased its focus on the sensor business in the past couple of years. Since fiscal year 2014, the company has started separately reporting the revenue from its sensor sales. The Measurement Specialties acquisition has vastly increased its sensor business. In 2015, this acquisition contributed $548 million in revenue.
Sensors now Represent 6% of Total Revenue for TE Connectivity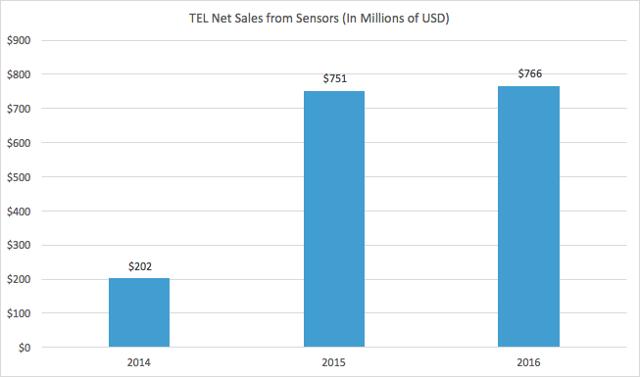 The sensor business is becoming an essential part of the automotive sector, but sensors are critical in the medical business as well.

Exhibit: TE Connectivity Now Lists over 1,000 Sensors on its Website (Source: TE Connectivity Company Website)
The past decade has witnessed steady growth in worldwide auto sales. Any downturn in automotive sales will have an impact on the original equipment manufacturers (OEMs). TE Connectivity understands the risk of over-reliance on the automotive sector. Although, compared to companies like Delphi Automotive (NYSE:DLPH), it is fairly well diversified. TE Connectivity is slowly but surely diversifying its revenue mix by moving into the medical business and other opportunities presented by both the connectivity business and the sensor business. In 2016, the company acquired Creganna Medical Group. Creganna designs and manufactures minimally invasive delivery and access devices for the medical industry. In 2015, Creganna had about $250 million in sales. In 2014, TE Connectivity acquired SEACON Group for $522 million in cash. SEACON is a leading provider of underwater connector technology. Most recently it completed the acquisition of Intercontec Group. Intercontec specializes in circular metric connectors.
TE Connectivity has the right solution focus - connectivity and sensors for harsh environments. In the short term, its heavy dependency on automotive sales can lead to losses if the automotive sector enters a downturn. But its diversification into medical applications offers a lot of promise. Management's approach of looking at application solution areas will lead to further diversification of revenue and more acquisitions.
Disclosure: I/we have no positions in any stocks mentioned, and no plans to initiate any positions within the next 72 hours.
I wrote this article myself, and it expresses my own opinions. I am not receiving compensation for it (other than from Seeking Alpha). I have no business relationship with any company whose stock is mentioned in this article.