This was post was written by Bob Ciura on January 4, 2017, for Sure Dividend.
Investors looking for dividend income should take a closer look at the telecom sector. The U.S. telecom industry is dominated by two companies, AT&T (NYSE:T) and Verizon Communications (NYSE:VZ).
These two industry giants dwarf the competition. AT&T and Verizon have market capitalizations of $264 billion and $222 billion, respectively. The next-largest competitor, T-Mobile US (NASDAQ:TMUS), has a $48 billion market cap.
AT&T and Verizon seem nearly identical. They have very similar business models and have similar dividend yields.
And they both increase their dividends each year. AT&T has raised its dividend for 33 years in a row, which makes it a Dividend Aristocrat.
Dividend Aristocrats are stocks with 25+ years of consecutive dividend increases that are also members of the S&P 500. You can see the entire list of all 50 Dividend Aristocrats here.
Meanwhile, Verizon has raised its dividend for 10 consecutive years. While this streak isn't as impressive as AT&T's, it does show that Verizon's management is willing and able to pay rising dividends. Verizon's dividend history makes it a Dividend Achiever.
A stock must have 10+ consecutive years of dividend increases to be a Dividend Achiever. You can see the entire list of all 272 Dividend Achievers here.
There are many differences that, while subtle, could make one stock a better pick than the other. This article will discuss four specific reasons why I prefer AT&T stock over Verizon stock right now.
Reason #1: Higher Dividend Yield
The first reason why AT&T stock is more attractive than Verizon stock is because of their respective dividend yields.
Based on their Jan. 3 closing prices, AT&T has a 4.6% dividend yield, while Verizon has a 4.2% dividend yield.
It seems like a slight difference, but it is more substantial than it seems. An investor will earn approximately 10% more income from AT&T stock than from Verizon stock.
In addition, AT&T has much stronger dividend coverage.
Both companies generate high levels of free cash flow. The U.S. telecom industry is essentially a duopoly, with AT&T and Verizon in firm control of the vast majority of market share.
As a result, they both enjoy high margins.
That being said, AT&T generates much more free cash flow in relation to its dividend. Its free cash flow totaled $13.9 billion through the first three quarters of 2016. It paid $8.8 billion of dividends in the same period.
As a result, it maintained a 63% free cash flow payout ratio through the first nine months of the year.
By comparison, Verizon generated $6.2 billion of free cash flow over the first three quarters of 2016. The company paid $6.9 billion of dividends in the same time.
Therefore, Verizon has carried a free cash flow payout ratio above 100% through the first nine months of 2016. This could limit the company's dividend growth rates moving forward.
Reason #2: Stronger Balance Sheet
As telecom companies, both AT&T and Verizon have high levels of debt. This is a concern for income investors, because too much debt can endanger a company's dividend payout.
A good way to judge whether a company can handle its debt load is by evaluating its balance sheet. There are a number of ratios that can be calculated to determine balance sheet quality.
For example, the long-term debt to shareholder's equity ratio indicates how a company has financed its long-term assets, via debt or equity. It is calculated by dividing long-term debt by shareholder's equity.
The higher the ratio, the more a company has financed its assets with long-term debt as opposed to shareholder's equity.
It is a method to determine whether a company's debt load will be overly burdensome going forward.
At the end of last quarter, Verizon held a long-term debt to equity ratio of 4.67. Meanwhile, AT&T has a long-term debt to equity ratio of 0.94.
Verizon's high long-term debt to equity ratio is because the company has $102 billion of long-term debt and relatively low shareholder equity. Its debt was incurred primarily as a result of its acquisition of Verizon Wireless.
This is a useful exercise to evaluate companies that rely heavily on debt financing, particularly in a rising interest rate environment.
While AT&T's debt is lower today, if the large pending acquisition it has planned goes through (discussed in the next section of this article), the company's debt will rise.
Reason #3: Better Growth Prospects
Lastly, AT&T is generating stronger growth than Verizon. Over the first three quarters of 2016, AT&T's revenue and operating profit both rose 16.5%.
This is due largely to AT&T's $49 billion acquisition of DirecTV. The DirecTV purchase brought in millions of new customers to AT&T, both domestically and internationally. AT&T now provides service to more than 26 million customers in the U.S. as well as 19 million customers in Latin America.
Having DirecTV provides AT&T with valuable international exposure to high-growth economies, such as Mexico.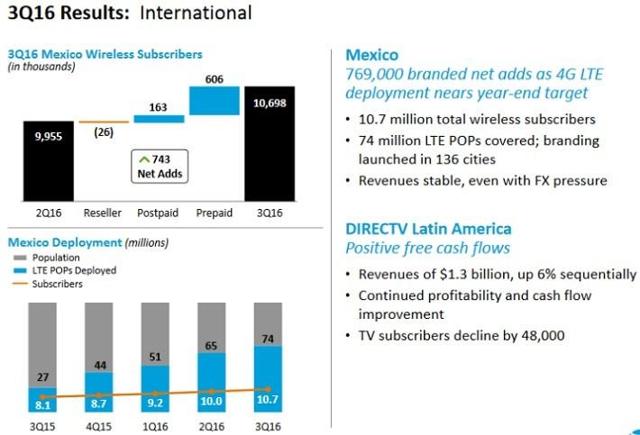 Source: 3Q Earnings Presentation, page 7
For its part, Verizon's revenue and operating profit declined 3.8% and 18.4%, respectively, through the first nine months of 2016.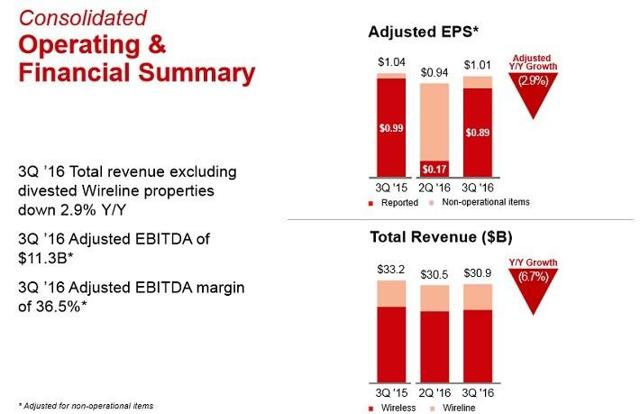 Source: Q3 Earnings Presentation, page 6
One issue Verizon is struggling with is that is at the high end of the pricing spectrum. As such, it has seen some pressure from lower-priced competitors like T-Mobile. Verizon is getting undercut on price, and as a result customer churn increased 12% last quarter.
Going forward, AT&T could continue to post higher growth rates than Verizon.
AT&T has come to an agreement in principal to acquire Time Warner (NYSE:TWX) in a massive, $108.7 billion deal, including Time Warner's debt. This would be a huge opportunity for AT&T, because it gives it a major presence in content.
Time Warner has premium television and movie channels including TNT, TBS, and CNN, as well as HBO and Cinemax. Time Warner also owns the Warner Bros. movie studio. This would provide AT&T diversification into high-growth content businesses.
To be sure, Verizon has pursued acquisitions as well. It purchased AOL for $4 billion, and Fleetmatics Group for $2.4 billion. But these are bolt-on acquisitions and not the transformational variety that AT&T is pursuing.
As a result, Verizon's various acquisitions may have a more modest impact on its future growth.
Final Thoughts
Both AT&T and Verizon stocks have sustainable dividend payouts and offer yields above 4%. They are both high-quality businesses with strong brands.
Income investors frequently turn to the telecom sector for high dividend yields. While AT&T and Verizon are both worthy of investment for their outsized dividends, AT&T has a slight edge over Verizon today.