2016 is in the past, and I am already thinking about the opportunities that lie ahead in the new 2017. That doesn't mean, however, that I have forgotten everything that happened in the previous year. On the contrary, I often go back to my trades even after I have closed my positions and I track what happened afterwards. This exercise allows me to evaluate my decisions with a cool head, when I don't have a vested interest. The time around Christmas and New Year is perfect for such reminiscence, and I tried using it that way.
When I was reviewing my past trades, I came across a closed-end fund I wrote an article about in early November. The fund in question is John Hancock Premium Dividend Fund (NYSE:PDT). At the time of my previous article, the fund was trading at a significantly high discount to its NAV from a historical perspective. And even though I had some reservations towards the PDT's fundamentals, I thought that the fund offered a good buying opportunity. After my article, the discount to NAV continued to increase for a while, moving above 10% at one point. But not so long after hitting its highs, the discount started moving to more reasonable levels, and that prompted me to close my long position in PDT. After that, I just moved on to look for other opportunities, and PDT vanished from my sight for a while.
Around the holidays, when I was reviewing my previous trades, I once again came across PDT. I noticed with surprise that the fund no longer traded at a discount to its NAV, but instead was commanding a premium. Since then, the fund's price moved further away from its NAV, and PDT is currently trading at a premium similar to the one in July and August. That fact reignited my interest in the CEF, and I wanted to review it in more detail to see what has changed since November.
Fund basics
In the table below, you can see PDT's holdings as of the end of November 2016.

Source: John Hancock's webpage
Not much has changed in terms of which the top 10 holdings are, but there has been some buying and selling among those. KMI-A still continues to be the top holding for the fund and it has been performing really well recently, much in line with the performance of its parent company - Kinder Morgan (NYSE:KMI) (KMI-A is convertible). The other securities among the top 10 holdings are either high dividend paying common stocks from the utilities sector or preferred stocks with low credit risk and relatively low dividends. The notable exception is Spectra Energy Corp. (NYSE:SE) - a company from the energy industry. For general holdings breakdown by industry, you can check out the table below.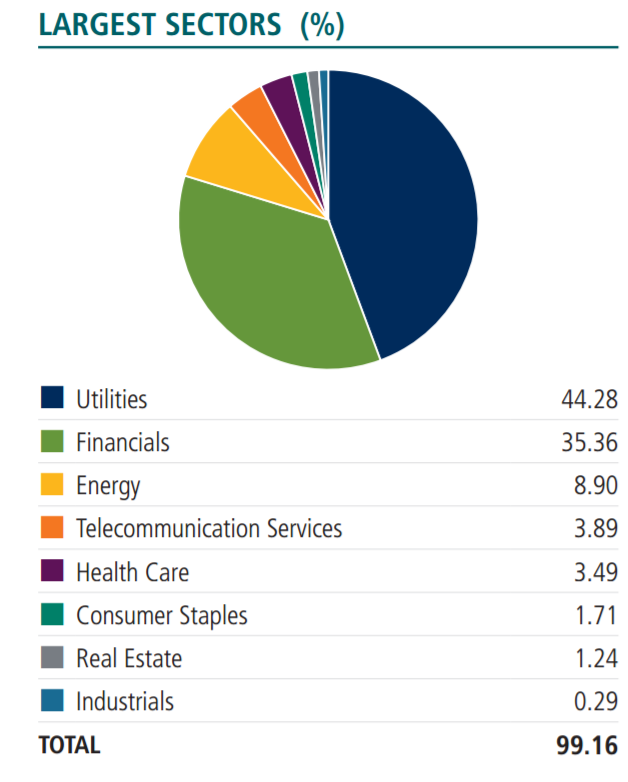 Source: Company's webpage
As you can see, the story is similar for the rest of the fund's holdings. PDT is mostly invested in dividend-paying common stocks from the utilities sector and preferred stocks from the financial sector.
Since I see almost no changes in the fund's structure, I reiterate my observations from the time of my previous article - potential for capital appreciation is low as one would expect from a dividend fund, but interest rate risk is relatively muted as well as the fund is paying a floating rate on its credit facility and is engaged in a fixed-for-floating swap with a notional of $82 million, whereby it pays fixed and receives floating.
At the time of my previous article, I noted that PDT increased dividend distributions in late July, and I saw that action as a potential cause for the move of the fund's price from discount to NAV to premium to NAV during the same period. Now, however, there doesn't seem to be an obvious fundamental driver behind the move. The only one I can come up with relates to the fact that PDT hedges its interest rate exposure through a swap and thus bears less interest rate risk. And as rising interest rate fears intensify, it is no wonder why a fund with less exposure to interest rate risk is high in demand.
A Sell Opportunity
Last time when I was looking at PDT, the fund was trading at a big discount. This time, I see the fund as overpriced due to its premium to NAV, which is rather untypical. My only reasonable explanation for the premium, as I mentioned above, stems from an imbalance between supply and demand. In my experience, those imbalances usually turn out to be short lived, and I think that the current one will be no exception to this rule.
Let me illustrate better the statements above. In the chart below, you can see how the premium/discount to NAV has changed over the last 200 days. I have also marked the entry spot of my previous trade for your reference.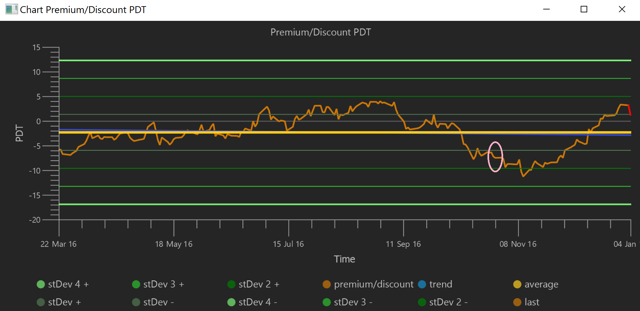 Source: Author's spreadsheet
On average, the fund has traded at a discount of 2.35% over the last 200 days, and it is now trading at a premium of 1.23%. While this has occurred in the past, it is certainly not something that has happened that often. PDT is slowly moving into overbought territory when considered in relation to its NAV. If we turn the tape even further back, you would see that the fund has only rarely traded above its NAV, and the current period is somewhat peculiar in that regard. In the chart below, you can actually track the distribution of daily discount/premiums over the last 200 days.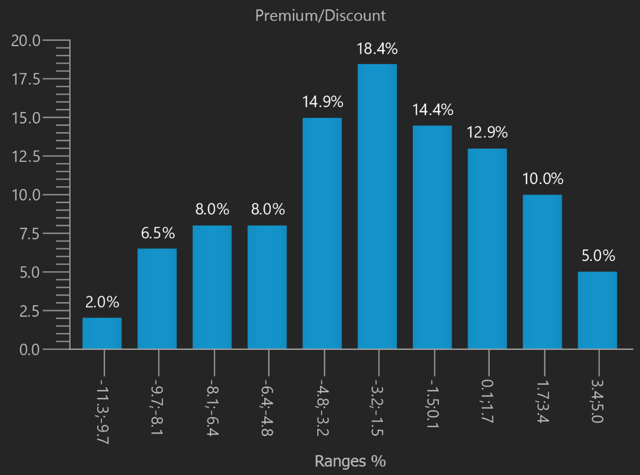 Source: Author's software
Besides comparing PDT to its NAV, I also like comparing the fund to other securities with whom it has moved in tandem with historically. When I wrote my previous article, I identified the PowerShares S&P MidCap Low Volatility ETF (NYSEARCA:XMLV) as the best comparable instrument with the correlation between the two being 0.93 at the time. Now the correlation is much lower at 0.35, so here I will use a different instrument to compare PDT to - the PowerShares Financial Preferred Portfolio (NYSEARCA:PGF). I have selected the latter based on best fit indicated by my software. Given the high proportion of financial preferred stocks in the portfolio of PDT, it is no surprise that the two funds are highly correlated. You can see the relationship between the two in the chart below where Portfolio 1 represents an investment in PDT and Portfolio 2 represents an investment in PGF.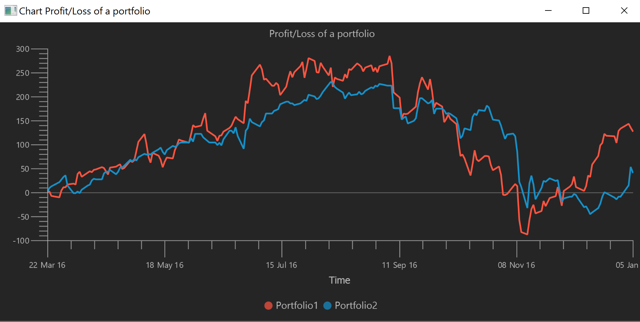 Source: Author's software
The relationship has held strong for much of the period, but has recently broken down as is evident by the significant difference between the returns on Portfolio 1 and those on Portfolio 2. This plays out in the correlations between PDT and PGF as well with the 200-day correlation standing at 0.82, while the 20-day is just 0.57.
The growing discrepancy between PDT and PGF suggests that there might be some mispricing occurring in PDT that could largely be explained by a supply-demand mismatch. That conclusion is also backed by the relationship between PDT and the fund's NAV, which is suggesting that PDT is currently overpriced. My expectation is for PDT's price to move closer to its historical levels with respect to the fund's NAV.
Conclusion
At the beginning of the year, it is good to think of what lies ahead, but it is also good to reflect on past trades. Sometimes you might find the hidden gems in the most unusual places, including in your own history.
PDT was of interest to me when it was trading at a very high discount and it is of interest to me now, when it is trading at a premium. The same security that looked undervalued to me just a couple of months back now seems to have moved in overvalued territory. Fundamentally not much has changed, but market sentiment has shifted and CEFs with protection against interest rate increases seem to be in demand. I believe this has created some mispricing in PDT, which is likely to correct in the near future. If you currently hold PDT, it might be reasonable to consider liquidating your position and substituting PDT with a similar, but more reasonably priced fund. For people who don't own PDT, initiating a short position is something to consider, but be mindful of the cost and have strict risk management.
Disclosure: I/we have no positions in any stocks mentioned, but may initiate a short position in PDT over the next 72 hours.
I wrote this article myself, and it expresses my own opinions. I am not receiving compensation for it (other than from Seeking Alpha). I have no business relationship with any company whose stock is mentioned in this article.