Every week after the EIA releases its Weekly Petroleum Status Report, I download the updated files, consolidate them, and ultimately link them to a simple excel dashboard file which you can download for free at Excel-Data-Junkies.com. Open it up and follow along below, then let's discuss it in the comments section below. For a methodology review, take a look the intro "Data Download".
Headline: Total Petroleum Stocks Up 6.1M Barrels
Following huge draws of 11.9M bbls (12/16) and 12.9M (12/23) bbls, we finally saw a stock build of 6.1M bbls last week.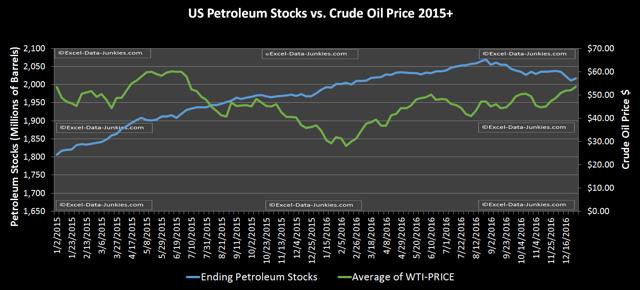 Given that we are still sitting on a pretty big glut, normally a 6.1M build in total petroleum stocks would be bearish, but following three weeks of draws totaling 27M bbls, it's hard to get too excited about this build. The real story of the week was consumption, which dropped over 2M bbls a day compared to the prior week for a weekly decrease of nearly 16M bbls. Looking back a few years, this appears to be a seasonal drop probably due to the Christmas holidays. I know some people travel for the holidays, but a lot of folks just take a week or two off and relax until the new year. With schools and colleges out, entire fleets of buses pretty much just shut down for a few weeks. The result is a dip in consumption that we see year after year. This year's dip was a few million barrels larger than last year, but nothing to be worried about yet.
With the year now over, we can look at the full-year reconciliation below for some interesting comparisons of 2015 and 2016.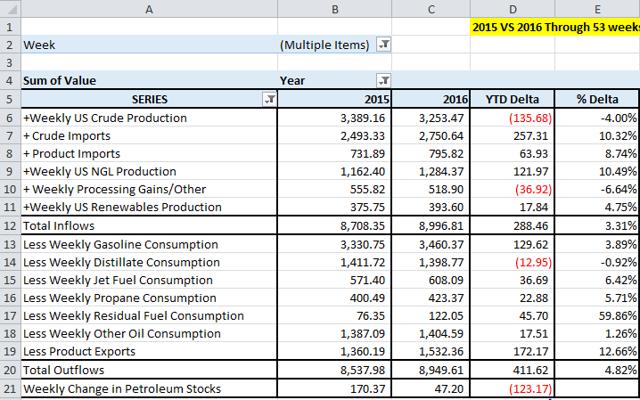 Full-year production was down 136M bbls, but was more than offset by NGL production and crude and product imports increasing 321M. Offsetting the increased inflows, product consumption and exports were up, leaving the total 2016 stock build at 47M bbls compared to a 170M bbls build in 2015. Add them together and that's about the size of the glut we are now starting to work off. Do note that 2016 had an extra reporting week, which throws off the comparison by a little.
For The Bulls:
Over the past four weeks, total petroleum stock draws are averaging 5.2M bbls a week and total stocks are sitting at 2.017B barrels, 52M bbls under the peak of 2.069B barrels back on 8/26/2016. With a little help from OPEC, at this pace, the glut could be cleared by the middle of 2017 and $60 oil could be breached in the next month or two. The trailing 13-week chart below shows outflows over inflows for the last 13 reports, reversing a nearly two-year run of stock builds.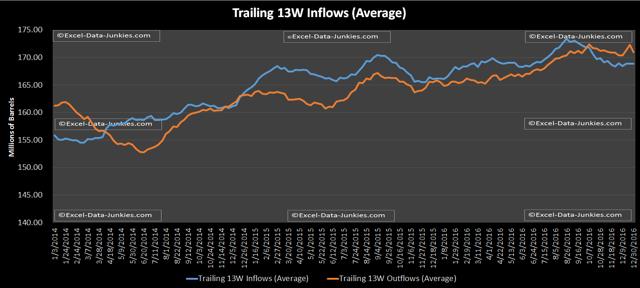 For The Bears: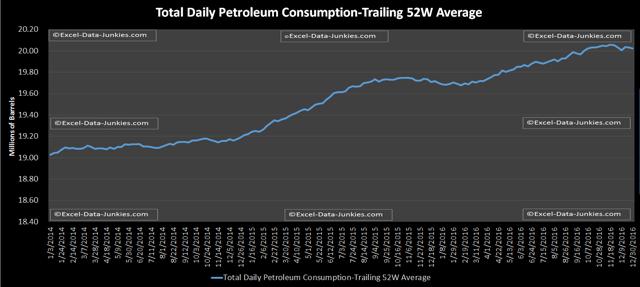 After a nine month run of increasing, the US trailing 52-week average petroleum consumption has been declining for about six weeks now. It's not collapsing, but the difference between 2% growth and a 1% decrease is about 600,000 bbls a day, or 4.2M bbls a week. If this persists, it could more or less wipe out the entire OPEC/NOPEC export cuts supposedly headed (or not) our way.
Gut Feeling:
Crude stocks were down big, product stocks were up big, and this report came during a holiday week with strong seasonal consumption patterns. With the holiday, it also probably meant that a lot of the survey monkeys who normally fill out EIA forms were out and their backups sent them in. All in all, it was an oddball of a report, so I am inclined to just raise my eyebrow and wait for next week's report. The build was a little bearish but given the trend and magnitude of prior draws, I think the bulls have the upper edge this week, but we really need to keep an eye on consumption.
Disclosure: I/we have no positions in any stocks mentioned, and no plans to initiate any positions within the next 72 hours.
I wrote this article myself, and it expresses my own opinions. I am not receiving compensation for it (other than from Seeking Alpha). I have no business relationship with any company whose stock is mentioned in this article.