On Thursday evening, Bloomberg reported that the Politburo is preparing for a trade war with the Trump administration.
Here's what I said minutes after the news hit:
Don't expect China to go down without a fight - especially considering the fact that should Trump go forward with punishing tariffs, the PBoC might be forced to float the RMB (much) sooner than they had planned.
That assessment echoes comments made by SocGen late last month about the likely trajectory of the RMB (NYSEARCA:CYB), should the incoming administration make good on the laundry list of threats the new President made on the campaign trail with regard to China and trade.
As I went on to note on Thursday night, they say you can tell a lot about a person by who they associate with. If that's true, then the choice of Peter Navarro as trade czar (that's basically his role) speaks volumes about the new President's intentions.
Essentially, the tension between Washington and Beijing is just one more reason why you should, as I put it earlier this week, "probably stick with a short RMB bias, especially given the fact that despite Thursday's moves, we're in an environment characterized by a structurally strong dollar and that means China will be forced to devalue if they want to keep the trade-weighted basket stable."
Of course, being short the yuan has been a rather painful trade this week, as new measures to control capital flight have served to squeeze shorts and drive offshore money market rates through the roof.
Does that mean the short thesis is dead? Hardly.
For one thing, Beijing needs a weaker currency. Why? Because... well, because this: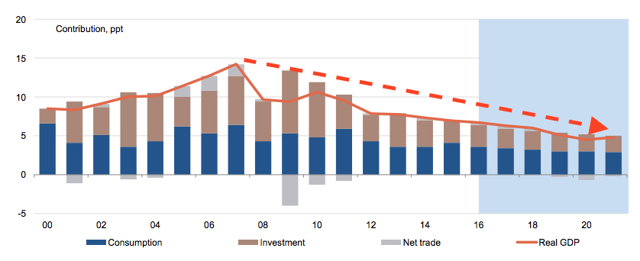 (Chart: SocGen)
But aside from the necessity of propping up the export-driven economy, there are plenty of other reasons to believe the RMB will continue to weaken.
Take the CFETS basket for instance. While shifting the market's focus to the trade-weighted basket may have been a smart thing to do in terms of creating the illusion that the yuan is in fact not in freefall, keeping the RMB stable against the basket necessitates weaker fixings in a strong dollar environment. Note that this is a mechanical (i.e. a technical) issue. That is, it's not open to discussion. If the dollar is uniformly stronger against the other currencies in the basket, China has to devalue against the greenback to keep the yuan from appreciating against the TWI. Here's how it works: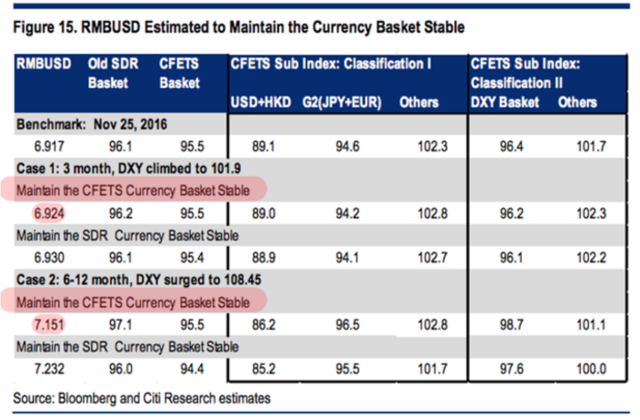 (Table: Citi with my highlights)
And then there's capital flight. China is bleeding more than a half trillion in capital every year.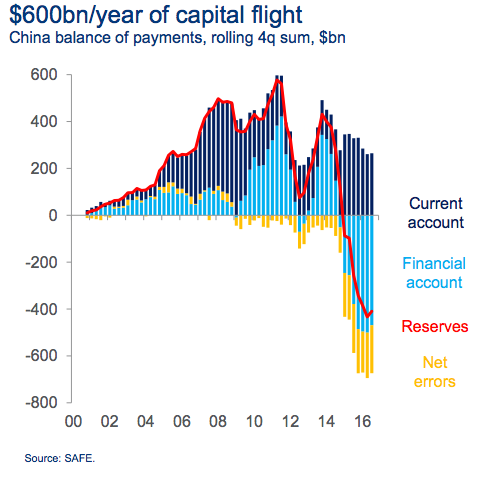 (Chart: Citi)
As I've noted on a number of occasions, this is a self-feeding loop. The more capital flees the country, the more nervous people get, triggering still more capital flight. The same circular dynamic applies to corporates who have borrowed in USD. There's a good chance they'll look to pay down that debt early. That means selling the yuan and buying dollars.
And I could go on.
So the question then, is this: how low does the RMB go, assuming the PBoC doesn't decide to float the currency overnight? According to Goldman, the answer is $7.30. Here's some color (my highlights):
2017 has started with the now annual excitement around large onshore and offshore moves in the Renminbi. Whereas markets were caught off-guard in the first few trading sessions of 2016 with the sharp CNY depreciation versus the USD, this time around it has been the sharp appreciation (nearly 1% year-to-date) that has surprised market participants.

The best times to gain exposure to $/CNY weakness have tended to be when China concerns were off radar screens or after periodic interventions that flushed out bearish speculative positions and provided attractive entry points [Heisenberg: they're implicitly referring to times like right now].

That remains our view today - we forecast $/CNY to reach 7.30 by the end of 2017. With a deteriorating BoP outlook it is certainly possible to envisage more extreme depreciation, say if capital outflow accelerates further, policymakers push the ongoing tightening of financial conditions too far, or currency depreciation were used to respond to protectionist moves emanating from the new US administration.
Note that this is essentially a reiteration of everything I've said over the past two months.
So the bottom line is that while days like Thursday might make one doubt whether a short RMB bias is truly a "no-brainer" trade, this is probably a good time to stay the course.
Assuming, that is, that the PBoC doesn't squeeze you off the road.
Disclosure: I/we have no positions in any stocks mentioned, and no plans to initiate any positions within the next 72 hours.
I wrote this article myself, and it expresses my own opinions. I am not receiving compensation for it (other than from Seeking Alpha). I have no business relationship with any company whose stock is mentioned in this article.