Thesis
High-yield bond spreads are among the most compressed they've been over the past couple decades. High-yield bond funds are trading at very stretched valuations and not attractive from a risk-reward perspective.
Overview
From early-2016 through the US election, high-yield debt enjoyed a steady bull market, brought on by the recovery in energy prices and the US Federal Reserve's unwillingness to increase interest rates until December. Organic improvements in credit quality, brought on by higher earnings and free cash flow metrics, had little to do with the rise on aggregate. Before Q3 2016, earnings had contracted for five consecutive quarters.
High-yield valuations often follow many of same price movement characteristics as equity. Both equity and high-yield bonds are risky, volatile assets that are subordinate to other forms of capital in a company's capital structure (although occasionally highly senior bond securities assigned to a firm are sometimes also of high-yield/non-investment grade quality). So usually both forms of capital are proximate to each other in payoff order in a potential liquidation scenario. Therefore, as equity valuations increase, high-yield prices often increase in conjunction.
As is observable from the graph below, if we compare the S&P 500 to the Bank of America Merrill Lynch US High Yield Option-Adjusted Spread©, we see a very clear negative correlation between the two due to the inverse relationship between prices and yields.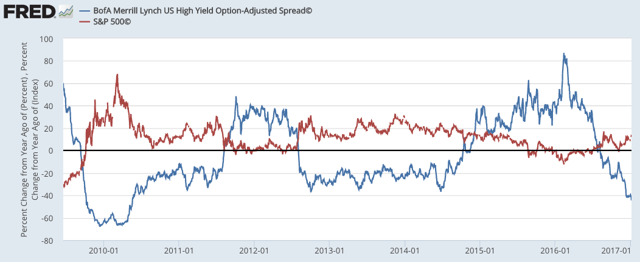 (Source: Bank of America Merrill Lynch; modeled by fred.stlouisfed.org)
With the US equities markets (NYSEARCA:SPY)(NYSEARCA:DIA)(NASDAQ:QQQ) having recently made all-time highs across the board, high-yield valuations are high to point where yield spreads are nearing all-time lows at approximately only 400 basis points from their respective Treasury yields. Over the past ten years, the median spread has come to approximately 600 bps. (The average would be a bit higher due to the 2008-09 financial crisis period where peak spreads were reached nearly 2,200 bps in December 2008.)
As of January 4, 2017, the Bank of America Merrill Lynch yield spread metric used above stood at just 404 bps, the lowest since June 2014.
Since 1997: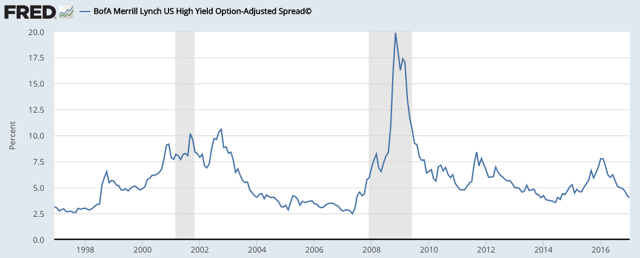 (Source: Bank of America Merrill Lynch; modeled by fred.stlouisfed.org)
Since November 2011: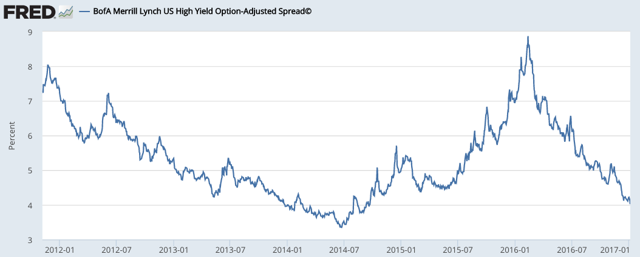 (Source: Bank of America Merrill Lynch; modeled by fred.stlouisfed.org)
The spread between high-yield and Treasuries has decreased 44.5% on a year-over-year basis. This is the largest such spread decline since June 2010 when high-yield valuations began to normalize coming out of the recession.
The recent compression in yield spreads between high-yields and Treasuries also cannot be attributed to much in the way of improved fundamentals. Over Q4 2016, approximately two-thirds of all high-yield rating changes were actually to the downside (source: Moody's, Fitch, S&P). All markets trade on future expectations, and much of the increase can consequently be attributed to the notion that pro-growth fiscal policies likely to be set into effect in the upcoming Trump administration (e.g., lower corporate taxes, deregulation, repatriation of overseas cash, infrastructure spending) are likely to stimulate the economy.
These are all business-friendly maneuvers, but nothing is certain in this environment and especially not when it comes to politics. One would have to be extraordinarily bullish on the nature of the US economy to buy into non-investment grade credit for merely an additional 4% spread over Treasuries. This would suggest just a 6.4%-6.5% yield on 10-year non-investment grade bonds, or just a 70-80 bp spread over my personal estimation of 5.7% future returns expectations of the S&P 500.
With that said, even if equity markets are increasing, any growth in a company's capital base cannot be interpreted as a bad thing. A larger, more valuable stock of equity normally accompanies an overall strengthening of a company's liquidity. On the M&A front, when equity markets rally, companies have larger amounts of common stock as a currency form to acquire assets, of which credit improvements can be potentially result out of. Moreover, capital deepening will tend to improve capital market access. Equity issuances tend to be cheaper during periods of bullishness in the market, which can subsequently be used to pay down outstanding debt. Therefore, a rise in one market often complements a rise in the other.
Conclusion
This should not be interpreted as a short recommendation of high-yield bond funds or, by extension, a short of the US equities market. I against a short of a broad index of high-yield bonds or US equities.
First, to short a high-yield fund such as HYG, you'll be paying the near-6% dividend yield off the bat. Therefore, if you require at least 10% returns, you have to envision some type of catalyst that could provide you with at least a 16% capital depreciation of the fund within the next twelve months. I don't see one in the near-term.
Second, the market is pricing in about two rate hikes by the US Federal Reserve this year, while the central bank asserted its ambitions of three, based on the median opinion of the Fed's 17 FOMC members. I don't think it'll be able to do three as I believe the disinflationary headwinds are numerous. Therefore, if you have some degree of belief that rates will not rise as quickly as the market anticipates, this would actually be bullish for debt of all varieties. This is especially true of the longer-maturity/higher-duration variety, which is more sensitive to changes in interest rates.
What will send high-yields lower is a continuation in the number of net downgrades. For this to happen, the economy will need to weaken and corporate operational and financial profiles will need to weaken. I have been lukewarm on the state of the US economy within the past 1-2 years, and am still very skeptical of current bond and equity valuations as a whole. But I do believe that extra growth can be squeezed out of the current business cycle with a recipe of corporate and personal tax cuts (ideally without adding to the federal deficit), rollback of unnecessarily stifling business regulations, repatriation of offshore cash, and the benefits (or maybe even the necessity) of infrastructure spending despite its massive initial expense. Accordingly, a drop in high-yield prices (and consequent rise in high-yield to Treasury spreads) could be some ways off.
Disclosure: I/we have no positions in any stocks mentioned, and no plans to initiate any positions within the next 72 hours.
I wrote this article myself, and it expresses my own opinions. I am not receiving compensation for it (other than from Seeking Alpha). I have no business relationship with any company whose stock is mentioned in this article.