Thesis
AEP isn't likely to provide much in the way of organic growth, but low volatility and a near-4% dividend yield make it a reasonable choice for conservative investors expecting 5%-7% annual returns.
TNC-TCC Merger
On December 31, American Electric Power (NYSE:AEP) formed AEP Texas to merge the company's two transmission and distribution subsidiaries, AEP Texas North Company ("TNC") and AEP Texas Central Company ("TCC"). The newly formed entity will attain a rate base of $3.5 billion (~70% of the value from TNC and ~30% from TCC). And although legally merged, AEP Texas will not officially be a combined enterprise in practice until the completion of its first rate case, or the process by which government regulators decide how much a utility can charge its customers. Until that point, both TNC and TCC will maintain their own individual rates and tariffs.
AEP Texas will have a regulatory advantage through its Texas domicile, a state that pushes among the most business friendly and transparent regulatory frameworks in the US. AEP Texas also expects benefit from increased scale, improved financial stability, and reduced administrative needs with respect to legal and regulatory compliance. Consolidation should also help in gaining greater access to the debt and equity capital markets as a larger entity.
Given its regulated state, AEP Texas projects to have a relatively stable operational and financial profile despite its leverage. Demands will be progressively made to its free cash flow to update its aging transmission and distribution systems, and its geography in an oil and gas hotbed exposes its state government's finances more heavily to the underlying commodity cycle.
Combined, it's estimated that AEP Texas has an enterprise value of around $5 billion, split between about $3 billion worth of debt and $2 billion in equity. This would place AEP Texas as worth just under 10% of the total value of the company. The company's degree of leverage is not likely to moderate as it invests in improving its infrastructure. AEP, nonetheless, is a believer in the use of trackers wherein it makes capital investments but can legally use a mechanism by which these costs are passed through to customers. Accordingly, these expenditures can be recouped quickly to avoid the negative elements that can accompany a worsened liquidity position, such as a stock price reduction and reduced bond ratings.
AEP Capital Structure
The aggregate 60% equity and 40% debt capital structure is appropriate for a company of AEP's financial profile. At 40% debt, AEP would be looking at about a 6.5x EBIT/interest ratio if payments are spread evenly across the years. Debt/EBITDA would come to 4.3x and NOPAT/Debt comes to 8%-9%.
The capital structure model I traditionally use estimates that the company is optimally leveraged at 70% debt (the point at which the weighted average cost of capital ("WACC") is minimized). But the curve between 40% and 70% debt as a percentage of total capital is relatively flat. This renders something closer to 40% probably more optimal from the perspective of conservatism and avoidance of potential overleveraging (where the downside risk is much worse than under-leveraging) should something occur to damage the equity's value.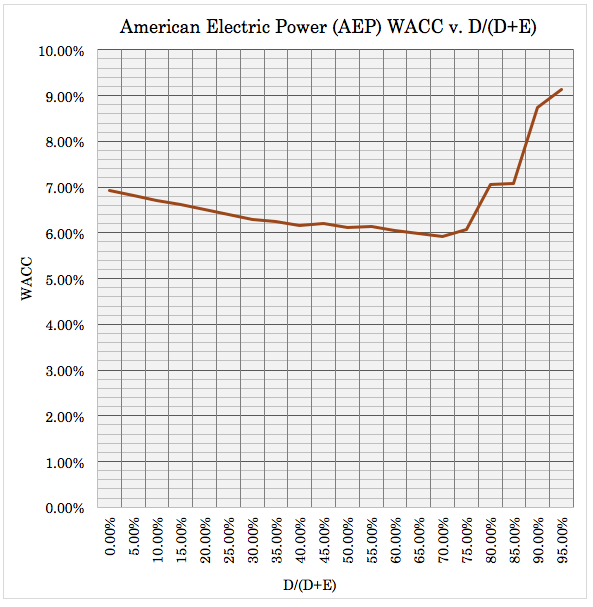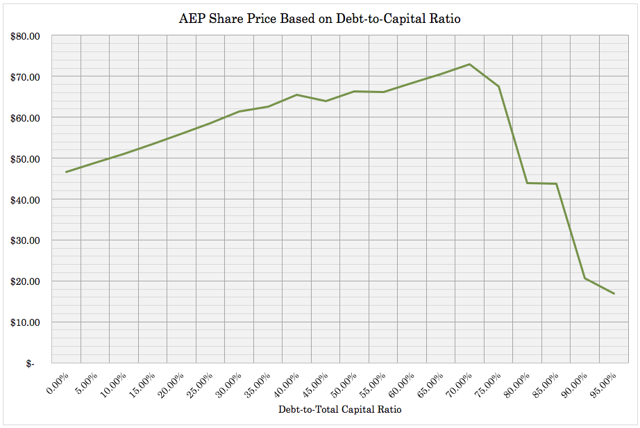 (Source: author)
Valuation
The nice thing about utilities is that they are more straightforward to value than most other companies. With their dividend and relatively low volatility, they have an almost bond-like quality to them and predictable cash flows. The downside is that, for those with higher annual returns expectations (8%+), it can be difficult to find a bargain, particularly when the market is fairly richly valued, as it is now.
Using a dividend discount model to value utilities is common, but I still prefer to value by standard discounted cash flow analysis. Whenever there is a reasonable degree of leverage in a company, it makes the cash flows less stable. Interest expense may end up being a notable part of the company's cost structure and cause the dividends to be a bit more difficult to estimate over time through the enhanced risk to the company's operational profile. Therefore, I find standard cash flow models the better option in these cases.
If we assume AEP produces about $15.9 billion in FY2017 revenue and grows its top-line by 1% year-over-year, holds an EBITDA margin at 31%, incurs depreciation and amortization expenses at 13.1% of revenue (and set equal to capital expenditures in equilibrium), possesses a tax rate of 35%, no working capital growth, a perpetual growth rate of 1.8% (i.e., long-run average of the US economy), a cost of debt of 3.6%, and is discounted back at a cost of equity of 6.5%-7.5%, this provides a value of about $58-$79 per share. At the time of this posting, AEP is priced at $63.
More generally, if the long-run growth rate of the economy is adjusted over a range of 1.6%-2.0% and the WACC is adjusted over a range of 5.1%-5.7% (which matches with a cost of equity of 7%-8%), the correspondent valuation comes to $48-$73 per share, with $59 at the median.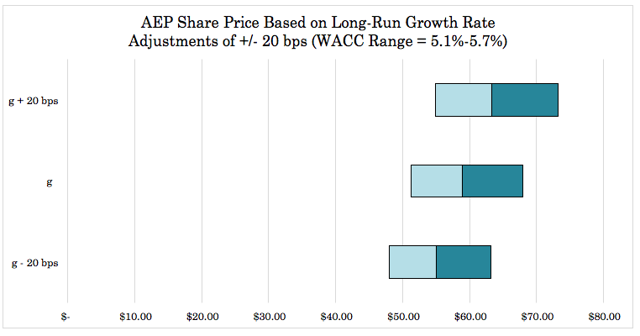 (Source: author)
So the market appears to be valuing AEP very appropriately at a bit above 7% forward returns expectations.
If share prices are sensitized to return requirements we get the following type of curve: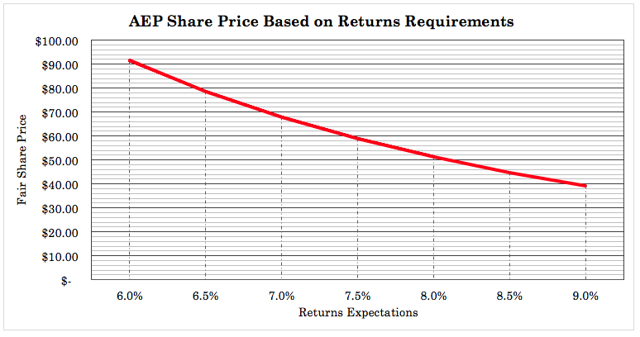 (Source: author)
Those acquiring returns in the high-singles or more likely won't find the stock overly appealing. Revenue growth isn't going to be very high for a utility, and if debt growth continues at even a low-single digit trajectory with capital intensity failing to abate, the company is likely to get little in earnings growth over the long-run. If you require 10% returns, and the dividend is ~4%, you're simply very unlikely to obtain 6% per year in organic growth.
Utilities, generally, are best suited for conservative investors who are content with 5%-7% annual returns without a lot of volatility in between. For those with mid- to mid-high singles return requirements, AEP could represent a fairly stable pick.
Disclosure: I/we have no positions in any stocks mentioned, and no plans to initiate any positions within the next 72 hours.
I wrote this article myself, and it expresses my own opinions. I am not receiving compensation for it (other than from Seeking Alpha). I have no business relationship with any company whose stock is mentioned in this article.