Everything looked all set for a dollar rally. The US labor market is close to full employment, making the Fed more nervous about inflation.
The incoming Trump government is set on a policy of reflation, embarking on big infrastructure and defense spending as well as large tax cuts.
The incoming Trump government is favoring policies that would enable companies to repatriate their really substantial cash holdings overseas to the US. Higher growth and higher interest rates in the US versus the rest of the developed world would attract even more capital.
What could go wrong?
Indeed, add to that the woes in the EU, with the shaky Italian banks, Brexit, a wave of populist revolts coinciding with elections that could sweep anti-euro and anti-EU parties to power. Add the ECB and the BoJ which are still heavily expanding their balance sheets, buying assets left, right and center.
Add to that China, where capital flows massively out of the country and the PBoC intervening with abandon in the forex markets in order to keep this an orderly, rather than a disorderly retreat.
Well, for starters, not everybody is convinced this is the year of the dollar, here is hedge fund manager Jim Paulsen (from Yahoo):
The dollar may not respond favorably to an interest rate hike by the Fed , contrary to expectations by many people on Wall Street, analyst Jim Paulsen told CNBC on Monday. "Everyone thinks the dollar's going to go higher because the Fed's going to raise rates," Paulsen said on " Squawk Box ." "[There have] been five major rate hikes during recoveries by the Federal Reserve, and every one of them resulted in a lower dollar, not a higher dollar."
Secondly, as we argued more extensively elsewhere, a rising dollar is a considerable risk for the world economy. There is a huge amount of corporate debt in emerging markets that is denominated in US dollars, a rising dollar could, in extremes, trigger a repeat of the Asian crisis of the mid 1990s.
This shouldn't be underestimated (From The Telegraph):
The core problem is that global finance is more dollarized today than at any time in history, with $10 trillion of dollar debt trading globally outside US jurisdiction and beyond full control, up five-fold since 2002.
Indeed, this is such a serious risk that the Bank for International Settlements (BIS) has proposed the dollar index as the new fear gauge.
And here are a few more reality checks
Perhaps Trump's policies aren't all that reflationary. For instance, that big infrastructure bonanza is largely based on tax credits, this could simply be a bonus for companies already embarking on spending and lead to little extra spending.
Also, the tax cuts are likely to be rather regressive, that is, they benefit the well off much more than those with median incomes and below. Insofar as this shifts income from low savers to high savers, this isn't going to increase spending all that much.
Insofar as the deficit and/or inflationary expectations increase, these are likely to give another filip to bond yields, which could set in motion at least a modicum of crowding-out, depressing interest sensitive private expenditures.
And in fact, the strong dollar itself is doing much the same as higher interest rates and bond yields, adding to the crowding out.
Or Trump's policies are reflationary but simply won't rise economic growth by all that much, producing rising inflation instead, which could just as well be bad for the dollar.
Why might reflation fail to raise economic growth by all that much? Simply, given a labor market close to full employment, lower population growth and lower productivity growth, capacity is growing at 2% at best. Trying to push it over that will result in higher prices over time.
But the one sure thing dollar bulls thought they had was China, suffering from an economic slowdown and massive capital flight, this despite pretty strict capital controls.
Indeed, that bet seemed distinctly one-way, with the yuan gradually depreciating against the dollar for over a year already: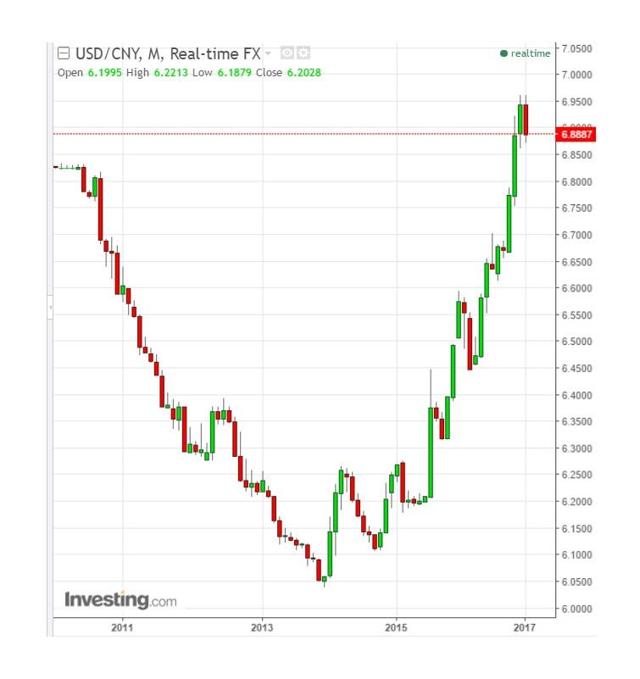 And then this surprise, from Reuters:
Some of the biggest gains on record for China's yuan sent currency markets spinning on Thursday, driving the dollar broadly lower and threatening to quash one of the central bets of global investors for 2017. A rise in overnight borrowing costs in Hong Kong to 96 percent helped the yuan rack up the biggest two-day rise for the offshore version of its currency since its launch in 2010. That in turn triggered a broader round of profit-taking on the dollar, sending it more than 1 percent lower against the yen and past $1.05 per euro.
The PBoC wrong-footing yuan shorters, how about that. We have to admit we're a little surprised about this, look what happened: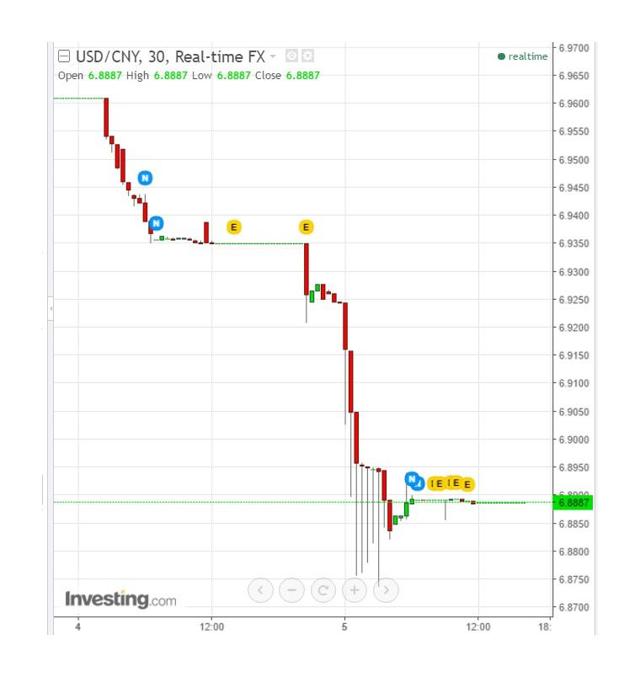 Perhaps it's in anticipation of a January effect, as Chinese residents have been allotted a fresh $50,000 which they can move out of the country. Indeed, here is Millennium Global's co-head of portfolio management, Richard Benson (Reuters):
"This isn't economics. China desperately doesn't want a repeat of what happened this time last year (and it seems) attack is the best part of defence."
Perhaps the PBoC is simply worried about rising inflation. They do have a point. Producer prices, after years of deflation, have suddenly started to move up pretty sharply.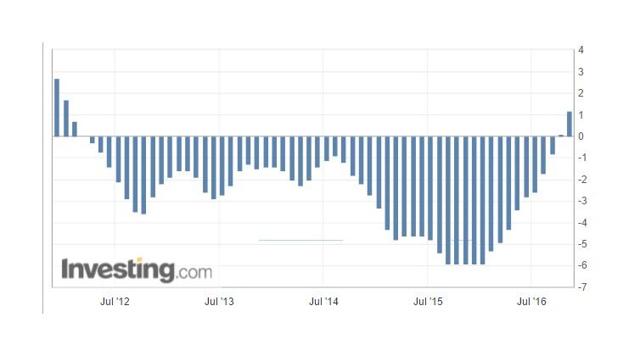 Even so, we have to see just how aggressive the PBoC remains and whether this move was just a one-off. But it highlights the possibility of surprises that can throw off forex markets off their dominant narratives, in this case the dollar bull narrative.
The yuan might also have gotten some support from stronger economic data out of China recently, more especially the recovery in the Caixin PMI to 51.9, it's fastest improvement since January 2013.
Another wild card is US-Chinese trade relations, as we have the appointment of yet another China hawk in the incoming Trump administration (from Business Insider):
President-elect Donald Trump this week filled his lone remaining top trade post with yet another China hawk - much to the delight of trade reformers. Trump on Tuesday tapped Robert Lighthizer as his choice for US trade representative. Lighthizer was the deputy US trade representative under President Ronald Reagan and has been a longtime critic of Chinese trade practices.
Conclusion
Perhaps dollar bulls have gotten a little too excited. While at first sight, with the US embarking on reflation while much of the rest of the world still seem to battle deflation, there does indeed seem to be a solid case for a further dollar bull run.
But as we see, some of the foundations of the dollar bull narrative aren't as solid as they appear at first sight. Then there also is a considerable scope for surprises that could throw the dollar off its rising trajectory.
Disclosure: I/we have no positions in any stocks mentioned, and no plans to initiate any positions within the next 72 hours.
I wrote this article myself, and it expresses my own opinions. I am not receiving compensation for it (other than from Seeking Alpha). I have no business relationship with any company whose stock is mentioned in this article.