It appears that New Year 2017 has brought in with it renewed interest and new buy signals in the commodity sector and the junior miners. The TSX Venture is making a parabolic move as all the shorts have dried up and a whole new group of buyers appears to be entering. The US dollar (NYSEARCA:UUP) has corrected as holiday numbers were weak. Investors appear to betting on inflation pushing demand for precious metals and commodities following the Trump Presidential Election.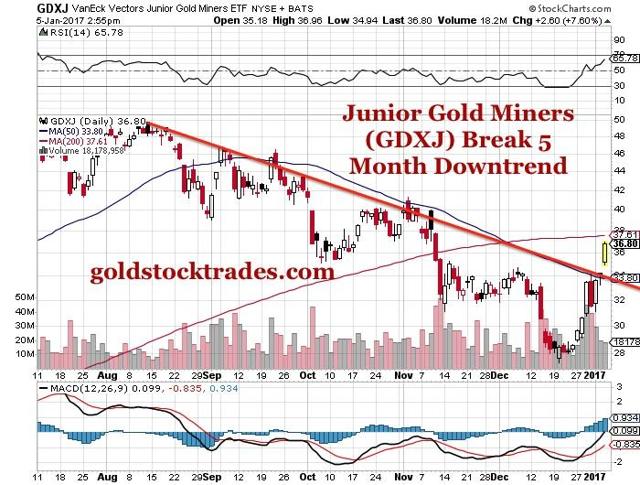 The Junior Gold Miner ETF (NYSEARCA:GDXJ) is breaking a 5 month downtrend and so is the silver miners ETF (NYSEARCA:SIL). Now the next technical bullish breakout is regaining the 200 DMA, which I expect to come quickly.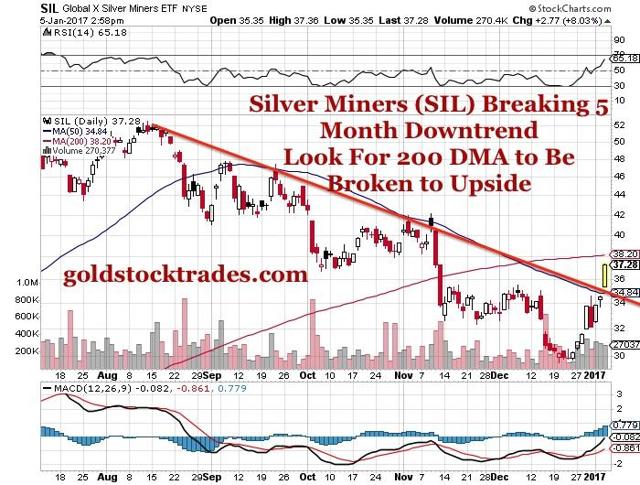 Uranium Miners ETF (NYSEARCA:URA) are breaking out of cup and handle breakout along with the Lithium Stocks ETF (NYSEARCA:LIT) as investors look to clean energy commodities.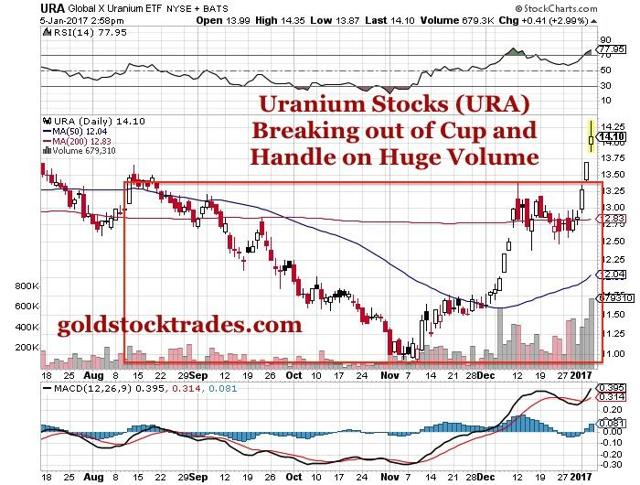 Notice the huge volume since the US presidential election. For weeks now I have been highlighting to my readers to be prepared for a nuclear revival under President Trump. For 8 years the nuclear industry has been under attack by ignorant forces who do not realize the potential of clean and reliable atomic energy. This will change dramatically with the new Presidential administration who will no longer allow the US to be reliant on imported uranium and Rare Earths (NYSEARCA:REMX) especially when we have so much uranium and rare earths in the domestic US that can be mined.
Look at the Lithium ETF especially after the recent news of Tesla turning on the Gigafactory producing lithium ion batteries. This should be a catalyst for the sector. Its important to take note of the recent breakout as I expect we could be on the verge of a big increase of interest in this sector which could benefit junior lithium, graphite and cobalt developers. The Lithium ETF is made of both battery manufacturers and mining companies.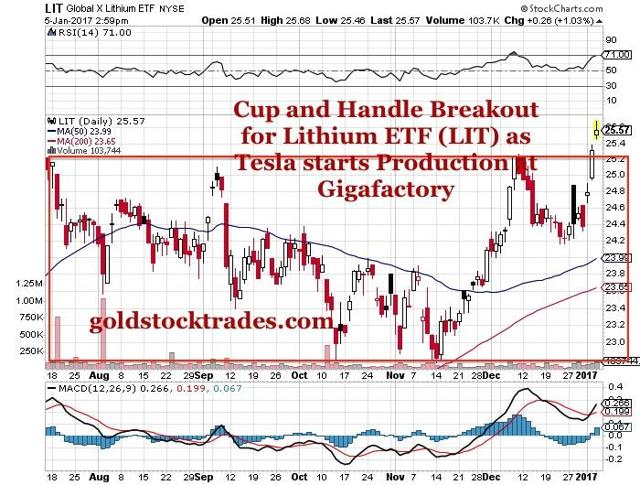 Important news has also crossed my desk this week. I think silver is going to have an explosive move especially high grade silver found in Canada a safe mining jurisdiction. You see a lot of silver comes from crazy places like Bolivia. I particularly like the high grade found in Canada especially the Golden Triangle and Keno Hill where a major discovery has been made and which is getting the geological community quite excited as it is high grade and open at depth which means it could be large as well. This major discovery in Keno Hill could also benefit neighboring silver explorers looking for high grade silver targets to be drilled in 2017. Remember the Keno Hill district in the Yukon has produced over 200 million ounces of silver with some of the highest grades in the world.
In addition to Keno Hill pay close attention to the high grade silver in the Golden Triangle in Northwest BC. Look for high grade silver results from Canada and management teams with prior track record of making world class discoveries. Get ready for inflation and a bull market returning for commodities in 2017. Make sure to consider precious metals and exciting mineral exploration companies.
Disclosure: I am/we are long GDXJ, SIL, LIT.
I wrote this article myself, and it expresses my own opinions. I am not receiving compensation for it. I have no business relationship with any company whose stock is mentioned in this article.