The past twelve months was an eventful period of time for General Electric (NYSE:GE), as the company made (or announced) several transformative transactions in 2016, but unlike some investors, the market has not yet bought into the hype.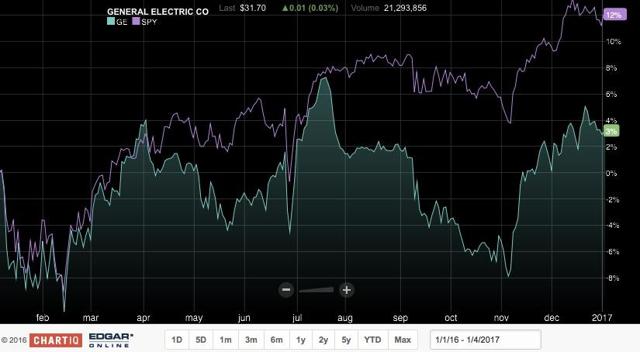 (Source: nasdaq)
As shown, GE shares have underperformed the broader market, S&P 500 (NYSEARCA:SPY), by a wide margin over this period of time. However, I believe that the real shareholder value will be created over the next two plus years, because GE's transformative actions have the potential to provide lasting long-term benefits to the company. Below is a list of the transactions, or should I say game-changing transactions, that GE made in 2016 (or late 2015):
1. Alstom - The Alstom acquisition was finalized in late 2015 and the company is already benefiting from the integration efforts. The benefit: For this ~$10b acquisition, GE is already projecting millions of dollars in cost synergies in the years ahead and for the acquired assets to provide $0.18-$0.20 in EPS by 2018.
2. Appliance Sale - This is another operating segment that the company did not consider core to its business, so management sold the segment to Haier (OTCPK:HRELF) for over $5b. The benefit: Additional capital can be allocated to the core operational areas.
3. SIFI De-designation - The company received approval for the rescission of the Systemically Important Financial Institution, or SIFI, designation. The benefit: Less regulatory hurdles to contend with and management will be able to allocate capital as they deem necessary.
4. Baker Hughes Tie-up - The company announced plans to merge its oil and gas business with Baker Hughes (NYSE:BHI) in a creative transaction that will result in a new publicly traded company. The benefit: Flexibility, as described in this article.
The big picture takeaway is that these transactions will allow for GE's management team to focus more on its industrial businesses, i.e. the core operational areas, while also being able to properly position the company to benefit from a business environment that is expected to improve once the new administration takes office.
But, not everyone is a believer in the "new" GE - for example, an analyst from JPMorgan, C. Stephen Tusa, recently released a note stating that the company's stock price will face downward pressure due to its fundamentals. The report also downplayed the impact of lower taxes for GE. In my opinion, Mr. Tusa is focusing too much on his bear case and is losing sight of the real benefit of business-friendly tax reform.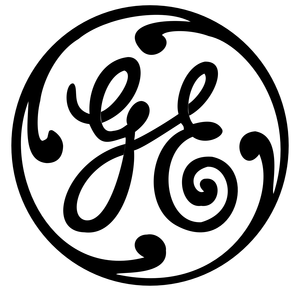 (Source)
Don't Lose Sight Of The Real Benefit - It's Not Just About GE's Tax Bill
To start with, it is important to note that Mr. Tusa has long been a GE bear, as his team's consistent price target of $28 has been well below the average estimate for some time now.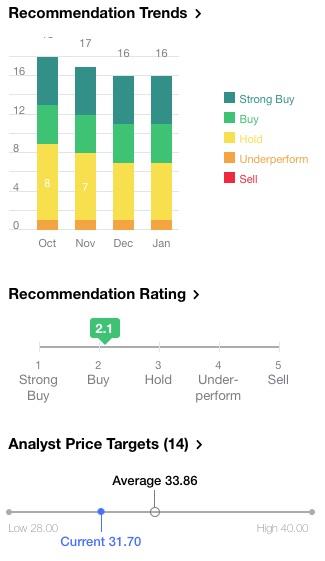 (Source: Yahoo! Finance)
With this backdrop in mind, Mr. Tusa's GE reports are definitely in line with his bear case, i.e. GE is overpriced based on its fundamentals. I do believe that Mr. Tusa and his team have raised some valid concerns, but I would contend that most (if not all) of their concerns are short-term in nature, which is a topic that I recently discussed in this article. Now, let's focus on Mr. Tusa's latest downbeat prediction for GE - the anticipated tax reform will not be that impactful for the company:
While the core of the bull case has been that things have changed, we have always acknowledged that EPS could be higher than our estimates on the historically typical low quality controllable drivers: gains, GE Capital earnings and low tax," the analyst told clients.

Tusa admitted that a zero percent tax rate is not something he envisioned or thought possible "under any reasonable form of government."

He noted that even at zero, the tax impact for GE is only slightly more positive than the average for its peer group, given the limited benefits from a tax repatriation.

- Even zero percent tax rate won't save General Electric - JPM, Jonathan Ratner
First, to me, this sounds like someone who is trying to admit something while at the same time trying to defend his previous recommendation. Furthermore, I believe that even "only [a] slightly more positive than the average for its peer group" impact is very beneficial for GE, especially while this company is progressing through its restructuring efforts over the next two years.
The U.S. tax code is extremely complicated, as everyone is aware of, so it is nearly impossible to determine the true impact of the tax reform that Mr. Donald J. Trump ran his campaign on, but it goes without saying that there will indeed be some type of impact to the large U.S. conglomerates, including the likes of GE. Plus, to be frank, no one really knows what policy changes the "Wild Card," i.e. Donald J. Trump, will actually put into place when he takes office. However, to stay on topic with Mr. Tusa's report, I will proceed with the assumption that U.S. corporate takes will indeed be lowered in the quarters ahead.
Therefore, let's take a few moments to dive into GE's results to determine how much the company has paid in taxes over the last few years to see if the company will be impacted by tax policy changes (full disclosure: there are many pundits that believe that GE pays little to no taxes, but this is not the case for Mr. Tusa). For the consolidated results, i.e. GE Industrial and GE Capital, the company's effective tax rate ballooned in 2015 due to several factors, with the most notable factor being the GE Capital Exit Plan.

(Source: GE's 2015 10-K - full disclosure: The full-year 2015 report is the latest annual statement, i.e. 10-K, that is available since the 2016 report has not been published.)
Now, let's take a deeper dive into only the industrial results, excluding GE Capital, since the company is in the process of selling off a majority of its financing business.

As shown, the industrial portion of GE's business had an effective tax rate in the mid-to-high teens from 2013 to 2015. Moreover, a review of GE's Statement of Cash Flows shows that the company paid billions of dollars in taxes from 2013 through 2015.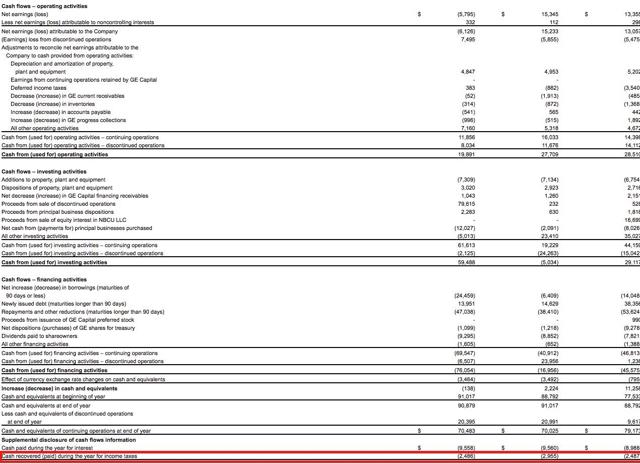 Even more telling is the company's reconciliation from the U.S tax rate to the actual tax rate that was realized in 2013 through 2015.

Notice how impactful GE Capital's (the business that will no longer be a part of the "new" GE) tax adjustments were to the consolidated figures, with the exception of 2015. Based on all of this support, the thought that lower U.S. taxes will not have an impact on GE earnings is simply misguided, to say the least. Some may be asking what the exact (or estimated) impact that the tax reform will have on GE's bottom line and my response is that only time will tell. Additionally, I would really question anyone that says anything different, unless the person (or persons) were very familiar with both GE's internal operations and the U.S. tax code.
In my mind, the real benefit of business-friendly tax changes is not the amount of money that GE will save on its tax bill, but instead, the impact that the tax changes will have on the economy and other U.S. businesses, specifically GE customers. I would be okay with GE not saving a dime in taxes, which I do not believe would be the case, if the tax reform would save other U.S. companies millions of dollars in taxes. Think about it, a strong U.S. economy and customers that have more money to spend on industrial equipment and services is much more impactful to GE than saving on its tax bill, in my opinion.
Q4 2016
The fourth quarter is typically GE's strongest three months of year, so investors should closely monitor the results when the company reports on January 20, 2017. When the company releases the results, I will be looking for more insight on the Alstom integration and any type of update on the Baker Hughes deal. I will be publishing a Q4 2016 earnings preview article at some point over the next week, so please consider hitting the "Follow" button above to ensure that you receive the upcoming article.
Bottom Line
For General Electric, the real benefit of business-friendly tax changes is not about how much the company will be able to lower its tax bill, which in my mind would be icing on the cake, but it is more about how impactful the changes will be to the company's operating environment. In my opinion, Mr. Trump's tax policy changes (if put into place) will positively impact the industrial space, which will end up being a tailwind for GE heading into 2018.
The current year is projected to be a challenging year for GE, but that does not mean that long-term investors should sell their shares. I believe that long-term investors should treat any significant pullbacks, especially if the dips are a result of short-term concerns (similar to risks that Mr. Tusa highlighted in his latest reports), as buying opportunities.
If you found this article to be informative and would like to hear more about this company, or any other company that I analyze, please consider hitting the "Follow" button above.
Disclaimer: This article is not a recommendation to buy or sell any stock mentioned. These are only my personal opinions. Every investor must do his/her own due diligence before making any investment decision.
Full Disclosure: All screenshot support was pulled from GE's 2015 10-K (linked above).
Disclosure: I am/we are long GE.
I wrote this article myself, and it expresses my own opinions. I am not receiving compensation for it (other than from Seeking Alpha). I have no business relationship with any company whose stock is mentioned in this article.