I continue to look for stocks that have not participated in the rally over the last six months in order to spot firms with solid fundamentals, but that are currently unloved by investors. One stock that is down more than forty percent from its highs over the summer, but looks like a long term winner for patient investors, is Basic Energy Services (NYSE:BAS). The company recently had a disappointing earnings report which has kept it from participating in the market's rise. However, I think over the coming quarters it will see improving results and investor sentiment.
"Basic Energy Services, Inc. provides various well site services to oil and natural gas drilling and producing companies in the United States. Its Completion and Remedial Services segment provides pressure pumping services, such as cementing, acidizing, fracturing, coiled tubing, nitrogen, and pressure testing; rental and fishing tools; coiled tubing; snubbing services; thru-tubing; cased-hole wireline services; and underbalanced drilling in low pressure and fluid sensitive reservoirs." (Yahoo Finance).
7 Reasons to buy Basic Energy Services at just over $20 a share:
Earnings are projected to grow solidly over the next few years. The company made $1.87 a share for FY2011 and analysts project earnings of $2.57 a share in FY2012 and $2.94 in FY2013.
The median analysts' price target on BAS for the 17 analysts that cover the stock is $28 a share. Dahlman Rose upgraded the stock to a "buy" in mid-December.
Even though the company missed on the bottom line during its last earnings report, it slightly beat on revenue and margins improved significantly.
Low natural gas prices are not significantly impacting the company's prospects. It gets 70% of its revenue from the oil & liquid sector, and is having little problem moving its equipment from gas producing properties to nearby oil producing acreage.
It will continue to benefit from huge increase in fracking use as it has the third largest servicing fleet after Nabors (NYSE:NBR) and Key Energy (NYSE:KEG).
The stock has a forward PE of just 7. Nabors and Key Energy are in the 8-9 range on forward earnings by comparison.
The stock looks like it built a technical base and appears ready to move upward (See Chart)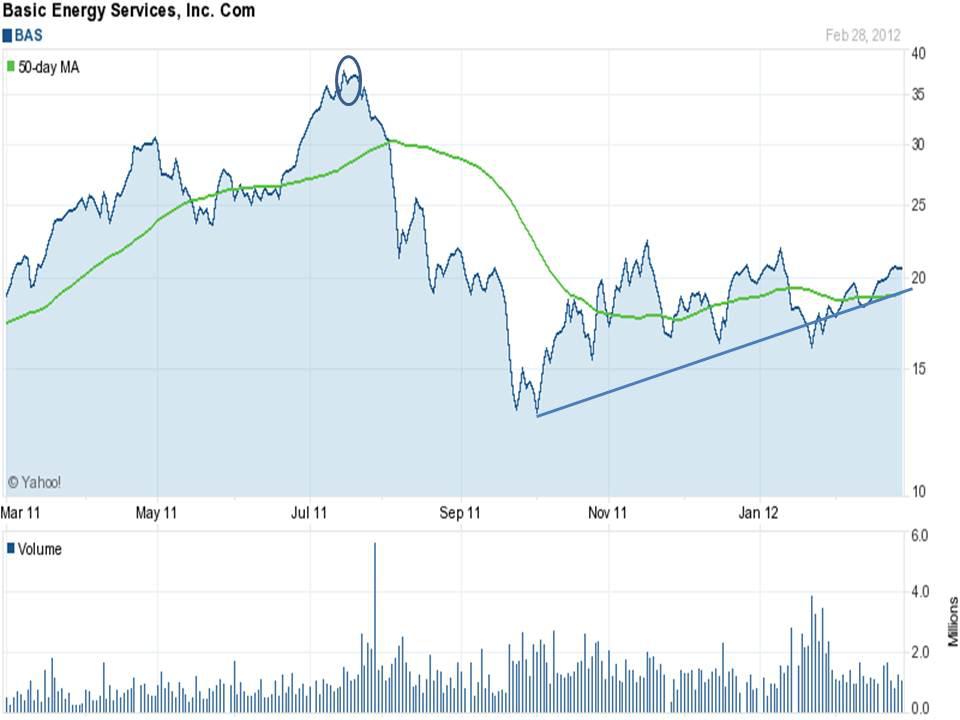 Disclosure: I have no positions in any stocks mentioned, but may initiate a long position in BAS over the next 72 hours.