Penn West Petroleum Ltd. (PWE) has been to the financial cliff and back again. The achievements of the last two years are probably top 1% in many areas. There was a little trepidation as the latest announcement saw more changes in senior management. For many shareholders, those senior managers that were leaving were the best shareholders had seen in a long time. But the reason for leaving is that the last two years required some extremely experienced people for the company to survive its near death experience. Now as was noted in an earlier announcement, the senior officers required will not need quite the heavy experience that was needed to get the company through the financial crisis.
David French, who just sold the company he used to head is now the new president of the company. Having built a company himself and having plenty of senior experience prior to this new assignment, he fits the needs of the president position at the company. Gone are the downsizing requirements and nervous lenders as well as the massive sales and writedowns. Now, a little less experience is necessary, and Dave Roberts proved his own first rate talents by discussing this ahead of time.
So now two more senior officers are leaving. The CFO in particular oversaw the review of the books that led to some serious charges, a lot of property sales, and writedowns. Had all that not been found and solutions proposed, the company may not have survived. Still the company is a lot smaller, financially stronger, and this gentleman could be looking for larger challenges. One of the problems with a successful downsizing is several of the key officers, had they stayed, most likely would have had to take a pay cut, and definitely would have been under-utilized. So right-sizing senior management needed to be a priority also. The story is probably similar for Gregg Gundy, Senior Vice President.
Rick George, Chairman of the Board, is staying and that is probably important. He built Suncor through acquisitions, and the rest of the board also has some very relevant experience. As noted in previous articles, this board is very unlikely to stay passive. In fact, count on them to diligently hold senior management accountable at all times. After this reorganization through all the property sales and down-sizing, expect this board to be very careful going forward.
So in many ways, this particular round of management turnover is to be expected. Going forward, Penn West is a very different company than the one that faced massive challenges a few years back. Just in case the books were not in bad enough shape, commodity prices crashed and made things much worse. Many companies would have given up and reorganized. This management not only persisted, but now has presented shareholders with a reasonable growth plan going forward. The company is now about 25% of its previous size and still shrinking the non-core areas. The undying loyalty of many shareholders has been earned over the last few years and now will get rewarded.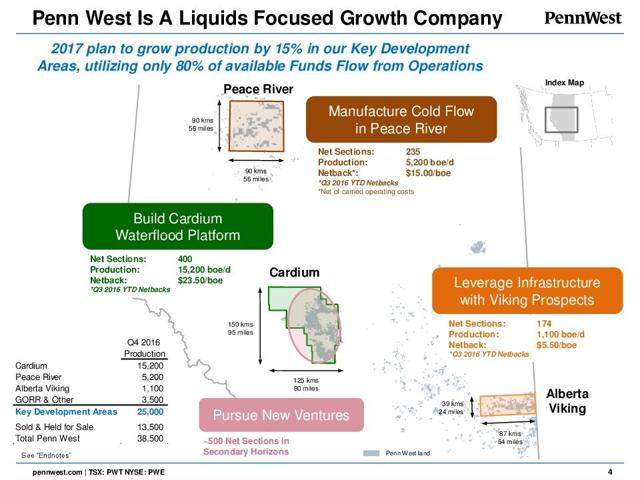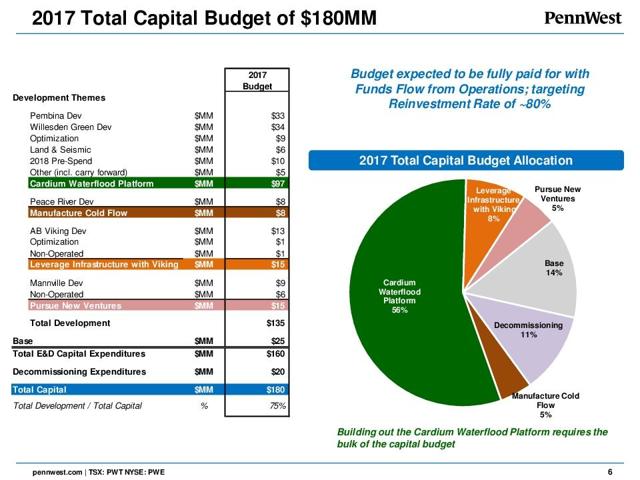 Source: Penn West Energy Ltd., January, 2017, Investor Update
The above slide summarizes the capital budget of about C$180 million. This proposed budget has been increased a few times as industry conditions have improved. There is still about 13,000 BOE of low profit production that management is negotiating to sell. Presently, management expects to have most of that accomplished in the first quarter. The proceeds would be used to reduce debt further, at least initially. More favorable industry conditions could result in the proceeds being used to further increase production.
Of the three core areas, the Alberta Viking has the lowest netback. Management can be expected to review the situation there and probably increase the netback throughout the year. Costs have come down significantly throughout the last two years and the balance sheet ratios are now fairly conservative. The budget above assumes that 80% of cash flow from operations will be spent. That allows some wiggle room as well as the ability to pay down more bank debt.
But really, the cash flow is not all that much for the amount of core production. So as management drills and completes new wells, that cash flow could grow significantly. Not only will the new growth be more profitable, but the wells required to replace natural declines will also be more profitable. Expect some unprofitable wells to be changed to injector wells for the waterflood projects. The company had not drilled for awhile, and when it did resume, the property sales and other reorganization measures overwhelmed results. In the future, operations will determine the reported results. This company should rapidly return to profitability.
The ratio of cash flow from operations to debt is expected to drop below the 2:1 area over the current fiscal year. Penn West has not seen that conservative a ratio in a very long time. Shareholders equity is effectively gutted by the reorganization process, but with the cash flow ratio now conservative and with normal banking relations, this company can now think about growth. However, at no time is debt slated to expand. This company will be living within its means for the foreseeable future.
But the Chairman has made many acquisitions during has tenure at Suncor (NYSE:SU), so shareholders can expect a bargain acquisition or two along the way. That may not be in the forecast, but the management experience is too heavy to rely simply on organic growth. Also expect the current management to keep the industry leading costs, and conservative balance sheet ratios.
So the stock, which is up considerably from its lows is probably still a solid bargain. Cash flow is expected to run over C$200 million a year. The current enterprise value is roughly made up of C$1.3 billion equity and another nearly C$500 million in debt. So the company is trading at 9 times cash flow. That is really not bad for a company that successfully survived a near death experience and now expects to grow production 15% next year. Continuing production improvements should make the cash flow expectations very conservative.
Plus the ability to make an acquisition or two over the next few years point to an undervalued security. Sometimes, the most important asset, management, is not on the balance sheet. That appears to be the case with this company. The experience and activity level of this board lowers the risk of the investment. So does the fact that the new president ran his own company (and sold it) before being hired by Penn West. As far as speculations go, shareholders could do far worse. Plus this company is very likely to quickly gain an investment grade rating in short order. The speculative rating is based on past history. The company is running very differently going forward. Stay tuned, it only gets better from here. The downside risk is very minimal but the upside potential is probably well understated. This common stock should double over the next 24 months and then probably double again for a quadruple in five years.
For 25,000 BOED core production, this company is really not that richly capitalized. But it will be as management continually increases profitability. Just imagine what the stock would be worth if it was a Permian company! The disasters of the past few years should fade from the market memory as a new more profitable future evolves.
Disclaimer: I am not an investment advisor and this is not a recommendation to buy or sell a security. Investors are recommended to read all of the company's filings and press releases as well as do their own research to determine if the company fits their own investment objectives and risk portfolios.
Disclosure: I/we have no positions in any stocks mentioned, and no plans to initiate any positions within the next 72 hours.
I wrote this article myself, and it expresses my own opinions. I am not receiving compensation for it (other than from Seeking Alpha). I have no business relationship with any company whose stock is mentioned in this article.