There's a scene in the Tom Cruise movie "Top Gun" where Tom Cruise's character, Maverick is being scolded by his commanding officer. In the scene the Captain says "son your ego is writing checks your body can't cash." That line reminds us of Saudi Arabia's recent investment commitment.
SoftBank Vision Fund
In October 2016, SoftBank (OTCPK:SFTBY) announced plans to form a technology investment fund worth as much as $100B, the SoftBank Vision Fund. The fund will invest in various technology ventures in the coming years. Over the next five years, Softbank and Saudi Arabia have committed to contributing $25B and $45B, respectively, comprising 70% of the total capital committed.
Saudi Arabia's investment will be made through its sovereign wealth fund, the Public Investment Fund ("PIF"). This is the same fund in which Saudi Arabia will contribute its national oil company Saudi Aramco, the same oil company that Saudi Arabia plans to list on global markets via an initial public offering ("IPO") in 2018.
The PIF, and in turn, the SoftBank Vision Fund, is now central to Saudi Arabia's plans (i.e., Prince Mohammed bin Salman's Vision 2030 program) to diversify its economy beyond oil.
It's important to note that this commitment is to be fulfilled over the next five years. Yet it's also important to realize that the capital for this investment has to come from the IPO and subsequent stock sales of Saudi Aramco. With oil still mired in the $50-60/barrel range, the country's soaring budget deficits have forced the government to spend down its considerable foreign reserves. Deficits of $98B in 2015 and $87B in 2016 have reduced the country's foreign reserves from $730B at the end of 2014 to approximately $560B as of July 2016.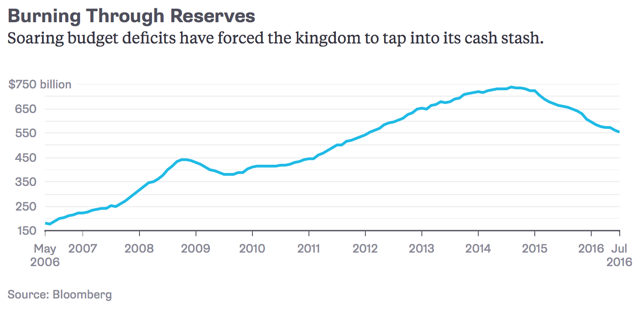 Government debt issued in November helped to balance the books, but deficit spending will again continue unabated in 2017 if oil prices continues to stagnate. Thus, Saudi Arabia is hard pressed to reallocate a large portion of its foreign reserves for this investment. Taken these facts together, we believe a few things are likely to occur:
1. Saudi Arabia will almost certainly keep its commitment to cut oil production, following the OPEC agreement it helped lay out in December. This also increases the likelihood that Saudi Arabia will continue cutting or extending the cuts beyond the six months agreed to in Austria. If the Saudi Aramco IPO is in 2018, engineering an oil shortage to pressure prices isn't out of the question. Reducing supplies and forcing oil prices higher is a must if Saudi Arabia wants to obtain a "fair" price for the sale of Saudi Aramco.
2. Publicly committing to such a large investment means Saudi Aramco's IPO will then be followed-up with future sales, as Saudi Arabia looks to diversify its investments in industries beyond technology and in vehicles besides this fund. Will the ultimate percentage rise to the 49% level as previously reported? Difficult to say, but it will certainly be more than the 5% sold in the IPO.
3. We've previously written that Saudi Arabia has every incentive to force oil prices higher. Controlling over 10% of the world's production, Saudi Arabia has an outsized influence on the oil markets. In previous oil crashes, Saudi Arabia had the incentive to cut production and increase prices to a level needed to maintain the longevity of the oil markets. Here it's trying to extract the highest price possible to the asset. So while historically there's little incentive to create a price spike, in this instance, a price spike may be just what the prince ordered. We expect prices to not only rise, but also overshoot in the longer-term.
In the end, the monarchy's credibility and Saudi Arabia's political stability hinges on a successful implementation of Vision 2030. Publicly committing to this investment is a declaration of the government's will to make Vision 2030 a reality. Writing the actual check to fund the investment, however, is largely dependent on where oil prices are when you sell the crown jewels to fund the purchase. Saying and doing are two completely separate things, but one thing we know from Charlie Munger's teachings is that consistency bias means you'll do whatever it takes to do what you say. Translation - gearing oil prices to head much higher.
As always, we welcome your comments. If you would like to read more of our articles, please be sure to hit the "Follow" button above.
Relevance: USO, BNO, CR, CRAK, DBO, DDG, DIG, DNO, DRIP, DTO, DUG, OTC:DWTI, ERX, ERY, FENY, FIF, FXN, GUSH, IEO, IEZ, IYE, NANR, NDP, OIH, PXE, PXJ, RYE, SOP, UOP, UWTI, VDE, XES, XLE, XOP
Disclosure: I/we have no positions in any stocks mentioned, and no plans to initiate any positions within the next 72 hours.
I wrote this article myself, and it expresses my own opinions. I am not receiving compensation for it (other than from Seeking Alpha). I have no business relationship with any company whose stock is mentioned in this article.