Markets have returned from the post-holiday trading period and the next direction is likely to be determined by Fed rate policy and macroeconomic factors. But when we look at the market activity seen over the last two months, it evokes a setting of calmness that might be called "complacency" by some and outright "delusion" by others.
Key stock ETFs like the SPDR S&P 500 ETF (NYSEARCA:SPY) and the SPDR Dow Jones Industrial Average ETF (NYSEARCA:DIA) are comfortably trading near record highs -- and investors have not even had to wait for those "pesky" quarterly earnings reports that actually define whether or not valuations in a given stock are undervalued or overvalued. Instead, investors seem perfectly content riding the Trump Train that has promised a pro-business outlook designed to stimulate growth and bring prosperity back to a long-battered US economy. So it is critical for investors to eliminate this mindset and to instead position for what the high in this market will actually look like.
Chart View: SPDR S&P 500 ETF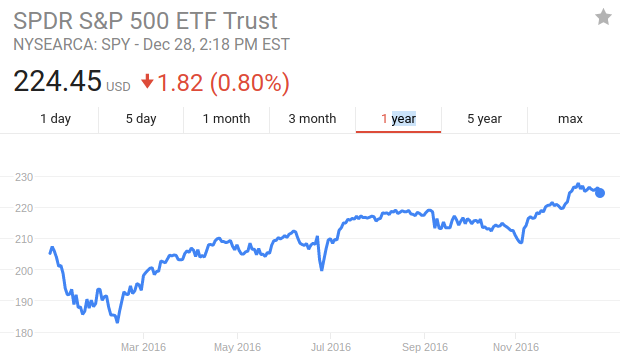 Chart Source: Gold Traders
Over the last few weeks, we have written extensively to signal the potential warnings signs that are now becoming apparent in ways that could force the hand of the Federal Reserve and compel its members to act in ways that are still widely unexpected. These calls were accompanied by long trades in banking sector favorites like Bank of America Corp. (NYSE: BAC) and Citigroup Inc. (NYSE:C), as this is one of the few industries that is actually fueled by more constrictive interest rate policy.
In the chart above, we can see that the S&P 500 is benefiting significantly from bullish trends in equities. If we are viewing this from a both the fundamental and technical analysis perspectives, deviations this large are almost never viewed as sustainable. On an earnings basis, the S&P 500 itself is trading at a trailing P/E of 21, which is well above the 16 trailing P/E seen over the last 10 years. So it is important for those long equities to start trimming back on exposure or even to consider taking bearish options positions on the shorter-term time frames. This does not necessarily mean that it is time to exit all long-term positions -- but there is a growing likelihood that we will be seeing better opportunities to get long again toward the second half of next year.
Chart View: US CPI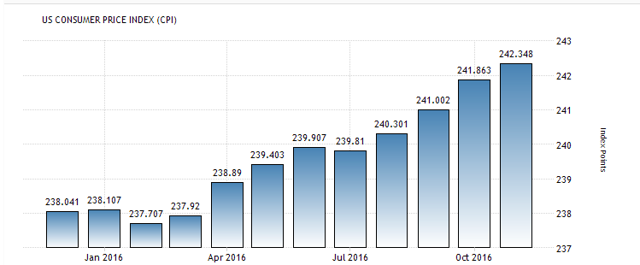 Chart Source: Gold Traders
In this chart, we can see the changes in inflation over the last year (2016). Houston, do we have a problem? There were many opportunities for the Federal Reserve to start signaling interest rate increases earlier in 2016 -- but those opportunities were squandered in favor of the post-QE mindset used to justify "jobs stability" under the Obama administration.
If the Fed fails to see the importance of these consumer price trends before they truly develop, we could see a material impact within the price stability of broader economy itself in its ability to hit consumers. If this occurs, the Fed will be forced to alter its policy tone in ways that suggest higher interest rates and stalling equities valuations. Are these outright declines? No. But this is what the "decline" might start to look like in the current market environment.
Maybe the real question here is whether or not the optimism is warranted. Consumer confidence surveys heave reached their highest levels in 15 years, and investors seem to have no worry in sight with respect to their portfolio positioning and exposure in the equity markets. This is always a mistake in up markets, however, as potential consequences can still be seen. But when the unforeseen eventually happens, investors must have some form of protective asset allocation strategy in place so that prior gains are not given back.
Disclosure: I/we have no positions in any stocks mentioned, and no plans to initiate any positions within the next 72 hours.
I wrote this article myself, and it expresses my own opinions. I am not receiving compensation for it (other than from Seeking Alpha). I have no business relationship with any company whose stock is mentioned in this article.