Stocks discussed on the in-depth session of Jim Cramer's Mad Money TV Program, Thursday, January 5.

The Trump rally relaxed on Thursday with many questions across the minds of the investors. The market has been rallying on the back of tax cuts, deregulation and repatriation agenda. Anything that is contrary to this will affect the run in stocks. As Congress is focused on repealing the Affordable Care Act, the tax cuts take a back seat.
"If Trump's own party is going to make trouble for the agenda that brought us oh-so-close to Dow 20,000, then we're going to have a sell-off," said Cramer.
Hence the money is out of stocks and moving into winners like the FANG stocks. It even took Apple (NASDAQ:AAPL) up after they disclosed their App store achievements. Cramer is excited about Apple's service revenue which is growing rapidly. "The bears on Apple are losing patience. I think the stock is close to breaking out," he added.
Another worry on the market is the performance of retail. Retail stocks like Macy's (NYSE:M), Kohl's (NYSE:KSS) and L Brands (NYSE:LB) have been falling and the companies have lost their way. "This is the pause that I have been expecting; it's just that rather than unleashing a tsunami of selling, it merely caused money to flow from Trump stocks to not-Trump stocks," said Cramer.
CEO interview - Box (NYSE:BOX)
Box is a cloud-based enterprise storage provider and mobile business collaboration platform. They reported a strong quarter in November and yet the stock is down 5% while other stocks have rallied. Cramer interviewed CEO Aaron Levie to know what lies ahead.
Levie stated the current business environment is getting complex due to cybersecurity threats, increased business regulations and global collaboration issues. Box simplifies how companies collaborate globally in a complex environment and they have more than 69,000 customers globally with 63% being a part of the Fortune 500.
He adds that Trump's agenda will not make a difference to the company's future. "We have seen growth under lots of different types of administrations and we believe that we are on a trajectory to continue to grow rapidly in the future," said Levie.
Commenting on competition, he said Box is the only platform that meets all the enterprise use cases as they partner with companies like IBM, Microsoft and Google.
What's wrong with Retail?
In a world where people prefer to shop online, is there room for department stores? Cramer thinks no. At a point when Cramer's parents worked at department stores, everyone thought these stores will last forever.
However, department stores were soon left behind by discounters and discounters by the likes of Wal-Mart (NYSE:WMT) and Target (NYSE:TGT) and all by Amazon (NASDAQ:AMZN).
After seeing dismal holiday sales numbers from Macy's (M) and Kohl's (KSS), Cramer thinks there is an issue with retail. "It's not that the mall is dead. It's that the mall's rent is too expensive for all but the most exclusive specialty retailers that can make money selling goods at nosebleed price points," he added. "Macy's is the third-largest online seller in its categories after Amazon and Wal-Mart, but that doesn't pay the rent."
There is room for ultra specialty retailers as the elite 1% will not spend $10,000 for a pair of earrings without seeing them in person. However, mass merchandise and high end retailers like Saks or Nordstrom (NYSE:JWN) will find it difficult to survive as the shopper can buy the products online since they know the size.
"Everyone is too cheap to shop at the mall. It's just too inconvenient unless you are uber-wealthy and need to see the ultra-luxury wares in person before buying them," concluded Cramer. If Macy's and Kohl's haven't figured out a way, there most likely isn't.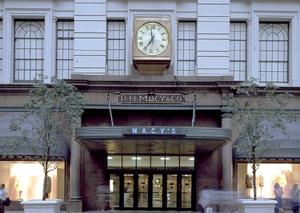 CEO interview - Constellation Brands (NYSE:STZ)
As Trump plans to impose cross-border taxation in imports, many stocks can lose. Constellation Brands is the world's leading purveyor of premium wines and alcohol. They reported a strong quarter but were still hit hard due to Trump's agenda. Cramer interviewed CEO Rob Sands who believes that their stock is undervalued.
According to Goldman Sachs, much of earnings beat came from tax benefit and the beer sales were much lower than Goldman projected. Sands said that the company had a great quarter and hence they are buying their own stock. "Over the last couple of quarters we have purchased over $800 million of our own stock. That's because we clearly think that it is undervalued."
Sands agreed that investors are worried about tax changes, but he also said that it is not possible to make Mexican beet outside Mexico. The company can however take measures to offset the hit on their bottom-line.
Sands is bullish on the company's future with new products coming up in the portfolio.
CEO interview - Halozyme Therapeutics (NASDAQ:HALO)
Halozyme's stock went up 20% on positive Phase II data on pancreatic cancer treatment. Cramer interviewed CEO Dr. Helen Torley to know more.
Torley mentioned that patients who took PEGPH20 improved time of cancer progression and reduced the rate of blood clots. "Pancreas cancer is one of the most devastating cancers that still today if you have advanced cancer, the probability of survival at 5 years is less than 5%," she added.
The stock of the company stalled as there was chatter that the data was not as strong as it seems. Torley said that there was not a benefit for the overall population, and stage 1 of the study where there was a temporary clinical hold that may have impacted it.
"The important message is that this data is certainly supportive of the confirmatory phase 3 study that we have already underway. And that's really what a stage 2 is to do. It's to help you identify: Is your design right? Do you have your powering right? Do you have in the case of our drug—the biomarker cut point right?" she said. This data is supportive and hence it has moved to stage III.
Viewer calls taken by Cramer
Mobileye (NYSE:MBLY): If one has to be in autonomous driving stocks, it's better to be in NVIDIA (NASDAQ:NVDA) that makes chips for the technology.
Blackstone (NYSE:BX): It's getting the institutional support it deserves. They can liquefy their assets.
Express (NYSE:EXPR): They don't have enough customers. Don't buy the stock.
Lands' End (NASDAQ:LE): They have a good management but there needs to be strong quarters before it can be bought.
::::::::::::::::::::::::::::::::::::::::::::::::::::::::::::::::::::
Jim Cramer's Action Alerts PLUS: Check out Cramer's multi-million dollar charitable trust portfolio and uncover the stocks he thinks could be HUGE winners. Start your FREE 14-day trial now!
Get Cramer's Picks by email - it's free and takes only a few seconds to sign up.