For Mexicans, Trump has been a nightmare waiting to happen and the weakness in the Mexican Peso is reflecting that. But the slide might just be beginning and another 20% to 40% drop isn't out of the cards if Trump goes through with his plans of renegotiating NAFTA. Just look at the following chart to see the big drop Trump caused on the Mexican Peso. Companies are already bailing out on their plans to move production to Mexico. Ford just announced that they were cancelling a $1.4 billion investment in a Mexican manufacturing plant in San Luis Potosi and instead they will be expanding one of their American plants and in the process create 700 jobs. As more of these announcements are made expect significant strength on the USD dollar for the short to medium term. We don't recommend investors to take a bull position in the DB USD Bull ETF (NYSEARCA:UUP) as the index might retrace a little. Rather we recommend investors to short the Mexican Peso (USD/MXN SPOT FX) on any sign of strength with a tight stop at the $19.70 level which represents the high before the election.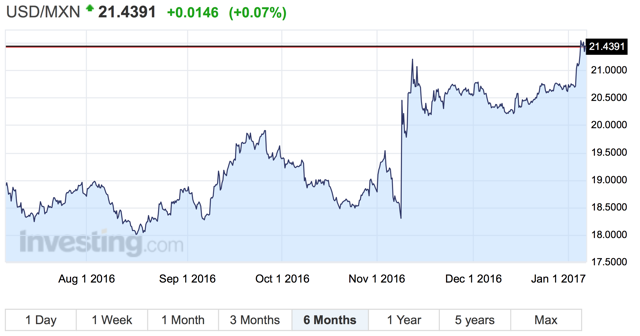 It all started with NAFTA
Ever since NAFTA was signed, the Mexican economy has been increasingly dependent on the USA. American manufacturers have found in Mexico a safe haven to invest on a country close to home and with much less strict regulations than China. In Mexico, there's no need for joint ventures like China constantly forces American companies to take. But the problem is that there are almost no Mexican multinationals and that puts the Mexican economy at the mercy of American policies.
Most companies in Mexico are large American and European multinationals. And like Trump has correctly said, most of these multinational companies have seen Mexico as the perfect place to export their products into the American market tariff free thanks to NAFTA. Mexican exports to the USA were valued at $316.4 for 2015 according to the Office of the United States Trade Representative. Mexico is the third largest US trading partner and the second largest market for American goods behind Canada. US exports to Mexico were $236 billion in 2015. That's compared to the $123 billion American companies export to China.
Companies have been moving to Mexico from China
Thanks to the one child policy in China, as older workers keep retiring, grandkids are refusing to work for less. The middle class is booming in China and since 2013 wages in Mexico are cheaper than China. When you combine uncertainty in China, conflict in the South China sea, significant entry barriers for foreign companies, corruption, rising wages and risk of assets being confiscated, American companies found in Mexico a safe haven close to home to install their operations. Not to mention also that logistics and transportation costs are more expensive in China as well.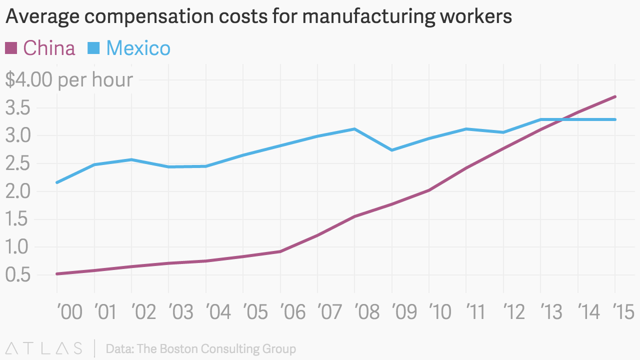 Source: Atlas with Data from the Boston Consulting Group
A long term fall in the Mexican Peso
The Mexican peso has been on a long term fall depreciating 17% during 2016. With recent events the Mexican peso is on the verge of a panic. Thanks to the constant depreciation of the peso foreign investors have had a negative return on their investments on government bonds. Currently about $100 billion of Mexican government debt is being hold by foreigners and they should be on the verge of throwing out the towel. At some point and very quickly foreign investor can give up on having negative returns and dump their bonds altogether creating a death spiral.
Already the government announced a 20% hike to gas prices which has caused nationwide protests, interstate highway blockages, outages, looting and more than 250 arrests. Today the Central Bank of Mexico sold $1 billion us dollars to prevent the slide from continuing and it has also increased interest rates five times during 2016.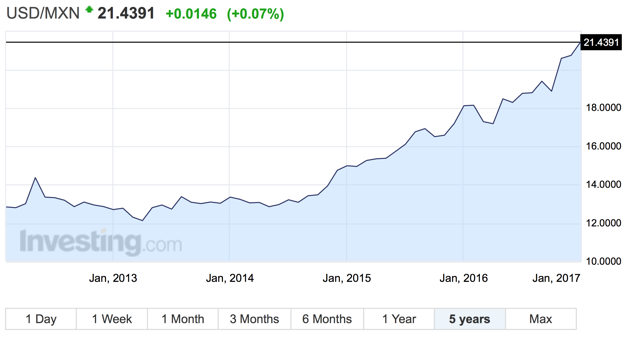 Conclusion:
With so much uncertainty going around Trump's policies, Mexico heading into election year in 2018, corruptions scandals involving high officials almost on a daily basis, expectation for the lowest amount of foreign investment since 2013 and the risk of a capital flight we believe investors should take a short position on the Mexican Peso and if they wish to hedge their position they should consider taking a short position on (UUP) for the same amount of dollars. The Mexican peso should stay relatively flat on any dollar weakness and significantly weaken on any further dollar strength. And if the dollar stays flat the Mexican Peso (MXNS) should continue to get weaker. As mentioned at the beginning, set a tight stop on the 19.70 area. (No lower than $19.50.)
Disclosure: I/we have no positions in any stocks mentioned, and no plans to initiate any positions within the next 72 hours.
I wrote this article myself, and it expresses my own opinions. I am not receiving compensation for it (other than from Seeking Alpha). I have no business relationship with any company whose stock is mentioned in this article.