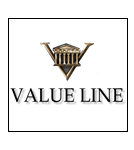 Value Line (NASDAQ: VALU) is a financial research company with a current market capitalization of $178.37 million. The company offers its services using a subscription model to individuals and corporate clients. VALU is a profitable company that has a good reputation of dividend. It has a payout ratio of 58.46% and a trailing twelve months (TTM) dividend yield of 3.65%. I believe that at the current price, the company is perfectly valued and ripe for acquisition.
Valuation
VALU has a market capitalization of $178.37 million, a price to earnings ratio of 15.5, an enterprise value of $157.12 million, and an EV/EBITDA of 11.74. When making investment decisions, I look at these metrics and then compare them with those of the closest competitors. VALU competes with a number of public and private companies such as TheStreet (NYSE: TST), FactSet Research (NYSE: FDS), Thomson Reuters (NYSE: TRI), Bloomberg (private), Morningstar (NYSE: MORN), Motley Fool, and GuruFocus among others.
| | | | | | |
| --- | --- | --- | --- | --- | --- |
| | VALU | TST | MORN | FDS | TRI |
| Market Cap | 178.37M | 30.09M | 3.232B | 6.737B | 32.65B |
| Enterprise Value | 157.12M | 6.146M | 3.027B | 6.908B | 41.27B |
| PE ratio | 16.25 | -- | 25.44 | 20.15 | 26.61 |
| Price to Book Value | 4.656 | 0.5228 | 4.894 | 13.56 | 2.877 |
| EV/EBITDA | 11.74 | -- | 11.94 | 17.61 | 12.37 |
| Profit Margin (Quarterly) | 17.11% | -8.03% | 15.40% | 23.11% | 9.95% |
| Dividend Yield | 3.65% | 0.00 | 1.19% | 1.14% | 3.06% |
| Debt to Equity Ratio (Quarterly) | -- | -- | 0.0907 | 0.7347 | 0.8074 |
Source: Author.
In the table above, it is clear that VALU is currently trading at a decent multiple compared to its peers. It is also trading at a bargain compared to its industry peers. The median PE of companies in the business service sector is 20.01 which is higher than that of VALU. Their Shiller PE is 30.02 vs 14.07. In addition, VALU has no short term and long term debt.
The Industry
The investment world is currently going through changes that will ultimately affect the investment research industry. It will particularly affect companies like TST and VALU. One trend that is expected to affect this business is the rise of High Frequency Trading (HFT) and algorithmic trading. In a report titled Global Algorithmic Trading Market 2016-2020 researchers found that the algorithmic trading industry will grow at a 10.3% CAGR. In algorithmic trading, investors allocate their capital based using algorithms. To a large extent, this removes the need for research provided by companies like VALU.
The rise in algorithmic trading is not new. James Simmons of Renaissance Technologies has become one of the best performing manager for years using computer algorithms developed by his team of professors and mathematicians. Today, hundreds of hedge funds use algorithms and Artificial Intelligence (AI) to allocate capital. In fact, in 2016, the top performing hedge funds were those that focused on algorithms. In a report by research firm, Prequin, it was found that 9% of hedge funds managing more than $200 billion used computer models to make investment decisions. The chart below compares the performance of hedge funds compared with those that use computer models.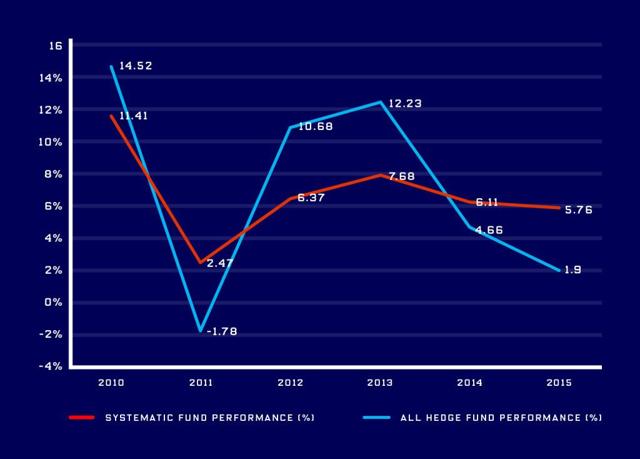 Source: Wired
This growth in AI has further been accelerated by the current trends in code development. In the past, people needed to have a lot of knowledge on software development to come up with trading codes. Today, this barrier has been reduced by companies like Quantopian which make coming up with algorithms relatively easy even to individual traders. Large hedge funds are also getting into the algorithmic trading train. Point72 the home office of legend Steve Cohen is aiming to execute its trades algorithmically.
Therefore, it goes without saying that companies that provide research such as VALU will be affected with reduced demand for reports. However, this 'migration' will take time and the demand for reports will still exist.
Conclusion
It is in the best interest for VALU to find a new suitor. Fortunately, VALU is cashflow positive company that is totally undervalued. VALU is a relatively smaller company compared to its larger peers. However, the acquirer can get a company with no debt and one that is cash flow positive. The company had a net income of $11.02 million and revenue of $42.37M. It has 116 employees. The acquirer can reduce the number of employees during integration.
Disclosure: I/we have no positions in any stocks mentioned, and no plans to initiate any positions within the next 72 hours.
I wrote this article myself, and it expresses my own opinions. I am not receiving compensation for it (other than from Seeking Alpha). I have no business relationship with any company whose stock is mentioned in this article.
Editor's Note: This article covers one or more stocks trading at less than $1 per share and/or with less than a $100 million market cap. Please be aware of the risks associated with these stocks.