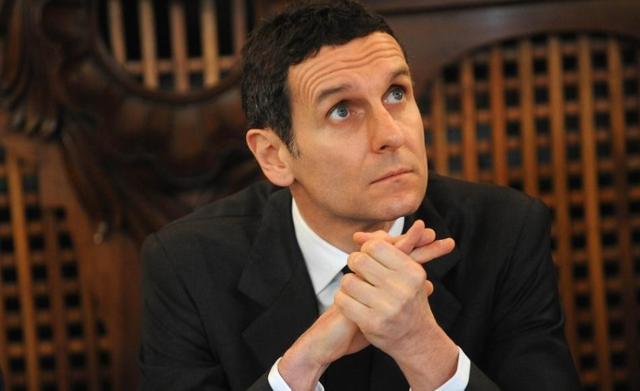 Monte Paschi CEO Marco Morelli. Source: formiche.net
The capital needs of Italy's Banca Monte Dei Paschi di Siena (OTCPK:BMDPY), (OTCPK:BMDSD) ("BMPS" or "Monte Paschi") continue to grow. Last week it was estimated the bank had a capital shortfall of EUR8.8 billion, up from EUR5 billion at the beginning of the month. Per CNBC, the bank now plans to issue EUR15 billion of debt to shore up liquidity and boost investor confidence:
Italy's Banca Monte dei Paschi di Siena, which is being bailed out by the state, plans to issue 15 billion euros ($15.8 billion) of debt next year to restore liquidity and boost investor confidence, several newspapers said on Friday.

The debt sales would be supported by government guarantees which form part of a liquidity scheme for banks in need which the European Commission has agreed to extend for six months.
The debt will take the form of bonds and commercial paper and would be backed by government guarantees.
The Situation
Monte Paschi has been reeling from non-performing exposures ("NPE") of EUR22.5 billion. The NPE equated to 21.5% of customer loans and dwarfed its EUR8.7B in equity at Q3 2016. The company failed to secure a debt-for-equity swap that involved [i] retail investors swapping EUR2 billion in bonds for equity and [ii] another EUR3 billion capital injection from a private investor and a sale of stock to the public.
When the bank sought a government bailout it was divulged that its capital shortfall had increased to EUR8.8 billion. Between November 30 and December 21, the bank suffered a rapid loss of liquidity. In my opinion, the crisis of confidence surrounding Monte Paschi will worsen as long as the bailout remains up in the air. The EUR15 billion figure likely reflects a continued run on the bank. Secondly, the capital injection has to be big enough to convince depositors not only that the bank is safe, but more capital will not be needed any time soon.
What's Next For Italian Banks?
ECB policymaker Jens Weidmann suggested the Monte Paschi bailout should be carefully examined. Instead of greenlighting government involvement, "state funds are only intended as a last resort." EU rules require that investors take a financial hit before taxpayers step in. The tete-a-tete between the Italian government and gatekeepers of the EU is entertaining. However, deciding on the mechanics of a bailout could lead to further delays and a worsening crisis of confidence in Monte Paschi. A bailout that does not adhere to EU rules could potentially fracture the euro. The longer Italy talks with no action, the bank run will likely continue and the EUR15 billion bailout will likely expand.
Italy has raised a EUR20 billion fund to rescue undercapitalized Italian banks. The successful rescue of Monte Paschi would pave the way for bailouts of other banks. UniCredit (UniCredito Spa (OTCPK:UNCFY)) plans to raise EUR13 billion, as part of a strategic overhaul. If investors sense that the government will backstop banks anyway, then private investors could be reticent to put capital at risk. A bigger Monte Paschi bailout and potential crisis of confidence at smaller banks could lead to a rescue much bigger than EUR20 billion.
Takeaway
The nationalization of Italian banks appears on the horizon. Who's to say Spain's banking system will not be next? Will that weaken the EU? Probably. If the drama over whether Italy is the next to leave the EU creates volatility for the financial markets then that's a good thing. I am short stocks and need all the volatility I can get. Investors should continue to avoid Italian banks.
Disclosure: I/we have no positions in any stocks mentioned, and no plans to initiate any positions within the next 72 hours.
I wrote this article myself, and it expresses my own opinions. I am not receiving compensation for it. I have no business relationship with any company whose stock is mentioned in this article.