This article is an updated version of a StockTalk I published here two years ago, as well as an update on my portfolio holdings, and it reflects both continuity and change in my investment plan. Unlike the previous post, this one covers non-equity assets as well as stocks.
I've been trading stocks for six years, and throughout that time they have made up the majority of my portfolio. For the first two years I attempted my own valuations (poorly), and achieved mid-single-digit annual portfolio returns despite a few mistakes. Since late 2012 I've based most stock selections on Morningstar reports. A table of my 2013-16 performance can be found in the article How My Stock Picks Returned 25% In 2016.
The main goal of my portfolio is capital appreciation, hence the 82% allocation to equities shown below. I try to manage portfolio risk with careful stock selection and a diversified group of non-equity holdings.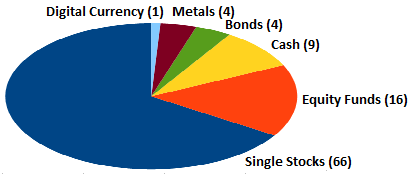 The chart shows my asset allocations at the end of 2016. As it implies, the single stock portion will require more unpacking than the others, so I'll go over it last.
Non-Equity Assets
The 9% cash percentage I report is what I call "investable cash", which excludes cash I've set aside for personal use and emergencies. Most of it is in a money market fund which earns 1% annual interest, and the rest is in brokerage accounts.
I have one bond holding - a high-yield corporates fund in my employer retirement plan. My bond preferences have been shifting toward TIPS lately due to their capital preservation potential, but I have yet to buy any.
The 13% combined allocation of bonds and cash is the result of a formula I developed early in 2016. The formula can be boiled down to three inputs: my personal risk tolerance, a group of economic indicators, and the Morningstar ratings for the stocks in my portfolio. My cash-plus-bonds target increases as the inputs become more bearish, and vice versa, with a "floor" and "ceiling" of 3% and 50%.
The intended result of the formula is that I eventually deploy accumulated cash in one of two ways: buying into equity selloffs, or buying bonds when economic fundamentals worsen. My target and actual are both 13% for now, which is little changed since September, when the economic indicators I use grew more positive. I've been at least close to target since shortly after I implemented the formula.
For economic indicators, I mainly follow LPL Financial's Five Forecasters, as well as other data points (i.e. housing prices, government debt, and job numbers) found in their weekly commentaries.
Long-term, I'm generally bearish on major currencies and non-inflation-protected government bonds due to high public debt levels. I also expect future global GDP growth (and therefore growth in stock market indices) to trail historical averages, given structural headwinds to the economy like decelerating productivity and an aging population.
3% of my portfolio consists of silver, 1% of gold, 0.5% of Bitcoin, and 0.5% of eleven other digital currencies. I use all of these to hedge against the risk of government and banking crises. I don't have much confidence in the profitability of holding metals or digital currencies, so the relatively low allocations here reflect where my conflicting goals of diversification and performance intersect. The 5% aggregate is unchanged from a year ago, with purchases (mainly gold, which I did not own before 2016) offsetting some losses in value.
I'm willing to let the digital currency position fall below 1% if the outlook for the asset class worsens. In the hypothetical case of an outstanding rally, I could allow metals plus digital currency to appreciate to 30% or 40% of my portfolio before rebalancing it - possibly back to 5%, if I see little change to asset fundamentals.
Two equity funds make up my 16% allocation to that category: the Sequoia Fund (MUTF:SEQUX), and a large-cap value index fund in my employer plan. I have no changes planned for either, aside from my regular payday contributions (which go to the equity index fund alone, not to the aforementioned bond fund).
I carefully measure the performance of my single stocks, and hence my worth as a stockpicker, against the total return of the S&P 500. My performance took a big hit recently after an unsuccessful venture into energy stocks, and if I have another such period of underperformance, I'll probably seek a much lower allocation to single stocks, with equity funds making up the difference.
0.2% of my portfolio's value is in protective puts used to hedge some of my riskiest stock holdings, such as Stratasys (NASDAQ:SSYS), 3D Systems (NYSE:DDD), PayPal (NASDAQ:PYPL), Twitter (NYSE:TWTR), and Valeant (NYSE:VRX). I began using protective puts in April 2016.
To keep hedging costs low, I typically buy puts at a strike price between 40% and 60% of share price, and with an expiration date 6 to 18 months into the future. First Solar (NASDAQ:FSLR) is a holding I have yet to hedge due to high put prices, and I plan to let a Stratasys put expire in January for the same reason.
Single Stocks
After the poor result of my overweight position in energy from 2014 to 2016 (which I cover separately), keeping my equity holdings in line with the S&P's sector weightings has become a higher priority, though as of the end of 2016 I'm overweight in financials (23%), healthcare (20%) and consumer cyclical (16%), as well as underweight in consumer defensive (2%). Among my single stocks, 83% are U.S.-based, with notable exceptions being Roche (OTCQX:RHHBY), Baidu (NASDAQ:BIDU), and CK Hutchison (OTCPK:CKHUY).
I use several rules to determine my stock allocations - for example, at least half of my overall equities must have a dividend yield at least three-quarters that of the SPDR S&P 500 ETF (NYSEARCA:SPY), and a similar percentage of single stocks must have Low or Medium fair value uncertainty ratings by Morningstar. Rules aside, I usually think of my single stocks in terms of the five strategies shown in the following chart:

My current holdings in each category are listed below.
These categories largely overlap the four I described in my 2014 post, with three main exceptions. What I previously called "near-term growth" is now simply "growth" without a time horizon. I also categorize most stocks in the previous "long-term growth" group, along with Fannie and Freddie, as speculative. Finally, the addition of the fifth category reflects the fact that diversification is a primary reason for holding certain names, whereas valuation and business quality alone are key to most others.
Since Industry Diversification is a new category, and Deep Discount Value continues to focus on taking advantage of shorter-term price swings, all names in those categories except Allergan have been held for less than a year. Within the other three, 50% of shares have been held over a year, and year-over-year turnover should drop considerably once my April exit from energy producers is farther in the past.
Allergan, Roche and Monsanto occupy multiple categories because I hold each of them for multiple reasons. I divide the shares of each amongst those categories when I figure my allocations, so there's no double-counting reflected in the chart. For example, I originally bought shares of Allergan as part of the Growth strategy because I believe it has high-quality assets (i.e. Botox) with the potential for long-term profit expansion. As Allergan shares continued selling off, however, I decided their price was compelling enough in its own right to hold additional shares for the duration of the price dip. While I'm content with an outsize low-priced holding in the short term, I'd be reluctant to hold so many shares at or above fair value (and potentially as a much greater percentage of my portfolio), so this model allows me to anticipate my rebalancing needs.
Looking Ahead
For 2017, I don't anticipate major changes in stock selection outside of Deep Discount and Speculative, as I believe the other categories contain a well-rounded group of industry leaders which can create value over the long term. The overlap with Berkshire Hathaway's portfolio provides further incentive for a long time horizon.
Several of my additions in 2016 (i.e. Medtronic and DaVita) had been on my watchlist for a year or more, as I waited for a pullback in price. Coca-Cola (NYSE:KO) and Exxon Mobil (NYSE:XOM) are other candidates for long-term holdings, mainly in the interest of diversification. Although I recently sold Google and Kinder Morgan, I would consider buying them back at much lower prices, as I believe they have high-quality assets.
My watchlist for Deep Discount is essentially all stocks with a five star rating by Morningstar, and for Speculative it is mainly the small-cap tech stocks covered by Morningstar. Fannie Mae and Freddie Mac are exceptions to the latter rule, since the possibility of their release from FHFA conservatorship offers an upside comparable to what I'd normally expect in the small-cap tech space.
The most likely near-term change to the single stock allocations shown in the second chart is an increase in Industry Diversification to around 13%. I've roughly halved the allocation to Speculative (my worst-performing group) since a year ago, and my current rule for the group is to avoid further increasing its aggregate cost basis, so I will not rebalance upward if its value continues to fall.
Deep Discount is down from 36% a year ago, when it contained my overweight position in energy. I made cuts to my holdings in other categories while building that position, and I may do the same in the future, but my rule now is to make no further purchases once the allocation reaches 30%. Regardless of the aforementioned, I plan to stay close to the present 2:3 ratio of Growth to Conservative Value.
Please note that this article describes my personal investment program - I'm not a professional, so I do not offer advice or recommendations. My main intent in writing is to document my portfolio, and perhaps one day claim bragging rights if it performs well.
Disclosure: I am/we are long ALL ASSETS, UNLESS OTHERWISE SPECIFIED.
I wrote this article myself, and it expresses my own opinions. I am not receiving compensation for it. I have no business relationship with any company whose stock is mentioned in this article.
Editor's Note: This article discusses one or more securities that do not trade on a major U.S. exchange. Please be aware of the risks associated with these stocks.