My favorite part of Nvidia (NASDAQ:NVDA) CEO Jen-Hsun Huang's keynote address at CES was his story of the robot with artificial intelligence that taught itself to walk. Robotics and AI are clearly a powerful combination.
This story brought to mind the relatively recent collaboration between AI-enabler Nvidia and robot manufacturer Fanuc (OTCPK:FANUY) to build AI-powered factory robots. The two companies' joint press release describes
… a collaboration to implement artificial intelligence on the FANUC Intelligent Edge Link and Drive (FIELD) system to increase robotics productivity and bring new capabilities to automated factories worldwide. Adding AI to the FIELD system will give robots the ability to teach themselves to do tasks faster and more efficiently. By learning together, what used to take a single robot 8 hours can now be done by eight robots in an hour."
Annual unit sales of robots have increased 111 percent in the last decade, per International Federation of Robotics data. That's a CAGR in unit sales of less than 8 percent; if the revenue CAGR was close to that, it would hardly be a high-growth industry. Thus, key questions for an investor to evaluate include: 1) whether the addition of AI may increase the market size for robots; 2) whether Fanuc's partnership with Nvidia may give Fanuc an advantage in the robot market; and 3) whether Fanuc is fairly valued given the investor's answers to the previous questions.
Tesla (NASDAQ:TSLA), which has famously filled its Fremont factory with robots--red ones from Fanuc, in this Wall Street Journal video--may have the highest robot density of any automaker. Elon Musk has described a factory as "the machine that makes the machine"--in Tesla's case, a factory whose moving parts are mostly robots. Because smart use of robots cuts costs, and because Tesla has shown the extent of automation possible, it stands to reason that other auto firms may also seek to optimize their use of robots. Already, the global auto industry buys almost 40 percent of global robot output.
Another way to consider the potential size of the robot market is to consider robot density across nations. Sales could continue to increase if, for example, industrialized nations accelerated their robot purchases to approach South Korea's robot density (robots per 10,000 employees): about 480 for South Korea, versus about 160 in the U.S. (data as of 2014):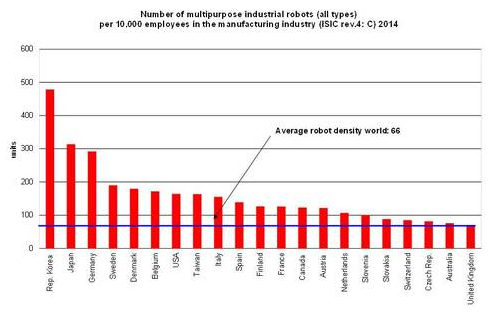 Source: International Federation of Robotics
Of course, since robots replace workers, a nation that approached South Korea's robot density would do so by increasing the numerator (number of robots) and simultaneously decreasing the denominator (number of people employed).
At the limit, once all workers that could be replaced by robots had been replaced, the robot market would then shrink to a replacement market.
Fanuc's competitors include Kuka (OTCPK:KUKAF) (OTCPK:KUKAY) (OTC:KUKKF), ABB (NYSE:ABB) and Yaskawa (OTC:YASKF) (OTCPK:YASKY). Incidentally, Google Images shows that Fanuc's robots are generally yellow or neon green--apparently Tesla placed a special order for robots in red. Robots made by Kuka and ABB are generally orange, and Yaskawa's are generally blue.
The fate of workers in the face of ever-more-capable robots, and the idea of a minimum guaranteed income, as robots replace workers, are topics beyond the scope of this article.
Caution/disclaimer: Do not rely on any part of this narrative, or the headline, in making any investment decision. Owning individual stocks is inherently risky. No investment recommendation is being made here. The stock of any company mentioned here may become worthless at any time, e.g., upon company bankruptcy. Or the stock price could soar, or do anything in between. Before making any investment decision, consult a financial adviser and read and understand the company's 10-K and 10-Q reports, the company's financial statements, and transcripts of the quarterly conference calls; identify and evaluate company, industry, economic, and political scenarios; and then make your own decision. The author is merely an amateur individual investor, with no financial training, and the headline and narrative above, and the assumptions and calculations on which they are based, are likely to have substantive errors, omissions and/or misinterpretations. In fact, the author wrote this article largely in the hope that other Seeking Alpha readers would identify any such errors and point them out in the comments section. Moreover, company circumstances may change at any time, and any such information will not be updated by this author.
This article does not express an opinion on the future or projected value of any financial instrument, and does not make research recommendations (i.e., recommendations as to whether or not to "buy," "sell," "hold," or to enter or not to enter into any other transaction involving any specific interest) or a recommendation as to an investment or other strategy. This article is derived from selected public sources. This article should not be considered as information sufficient upon which to base an investment decision. Nor does this article consider a reader's individual circumstances. You should determine on your own whether you agree with the content of this article. The author disclaims any liability arising from use of this article.
Again, do not rely on any part of this narrative, or the headline, for any investment decision.
Disclosure: I am/we are long FANUY, TSLA.
I wrote this article myself, and it expresses my own opinions. I am not receiving compensation for it (other than from Seeking Alpha). I have no business relationship with any company whose stock is mentioned in this article.
Editor's Note: This article discusses one or more securities that do not trade on a major U.S. exchange. Please be aware of the risks associated with these stocks.