Marketplace subscribers received a similar article approximately one-month ago when the price was lower.

Washington Prime Group (NYSE:WPG)
WPG was spun-off from Simon Properties Group (NYSE:SPG) in 2014 and subsequently acquired Glimcher Realty Trust in January 2015. The company has a national real estate portfolio consisting mostly of malls and community centers.
Thesis
The death of the mall has been firmly in the press narrative over the last several years... and decades.
From Hoya Capital Real Estate:

Simon Properties spun off WPG to rid its portfolio of the "bad" malls. The other mall REITs all trade with higher multiples when compared to the retail and diversified sectors. Our deep-value investing philosophy has turned us towards the contrarian on the narrative.
The long thesis rests on the fact that they are dealing with their non-core and non-performing assets to strategically shift the portfolio while strengthening the balance sheet.
From the third quarter conference call:
Regional malls, especially those in secondary markets, are currently being underwritten in de facto liquidating trust fashion, with little reversionary value. It's just plain silly. Our results continue to demonstrate the stability of our cash flow. Our asset service town centers and its incumbents, we approve upon their dominant position. We must diversify our tenant mix, as well as offer differentiated shopping, dining and entertainment alternatives. We're working our behinds off to accomplish this goal.
WPG is relatively new and the market has not fully digested the changes to the perception acquired during the spin. Since being carved out, they continue to be known as the low-quality portion of Simon despite all the moves made to strengthen the portfolio.
Overview

The company has 112 total properties. Of that total, 60 are enclosed retail properties with the rest (52) community centers. 36 of the 60 are tier-one enclosed retail properties mostly in the upper-Midwest and Northeast but with various locations around the rest of the country. Total square footage is 2.1 million across all properties, which includes a total of 659 leasing boxes, with 28 being non-core properties.
History
After being spun out, they quickly merged with WP Glimcher, and most importantly, got long-time mall manager Michael Glimcher and many of his associates to join the management team. In June of this year, Glimcher resigned as CEO and Vice Chairman of the board Louis Conforti took over. Conforti stated that the new focus will be on cash flow maximization and a reduction in overhead expenses while re-positioning the portfolio.
The shares suffer from classic spin-off dynamics with owners of Simon selling off their newly received but 'inferior' shares. The spin-off occurred at approximately $20 in May of 2014, but since then, shares are down 50%. We've attempted to warn investors about 'yields that are too good to be true' in our series over the summer. This appears like a rare opportunity. Shares of WPG are down significantly since their debut and even since their rebound in the first half of this year.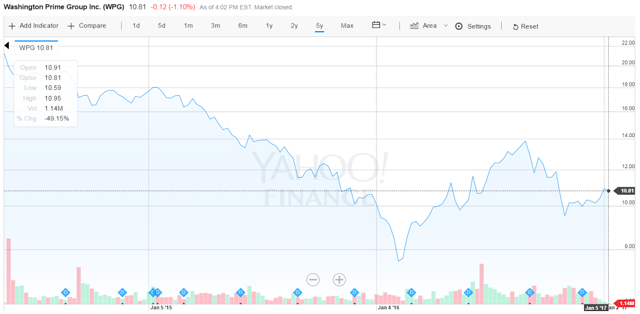 We think the shares are a great value given the shift in the portfolio towards higher quality and the reduction in leverage. As the market re-rates the shares from these actions, we think a $15 price is definitely achievable near term.
Strategic Actions
Management talks of the bell curve of opportunities in their attempt to restructure the business towards growth and sustainability. The bell curve is below: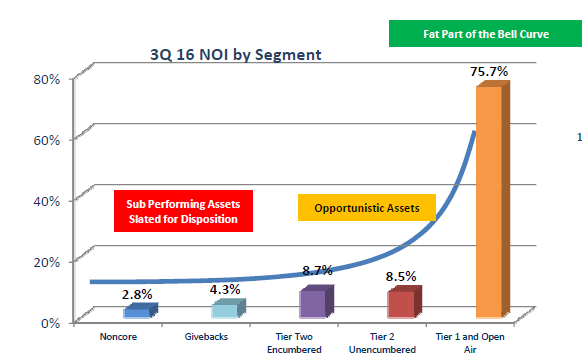 From their second quarter call, management stated they were working on the disposition of between four and twelve assets on the left side of this bell curve. In their presentation to the NAREIT conference in November, management confirmed that they closed or are in contract to sell each of these properties. The three remaining assets are under contract with the transactions closing at year-end 2016.
There are another six lender givebacks that represent ~$400 million in mortgage debt reductions. These transactions are expected to close by the end of 2017. They have also entered into an agreement with O'Connor Realty Partners for seven open-air properties valued at ~$600 million. At that pricing, it implies a current cap rate of ~5% on underwritten NOI while they retain 51% ownership. Lastly, they sold their 25% indirect ownership interest in the residential piece of their Scottsdale Quarter property to a third-party.
All the transactions combine to rid them of the lower-quality and non-core assets and improve the quality of portfolio and underlying fundamentals.
On a pro forma basis, the tier 1 and open air segment will improve to 81% with tier 2 unencumbered to 10%. The net proceeds will be used to reduce the outstanding balance of their credit facility as well as unencumber certain mortgage debts. With a few steps, they have been able to rid themselves of some perceived (by the market) "ugly" properties while improving the health of the balance sheet.
Balance Sheet Improvement and leverage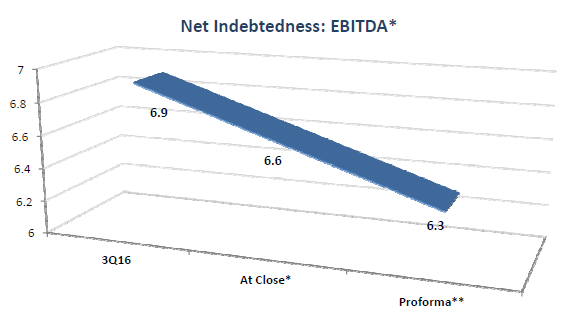 A 0.6x reduction in one quarter is a large improvement to make in one set of transactions. Fitch assigns a BBB- investment-grade rating to the firm with a stable outlook. For an investment grade company, you can get a 9.6% yield.
Leverage will likely be sustained in the low-6x area through 2017 with low single-digit cash flow growth. For the investment rating, the company trends towards the lower end of the quality spectrum. They have highly adequate liquidity and cash flow is substantial with virtually no danger of not covering their obligations. Fixed-charge coverage is over 3x, and should improve over the next two years to 3.5x-4.0x.
They have over $900 million of liquidity to continue to restructure and re-position the portfolio. The joint venture deal helps to improve their leverage situation but it remains above their pre-merger level. We think they are on their way to <6.0x leverage levels sometime next year given underlying growth and continued liability pay-down through strategic initiatives.
At the start of 2015, the company was staring at a large maturity wall of debt totaling $842 million over the next 18 months. They were able to refinance a significant portion of those issues pushing out their maturities. They now have one of the most favorable debt maturity profiles of any mall REIT.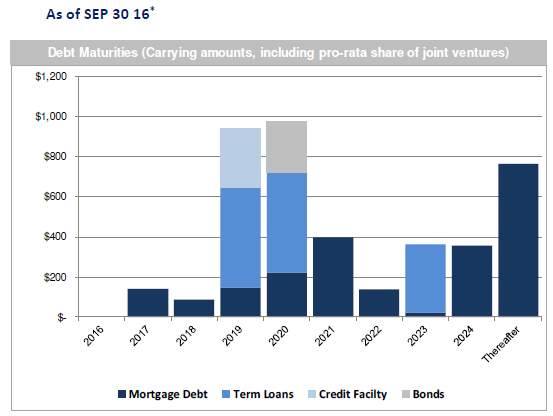 Diversified Tenant Base And Exposure To At-Risk Anchors
When WPG merged with Glimcher Realty Trust, it helped but didn't fully mitigate the firm's risk exposure to Sears (NASDAQ:SHLD) and J.C. Penney (NYSE:JCP). Many analysts have pointed to the risk that these two tenants create for the company. In terms of gross leaseable area "GLA," Sears occupies 12.2% of their gross square footage while J.C. Penney is just over 9% and Macy's (NYSE:M) at just under 9%. Dillard's (NYSE:DDS), which we have had as a short for a number of quarters, is 5.8% of GLA.
However, these stores represent less than 2% of total rent revenues for the company. Signet Jewelers (NYSE:SIG) is actually the largest annualized base renter per occupied square foot. They are followed by L Brands (NYSE:LB) and Foot Locker (NYSE:FL).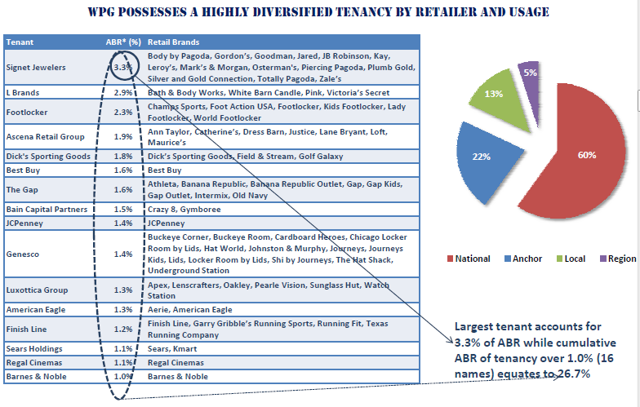 Redevelopment (retenanting) has been a key focus for management over the last year. WPG currently has nine projects under construction with what the company says are ROICs between 7% and 20% with a median 10%.
As compared to most mall REITs we have found, WPG is at the forefront when it comes to department store 'adaptive reuse'. They have said they are in continuing discussions with Macy's, Sears, and Seritage (NYSE:SRG) about reuse options. WPG has 50 boxes with 50k sq. ft. or more in the core portfolio but at an occupancy rate of 98%. Macy's recently announced the closing of 100 stores in their effort to reposition the company. Of the 100, just 2 stores are in WPG properties and both of the stores are owned by Macy's so they pay no rent to WPG.
Sears is also closing a number of stores this year but just one is in WPG's portfolio. The Markland Mall in Kokomo, Indiana will see their Sears shut. WPG management noted that they actually had the opportunity to keep Sears at the location at reduced rent but decided to redevelop the space. Sears is obligated on the rent through the middle part of this year. We like WPG's approach believing that the mall would be better served going a different direction as Target is the other anchor tenant.
The company has a record of successfully re-tenanting anchor spaces for increased NOI. Examples of such projects include:
Replaced a former Elder-Beerman store with several restaurants.
Replaced a former Sears space with Dick's Sporting Goods (NYSE:DKS).
Replaced a Great Indoors (Sears) with a Dick's and Field and Stream stores.
Replaced another Sears with non-retail tenants at significantly higher rates.
The redevelopment portion of their portfolio offers some higher NOI potential in the next two years. They have completed 20 such projects so far for $103.9 million, adding an incremental $9 million in NOI or an 8.8% return. They have another 38 such projects in the pipeline for a total $195 million of capital, with incremental NOI expected at $9.5 million for a 9.5% return on investment. Another 15 projects are 'pending' and 38 are prospective for a total of 53 additional potential projects costing $200-$250 million generating between $22 and $32 million in NOI for a return of 8% to 12%.
We think WPG is the most progressive in their addressing of the department store "issue" through adaptive reuse. The impact to the company from the store closings mentioned above are minimal amounting to approximately $50,000 in anchor rent this year from the Sears closing. Total co-tenancy effect from the three department stores closing their doors will be approximately $200K this year.
High Yield Play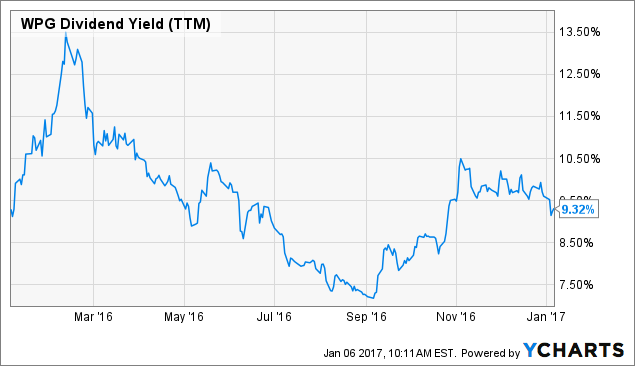 Dividend coverage remains ample at 1.5x and very safe. As they continue to delever the balance sheet, interest expense should decline while NOI and FFO increases, improving that ratio allowing for higher future payouts. For now, we assume a $1.00 payout for at least the next two years.
| | |
| --- | --- |
| | Nine Months Ending 9/30/16 |
| FFO | 286,190 |
| Dividend Paid On Preferred | 10,524 |
| Dividend Paid On Common | 185,430 |
| | 1.5x |
FFO increased to $1.32 per share in the first nine months of 2016 versus the comparable period, from $1.24, an increase of 6.5% yoy. Comparable NOI of the total portfolio increased 2.3% yoy to $444 million. We think this is understated as they shift their portfolio away from dependency on anchor stores and towards retenanting the larger boxes.
Valuation
The shares remain a bargain due to the perceived notion that malls will all be empty and everyone will shop online starting next week. The market capitalization is $2.3 billion with ttm FFO per share at $1.80, which at a $10.25 share price, puts the multiple at a paltry 5.7x. FFO for the first nine months of the year is up 6.5% compared to last year. The current multiple is substantially weaker than the peer group, which is over 19x (and exposed to many of the same risks).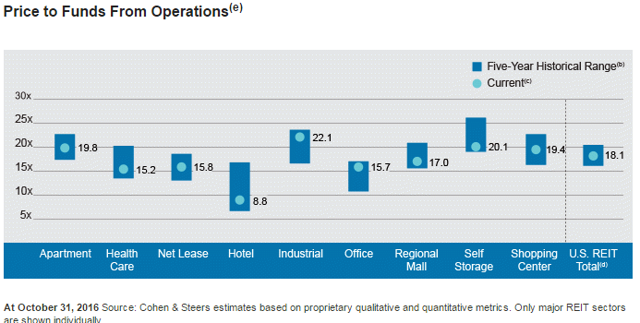 The valuation gives you access to an emerging first tier portfolio as they strategically alter the properties ridding themselves of non-core assets, while redeveloping tier 2 properties. The downside risk from there is fairly muted from a multiple contraction standpoint as the P/FFO is at the low-end of the range and in the dirt-cheap part of the valuation spectrum. We think they are priced as if the malls will all be liquidated at half of their value in the near term with cash flows drying up.
FFO per diluted share will be close to $1.80 this year and we estimate $1.85 in 2017. If we assume a more normalized P/FFO multiple around 11x, the value of the shares is much closer to $20 a piece, offering massive upside. Almost all of the mall REIT peers have a yield under 4% currently, with the only exception being CBL & Associates (NYSE:CBL). With WPG yielding 9.6%, they do not need to offer up any dividend growth for years nor capital appreciation to richly reward shareholders.
The risks:
Rising interest rates remain a key concern given that this is a yield-play.
Tenant exposure to department stores, namely struggling ones like Sears and J.C. Penney.
Continued shift towards e-commerce dropping overall mall traffic faster than expected.
The resignation of Mr. Glimcher.
The Bottom Line
Washington Prime is a turnaround in progress as they attempt to shed the mantra that they are just the 'bad' malls spun out of their former jewel parent, Simon Properties. Since the spin, management has been steadily making progress on their portfolio in order to redevelop the bad mall properties in their portfolio including from the Glimcher acquisition early in 2015. The firm continues to make solid strategic moves in order to dispose of the lower-quality properties and reduce leverage, thereby reducing overall firm risk.
In the meantime, this is one of the more volatile but potentially lucrative plays we've recommended. The juicy 9.6% is near the high end of the range for the last couple of years outside of the brief spike in early February. As they continue to redevelop and assuage the primary risks including the tenant concentration with struggling Sears, the multiple is likely to rise towards the peer group average.
Note: To get these types of articles as soon as they are published, just click on the "follow" button next to my profile and choose the "real-time alerts" option.
Marketplace Service For Those Hunting For Yield
In April 2016, we launched our marketplace service Yield Hunting: Alternative Income Investing dedicated to yield/income investors who wish to avoid the froth associated with most of the equity market. We encourage investors to utilize the free two-week trial in order to benefit from our yield opportunities within closed-end funds, business development companies, and other niche areas. We have constructed easy-to-follow "low-maintenance portfolios" with a yield in excess of 9% on a tax-equivalent basis with capital gain optionality. The core portfolio was up 16.1% through December 31st and generates a high-single-digit yield, while taking less than half the risk of the S&P 500 on price and one-quarter on NAV. For safe and reliable income streams, check out our unique marketplace service.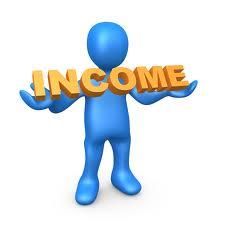 Disclosure: I am/we are long WPG.
I wrote this article myself, and it expresses my own opinions. I am not receiving compensation for it (other than from Seeking Alpha). I have no business relationship with any company whose stock is mentioned in this article.
Additional disclosure: The commentary does not constitute individualized investment advice. The opinions offered herein are not personalized recommendations to buy, sell or hold securities. As I have no knowledge of individual investor circumstances, goals, and/or portfolio concentration or diversification, readers are expected to complete their own due diligence before purchasing any stocks mentioned. The strategies discussed are strictly for illustrative and educational purposes and should not be construed as a recommendation to purchase or sell, or an offer to sell or a solicitation of an offer to buy any security. There is no guarantee that any strategies discussed will be effective. The information provided is not intended to be a complete analysis of every material fact respecting any strategy. The examples presented do not take into consideration commissions, tax implications or other transactions costs, which may significantly affect the economic consequences of a given strategy. This material represents an assessment of the market environment at a specific time and is not intended to be a forecast of future events or a guarantee of future results. This information should not be relied upon by the reader as research or investment advice regarding the funds or any security in particular.