To bring you a bit of insight into the world of hedge funds, we've now received data on how funds performed in December. All major fund categories put up positive returns in December, which is quite an encouraging sign heading into the new year. With the stock market finishing the year higher and the bond market experiencing setbacks in Q4 with a surprise Victory from Trump, hedge funds actually had a positive Q4 and are looking to 2017 to be a much more favorable operating landscape where by returns aren't muted by a lack of favorable policy or low volatility.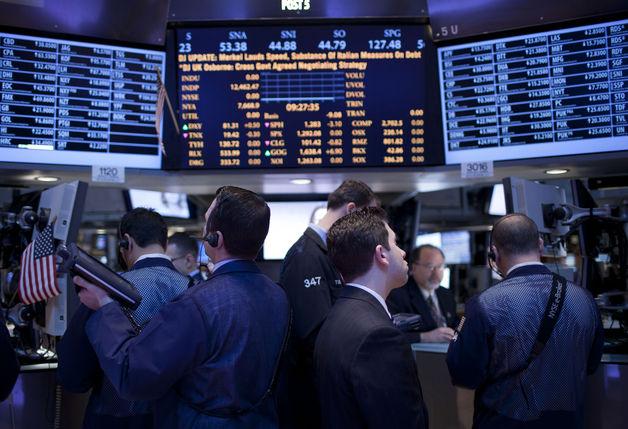 Source: AWD News
Total and Strategy Performance
With stocks trekking up to record highs in the middle of December, funds with strong U.S. equity exposure did quite well, and even European stocks did quite well. We saw Italy, Germany, Russia, and France all perform well, and even the U.K.'s FTSE 100 has now trekked up to all-time highs, seen below. The first two weeks of December, for the United States, saw a continuance of the Trump rally, which hedge funds were able to follow, but it'll be rather interesting to see how they handle the upcoming inauguration and subsequent quick policy changes.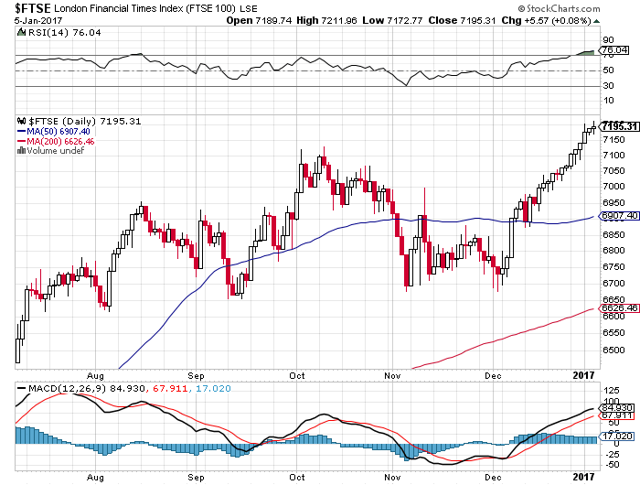 Source: StockCharts
According to HFR, hedge funds, as a basket, put up gains of 0.86%, annualized to 10.32%, making December one of the better months this year. Compared to November, December proved to be a better month as November's gains were 0.70%, annualized to 8.4%. It's a solid way to finish out Q4, considering that October, November, and December all showed positive returns for the entire universe of hedge funds that HFR covers and may set a positive omen for 2017. For Q4 2016, hedge funds as a whole were up 2.4%, annualized out to 9.6%.
Hedged equity strategies, such as L/S equity or market neutral, put up just 0.18% this past December, a read out that has just epitomized the struggles these strategies have seen in the past couple of years. For the full year 2016, these strategies are only up 10 basis points, per HFR, which is disappointing, to say the least. It also goes to show just how hard it is to beat the market. While nearly all of these hedge fund managers will tell you their returns are measured on absolute basis, this basket's performance doesn't look strong against an S&P 500.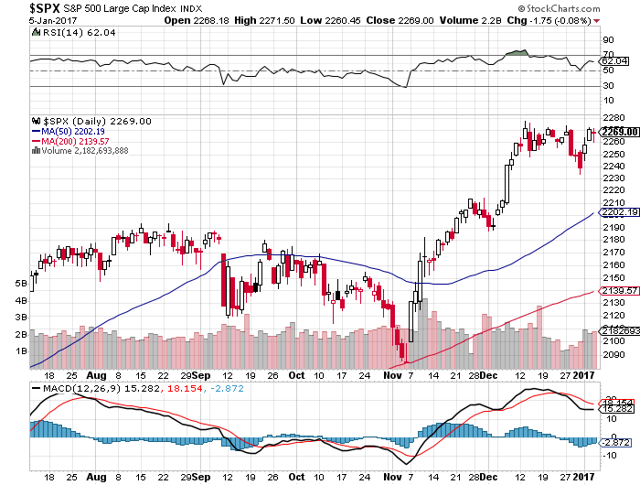 Source: StockCharts
Event-driven strategies put up 1.92% for December, bringing their total to 11.1% on the year. This was quite interesting to see considering the large roll-off in volatility that has been a continuing trend post-crisis, yet the presence of binary events has increased and these funds have clearly capitalized. One subset of event-driven investing that has actually performed quite well is distressed restructuring, which amassed 2016 gains of 19.7%. The next major event that could shift volatility upwards and lead to high P/L is the inauguration on January 20, as well as the days following where President-Elect Donald Trump has promised to make significant changes, such as repealing Obamacare.
Relative value funds put up near basket-equal gains of 0.83% in December, which is arguably not surprising considering how fast yields have shifted and the probability of mispricings has undoubtedly increased. Convertible arb strategies did a bit better, edging up to 5.73% on the year, despite underperforming broader relative value strategies by 8 basis points in December. Relative value strategies for the full year 2016 were up just 1.03%.
Perhaps the most surprising performance out of all this data is that of global macro funds. Global macro put up just 0.48% in December, which came as quite the shock to me. However, I'm largely encouraged by the presence of cyclical lows in the global markets and expect the development of uptrends in many futures-captured markets in 2017. If I had to call it right now, I'd expect global macro to outperform all other strategies right now. For the full year 2016, global macro funds were down 2.93% as a whole.
Conclusion
I think a key theme to watch as 2017 gets underway is the potential rollback of regulation established post-crisis, notably Dodd-Frank. This could drastically change the ability of hedge funds to generate returns and we could finally see some consistent outperformance, where everything from fee structures to specific managers aren't questioned on a daily basis. Overall, December was a solid month for hedge funds, with the exception of hedged equity strategies.
Disclosure: I/we have no positions in any stocks mentioned, and no plans to initiate any positions within the next 72 hours. I wrote this article myself, and it expresses my own opinions. I am not receiving compensation for it (other than from Seeking Alpha). I have no business relationship with any company whose stock is mentioned in this article.