The US economy added 156K new jobs during the last month of 2016. Expectations were 19K higher at 175K.
Employment leading indicators like the ISM and NMI employment index indicated moderate jobs growth. The ISM employment index has rallied since Q1/2016, after being in a downtrend since Q3/2014.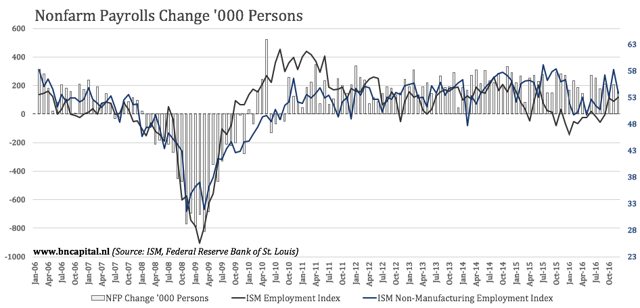 The NMI employment index started falling in Q2/2015 which resulted in a steep employment growth decline. At this point, we are seeing moderate growth since Q2/2016.
Another very important thing that needs to be discussed is the year-on-year growth rate of total nonfarm employment.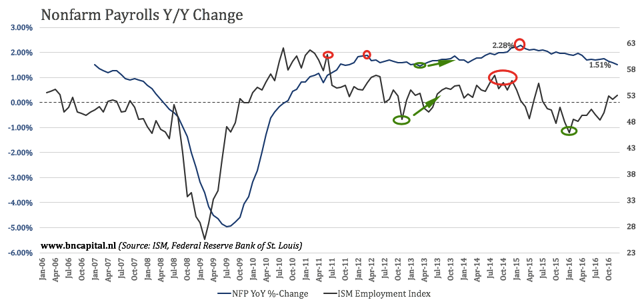 Employment growth started a cyclical downtrend in Q1/2015. These downtrends are typical late-cycle patterns. The good news is that we saw something similar after 2011. Employment growth declined until 2013. Both the top and the bottom were predicted by the ISM employment index
The same happened after the first quarter of 2015. Employment growth peaked at 2.28% after the ISM employment index topped in 2014. At this point, it is likely that employment growth is going to go up again after the ISM employment bottom in Q1/2016 and the following uptrend.
The labor force participation rate increased from 62.6% in November to 62.7% in December. It looks like the participation rate is bottoming since 2015. This could mean that we are facing a higher unemployment rate, even if the economy adds new jobs. This would in fact be a very good sign.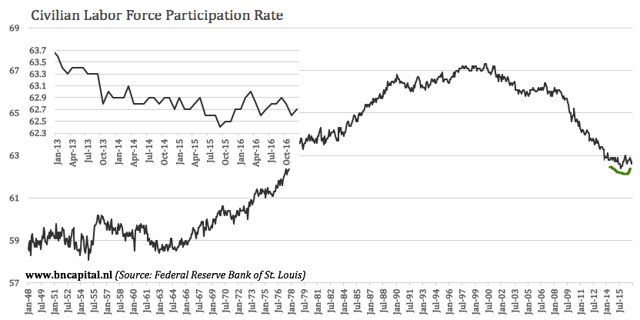 The graph below shows us which industries created or lost jobs in December and November.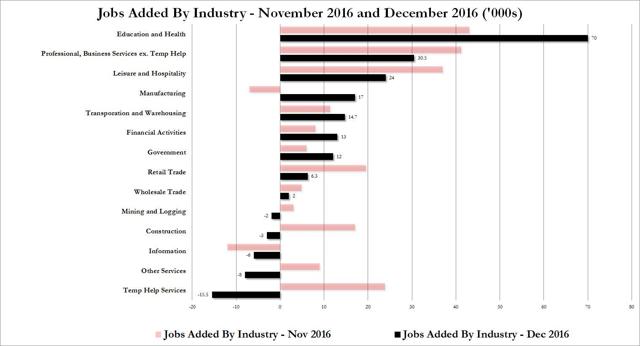 Source: ZeroHedge
Cyclical industries like manufacturing and transportation/warehousing added more jobs than one month earlier. Manufacturing turned a job loss into a positive month. This supports the case that the US economy is gaining steam.
Conclusion
Today's report shows that the economy is adding jobs at a moderate pace. The unemployment rate of 4.7% should be ignored since it is total nonsense. I expect to see a higher participation rate along with a higher unemployment rate over the next few months. The economy is gaining steam and employment shouldn't be an exception. This should also be visible when looking at year-on-year employment growth.
Many thanks for reading my article. Please leave a comment below if you have questions or remarks.
Disclosure: I/we have no positions in any stocks mentioned, and no plans to initiate any positions within the next 72 hours.
I wrote this article myself, and it expresses my own opinions. I am not receiving compensation for it (other than from Seeking Alpha). I have no business relationship with any company whose stock is mentioned in this article.