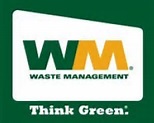 This article is about Waste Management (NYSE:WM) and why it's a great total return growth investment that's being considered for The Good Business Portfolio. When I scanned the 5-year chart, it was obvious that Waste Management also had a great past 5-year record compared to Republic Services (NYSE:RSG) that was reviewed in part 1 of this article. It seems that the waste service business is a growing sector and both companies show promise.
Waste Management is the largest provider of non-hazardous solid waste collection, transfer, disposal, recycling and energy services in the United States. The fundamentals of Waste Management will be reviewed and sometimes compared to RSG in the following topics: The Good Business Portfolio Guidelines, Total Return and Yearly Dividend, Last Quarter's Earnings, Company Business and Takeaways And Recent Portfolio Changes.
I use a set of guidelines that I codified over the last few years to review the companies in The Good Business Portfolio (my portfolio) and other companies that I am taking a look at. For a complete set of the guidelines, please see my article "The Good Business Portfolio: Update To Guidelines and July 2016 Performance Review." These guidelines provide me with a balanced portfolio of income, and overall total return that (hopefully) keeps me ahead of the Dow.
Good Business Portfolio Guidelines.
Waste Management passes 11 of 11 Good Business Portfolio Guidelines. These guidelines are only used to filter companies to be considered in the portfolio. Some of the points brought out by the guidelines are shown below.
Waste Management is a large-cap company with a capitalization of $31.3. billion. The large size of Waste Management gives it the muscle, plus its large cash flow to increase the business going forward. The next biggest company in the environmental and facilities services sector is Republic Services at $19.3 Billion capitalization, 30% smaller than WM, which leads to competition between the two companies.
Waste Management has a dividend yield of 2.3%, which is slightly above average for the market. The dividend has been increased each of the last 10 years and is very safe. Waste Management is therefore an average choice for the income investor. The payout ratio over the last five years is high at 74%. After paying the dividends and share buybacks, cash remains for investment in new company purchases.
Waste Management's total yearly cash flow at $2.1 Billion is strong, allowing the company to have the means for growth through buying bolt on companies. This good cash flow makes the dividend very safe with room for increases each year, as the environmental and facilities services sector continues to grow.
I also require the CAGR going forward to be able to cover my yearly expenses. My dividends provide 3.2% of the portfolio as income and I need 1.9% more for a yearly distribution of 5.1%. The three-year CAGR of 9.0% (S&P Capital IQ) easily meets my requirement. Waste Management benefits from the growth of the working population and economic improvement.
Waste Management's S&P Capital IQ rating is four stars or buy with a target price of $72.0 and currently, the company is trading 2% below the target. WM is a fair buy at the present price for the investor who wants above average growth that has a medium term (2-5 years) investment horizon. The shorter-term investor would be advised to watch WM and buy at a better entry price of $68.
Total Return And Yearly Dividend
The Good Business Portfolio Guidelines are just a screen to start with and not absolute rules. When I look at a company, the total return is a key parameter to see if it fits the objective of the Good Business Portfolio. Waste Management beat the Dow baseline in my 48.0-month test compared to the Dow average. I chose the 48.0-month test period (starting January 1, 2013 and ending to date) because it includes the great year of 2013, and other years that had fair and bad performance.
The total return of 108.20% makes Waste Management a great investment for the total return growth investor. Waste Management has increased its dividend for each of the last 10 years and presently has a yield of 2.3%, which is average for the income investor but the total return is great which makes RSG a pick for the total return investor.
DOW's 48.0-month total return baseline is 50.83%.
As seen in the 5-year price chart below, Waste Management has a good chart over 2012-2017 YTD that shows a steady long-term growth going up and to the right. The chart is great because it shows the strong steady growth over the 5-year period beating the DOW when the DOW average is up 51%.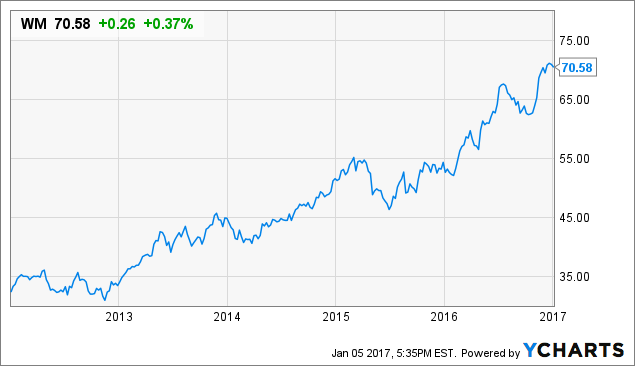 Last Quarter's Earnings
For the last quarter on October 26, 2016, Waste Management reported earnings that beat the expected number by $.04. Total revenue was higher at $3.54 Billion (5.4% YoY) and beat the expectation by $40 Million. This was a good report with both the bottom and top line increasing. The next earnings will be out in January 2017 and is expected to be $0.77 compared to last year at $0.71. The company also in December 2016 increased the share buyback program to $750 Million.
Business Overview
You can see from the graphic below the process for value creation from garbage that WM uses in its business to create energy from what we throw out.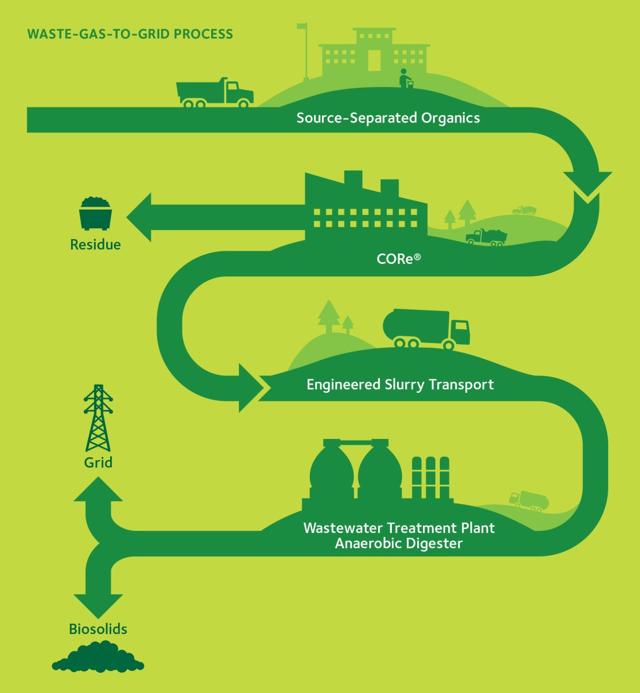 Source : Waste Management
Overall, Waste Management is a good business with 9% projected revenue growth. The good cash flow provides WM the capability to continue its growth with addition of more bolt on companies. As the economy grows so will the sales of Waste Management's business.
The economy is showing moderate economic (about 2.5%) growth right now and the Fed has raised rates in December 2016 with future rate increases dependent on future data. The Fed projects for 2-3 increases in 2017.
From the last earnings call on October 26, 2016, David Steiner (Chief Executive Officer) said:
"Each of our net income, operating income and margin, operating EBITDA and margin and earnings per diluted share improved when compared to the third quarter of 2015. And during the third quarter, we achieved the significant milestone as our operating EBITDA exceeded $1 billion for the first time. We earned $0.84 per share in the third quarter, an increase of 13.5% from our third quarter 2015 results. Our continued growth and earnings translated into strong generation of cash flow from operations, which grew $96 million in the third quarter and drove year-to-date cash from operations to over $2.2 billion, that's almost a 12% increase over last year."
This shows the excellent feelings of top management and their confidence in the continued growth of the company and its business to provide value to the shareholder via strong cash flow.
Takeaways and Recent Portfolio Changes
Waste Management is an investment choice for the total return investor with its slightly above average yield of 2.3% and has great total return over my test period. Waste Management and RGS will definitely be considered for The Good Business Portfolio when an open slot is available. I was surprised to see how alike the two companies are with WM having a bit better total return.
WM in the environmental and facilities services business is using its good cash flow to buy bolt on companies and expand its business. WM has solid growth potential for upward earnings as the environmental and facilities services sectors continue to grow. If you want a steady growing company that also provides a fair income, WM may be the right investment for you.
Trimmed position in Harley-Davidson (NYSE:HOG) to 5.1% of the portfolio. I will eventually sell the HOG position since sales have become stagnant and the stock price is high because of takeover rumors.
Added to position of Texas Instruments (NYSE:TXN), now at 3.8% of the portfolio. I intend to keep adding to TXN until it is 4% of the portfolio, a full position.
Added to position of Ingersoll-Rand (NYSE:IR) now at 4.1% of the portfolio a full position.
Added to position of Digital Realty Trust (NYSE:DLR) now at 0.93% of the portfolio. I feel the computer industry facilities business has nowhere to go but up and DLR pays an above-average dividend. I wrote an article on Digital Realty Trust in September of this year if you are interested.
Sold all Cabela's (NYSE:CAB); they have received a bid of $65.50 cash for their shares, which to me is a fair price. I want to take the profit off the table in case the deal does not go through. I also would like to deploy the proceeds to increase the dividend-paying companies in the portfolio. A few days after I sold CAB, the FTC requested more data from CAB. This makes me believe the deal may not be completed and CAB will drop like a rock.
Increased Omega Healthcare Investors (NYSE:OHI) from 4.8% of the portfolio to 5.1% of the portfolio, I needed a little more income and OHI will give that to the portfolio.
The portfolio has filled in the open portfolio slot with PepsiCo (NYSE:PEP) to 0.6% of the portfolio and may be followed by Kellogg (NYSE:K) when the next slot is open.
Harley-Davidson January 6, 59s calls were bought to cover and new calls, February 3 ,60s were sold to gain more time value.
The Good Business Portfolio generally trims a position when it gets above 8% of the portfolio. The four top positions in The Good Business Portfolio are, Johnson & Johnson (NYSE:JNJ) is 7.9% of the portfolio, Altria Group (NYSE:MO) is 7.9% of the portfolio, Home Depot (NYSE:HD) is 7.8% of portfolio and Boeing (NYSE:BA) is 9.2% of the portfolio. Therefore BA is now in trim position with Home depot, Johnson & Johnson and Altria getting close.
Boeing is going to be pressed to 10% of the portfolio because of it being cash positive on individual 787 plane costs at $151 Million in the third quarter. The recent earnings blew away the estimate of $2.63 and came in at $3.51. BA has just received a large order for 15 747-8 planes which will help keep this line open. BA is a long-term buy and has a backlog of over 7 years.
For the total Good Business Portfolio please see my recent article on The Good Business Portfolio: 2016 third-Quarter Earnings and Performance Review for the complete portfolio list and performance. Become a real time follower and you will get each quarter's performance after the earnings season is over.
I have written individual articles on CAB, JNJ, EOS, GE, IR, MO, BA, Omega Health Investors, Texas Instruments, Digital Investors Trust and Home Depot that are in The Good Business Portfolio and other companies being evaluated by the portfolio. If you have an interest, please look for them in my list of previous articles.
Of course, this is not a recommendation to buy or sell and you should always do your own research and talk to your financial advisor before any purchase or sale. This is how I manage my IRA retirement account and the opinions on the companies are my own.
Disclosure: I am/we are long BA, JNJ, HD, OHI, MO, HOG, IR, TXN, DLR, PEP.
I wrote this article myself, and it expresses my own opinions. I am not receiving compensation for it (other than from Seeking Alpha). I have no business relationship with any company whose stock is mentioned in this article.