Investors in Amazon (NASDAQ:AMZN) should at least contemplate the possibility that Trump will go after Amazon sooner rather than later. It's impossible to have a conversation about job losses in the USA without talking about Amazon. From Barnes & Noble (NYSE:BKS), Borders, Circuit City, Wal-Mart (NYSE:WMT) all the way down to main street businesses nobody has been able to stand against Amazon when Jeff Bezos, its CEO decides to go after them. This isn't a conversation about whether Amazon is a great company or not, or whether it is incredibly innovative or not, or whether AWS is amazing or not, or whether Jeff Bezos is a capable CEO or not. The answer to all of those is "Definitely Yes." Everything is right with Amazon, at least that was until Trump got elected.
We recommend that investors avoid shares of Amazon at all costs as we believe a campaign against Amazon could start at any moment now. (But it's imperative not to short the stock as fourth quarter earnings will probably blow past estimates.) A couple of threats could send the stock down 20% to 30% but, if Amazon's tax shelter is taken away, it is forced to collect sales taxes on every state or, even worse, an antitrust probe. If either of these happens, expect the shares to crash. Just remember Hillary and her tweets against Biotech stocks were just threats, but she caused the highly profitable sector to collapse in a matter of weeks.
Before you think I am crazy let's look at how much Trump has set his eyes on Amazon. Let's start with his tweets: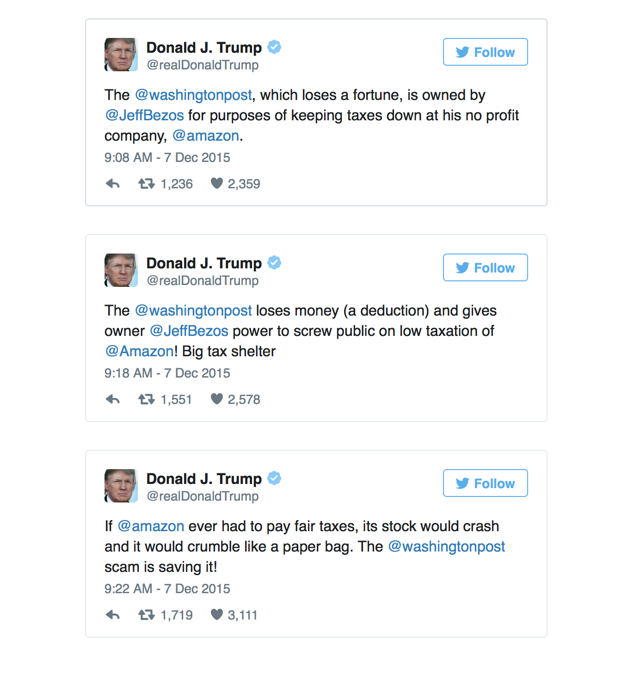 Then, on an interview with Sean Hannity, he explained himself even better. Let's use Trump's own words.
"This is owned as a toy by Jeff Bezos who controls Amazon," Trump told Hannity. "Amazon is getting away with murder tax-wise. He's using the Washington Post for power so that the politicians in Washington don't tax Amazon like they should be taxed."

"Bezos is worried about me, because he thinks I would go after him for antitrust because he's got a huge antitrust problem. Amazon is controlling so much of what they're doing ... What he's got is a monopoly and he wants to make sure I don't get in."
Amazon currently only collects taxes in 23 states. But just making Amazon collect taxes won't really level the playing field with brick-and-mortar stores. It will be a good step though and it might be as far as lawmakers are willing to go.
In order to truly level the playing field against Amazon, Trump might bring an antitrust lawsuit against Amazon and place restrictions on its business model. (To learn more about how Amazon is crushing local economies we recommend reading this article.)
The Risk
The problem with Amazon is the high valuation. With a forward P/E Ratio of 88, Amazon is not cheap. We believe Amazon's growth will slow down in the years ahead and fourth quarter earnings will be the peak quarter in terms of year-over-year revenue growth for the company going forward. (Revenue in 2016 is estimated to have grown 28% and revenue in 2017 is expected to slow down to 22.60%.)
Since we expect the fourth quarter earnings to blow past analyst estimates, we do not recommend shorting the stock ahead of this event. We might see Amazon climb to all-time highs before it becomes Donald Trump's next target. As mentioned in the title, Amazon can just be one tweet away from crashing. Should the stock move to all-time highs after earnings, we would then wait for an opportunity to short the stock for a pullback. At current levels, we see this as a 50% to 50% chance to move in either direction. As we mentioned on our article in Twilio (NYSE:TWLO): Just because a company is great, it doesn't mean it's a good investment. Timing is everything!
We don't want to own a stock with an enemy getting ready to be sworn into the White House. Avoid Amazon! We recommend readers to read our latest article on Synergy Pharmaceuticals (NASDAQ:SGYP), which is a company with a much better risk profile than Amazon.
Disclosure: I/we have no positions in any stocks mentioned, and no plans to initiate any positions within the next 72 hours.
I wrote this article myself, and it expresses my own opinions. I am not receiving compensation for it (other than from Seeking Alpha). I have no business relationship with any company whose stock is mentioned in this article.