The last jobs report for 2016 printed with a disappointing headline number of 156,000 jobs versus an anticipated number of 178,000.
The unemployment rate remained unchanged at 4.7%. Average weekly hours remained unchanged at 34.3 hours. October jobs was revised down from 142, 000 to 135,000 while November jobs were revised up from 178,000 to 204,000, so that the net change for November jobs was 19,000 jobs. Over the past three months, job gains have averaged 165,000 per month.
Turning to our exclusive jobs by average weekly wage chart, you can see that job creation in the highest paid professions changed little.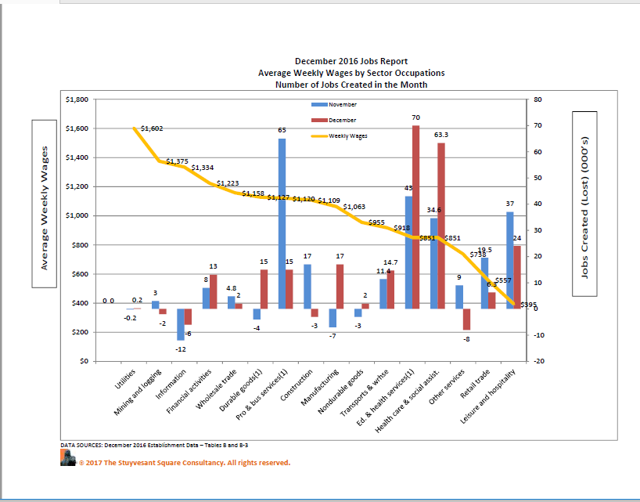 There were job losses in the higher paid occupation of Information Systems. Professional and Business Services hiring fell sharply from 65,000 in November to just 15,000 in December. (A lot of the hiring for year-end financial reporting occurs in October and November to acquaint workers with training and systems, etc.)
Once again, the biggest job gains occurred in Education and Health Services and its subgroup Healthcare and Social Assistance. As we have related before, these are jobs that tend to be supported largely by federal, state, and local government subsidies.
Leisure and Hospitality jobs increased but not as much as in November. We did see job gains in the overall Manufacturing sector, although there were job losses in the Nondurable Goods Manufacturing sub-sector.
We also saw some decent job creation in Transportation and Warehousing following job growth in November, which we anticipated from the delay in goods movement caused by the Hanjin Shipping bankruptcy.
Average weekly wages increased by $3.43.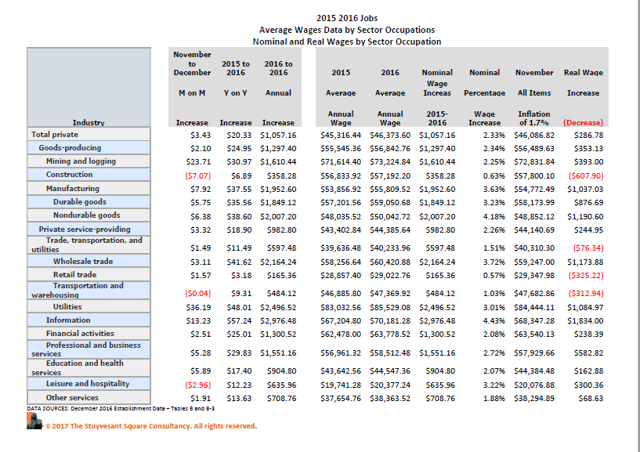 Looking at wage data for the entire 2015-2016 year, and applying the CPI as determined at November of 1.7%, we can see that real wages increased only slightly for most workers while workers in certain fields actually lost real wage purchasing power year-to-year.
Summary
As we related previously, we think that much of the market's "Trump Rally" is overblown and exemplifies what Alan Greenspan once called "irrational exuberance", at least for most of 2017.
The disappointing December jobs report is more evidence of that.
Keep in mind that December job creation measures data from a period that occurred three weeks after Donald Trump was elected president. We have yet to see in this disappointing jobs report real-world, money-on- the-table evidence that employers and companies are willing to invest in the future simply on the basis of the election results, notwithstanding the exuberance of the market and improved consumer confidence. It may happen, but we see no hard evidence of it yet. The market should take greater heed of the new Trump Administration execution risk.
Proceed with caution. And make sure your stop loss orders are in place.
__________________________________________________
Author's note: Our commentaries most often tend to be event-driven. They are mostly written from a public policy, economic, or political / geopolitical perspective. Some are written from a management consulting perspective for companies that we believe to be underperforming and include strategies that we would recommend were the companies our clients. This approach lends special value to contrarian investors to uncover potential opportunities in companies that are otherwise in downturn. (Opinions with respect to such companies here, however, assume the company will not change.)
If you like our perspective, consider following us by clicking the "Follow" link above.
Disclosure: I/we have no positions in any stocks mentioned, and no plans to initiate any positions within the next 72 hours.
I wrote this article myself, and it expresses my own opinions. I am not receiving compensation for it (other than from Seeking Alpha). I have no business relationship with any company whose stock is mentioned in this article.
Additional disclosure: Disclaimer: The views expressed, including the outcome of future events, are the opinions of the firm and its management and do not represent, and should not be considered to be, investment advice. You should not use this article for that purpose. This article includes forward looking statements as to future events that may or may not develop as the writer opines. Before making any investment decision you should consult your own investment, business, legal, tax, and financial advisers.