LTC Properties, Inc. (NYSE:LTC) is an interesting income play in the healthcare REIT sector. LTC Properties invests heavily in the growth of its real estate portfolio, and has good dividend coverage. Though shares are about fairly valued, LTC Properties makes for a good income vehicle with a monthly dividend distribution. An investment in LTC Properties also comes with a 5 percent dividend yield.
Healthcare REITs are poised to profit from an increase in life expectancy, and higher institutionalization rates. In fact, the older people get, and the more assistance they need in old age, the stronger the profits for healthcare REITs will be. LTC Properties, for instance, has invested a significant amount of capital in a portfolio of skilled nursing, assisted living, and range of care properties, and is poised to profit from increasing demand for such facilities.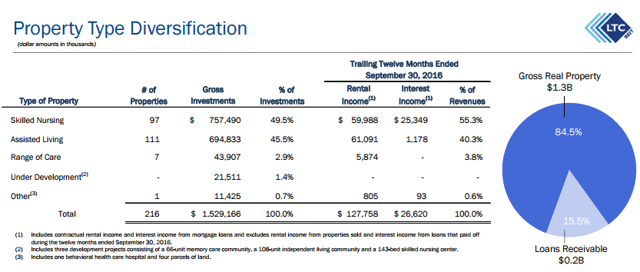 Source: LTC Properties
LTC Properties' healthcare-related properties are spread out all over the country: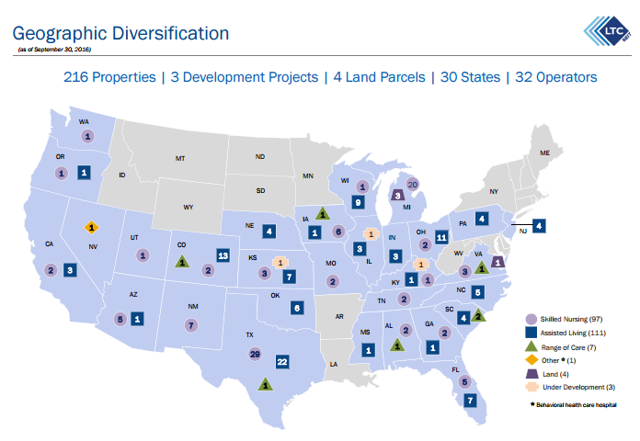 Source: LTC Properties
Investments Today Will Yield Big Dividends Later
LTC Properties is not the only healthcare REIT that is continuously investing in the expansion of its healthcare real estate portfolio, and it is surely not the only company that has woken up to the long term growth opportunity that is tied to an increase in people's life expectancy.
LTC Properties has invested a lot of money in the growth of its real estate portfolio, which will likely pay big dividends down the road.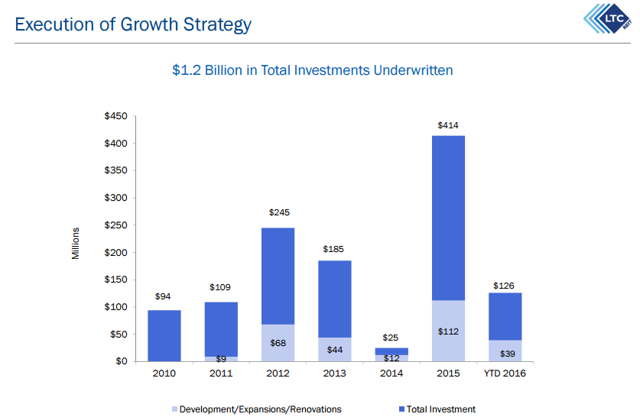 Source: LTC Properties
Strong Operator Relationships
Part of what drives value at healthcare REITs is the relationships they have with operating companies that manage the properties.
Healthcare REITs with strong operator relationships are at a competitive advantage, and can use those relationships to grow and scale their business. LTC Properties has a robust and diversified network of profitable operator relationships that will support the Real Estate Investment Trust's growth in the future.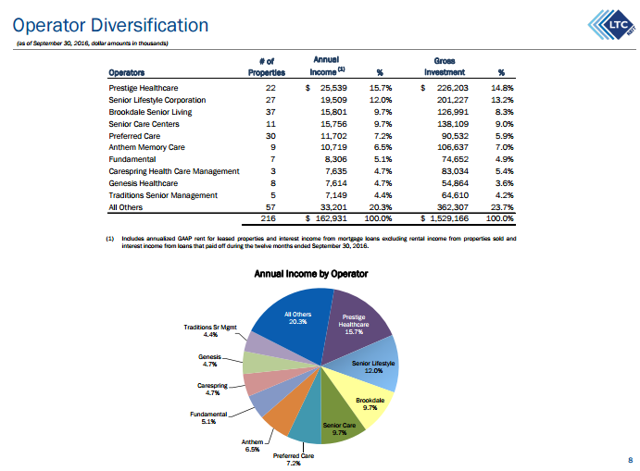 Source: LTC Properties
Long Term Demand Dynamic Supporting Dividend Growth
The U.S. population is aging, and will continue to age in the coming decades. Senior-related healthcare spending will increase in lockstep, supporting the long term bull case as it relates to healthcare REITs. As a result, healthcare REITs including LTC Properties are one of the best long term bets on sustainable dividend growth IMO.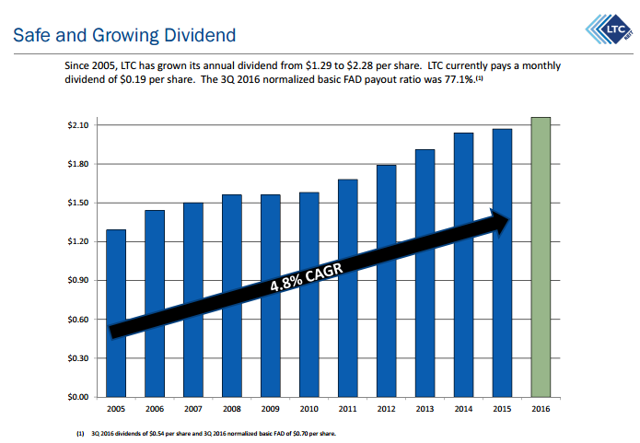 Source: LTC Properties
Potential For Dividend Growth
LTC Properties has increased its dividend rate in the past like clockwork, and the healthcare REIT is financially stable enough to continue growing its dividend. LTC Properties' FFO payout ratio has averaged 71 percent in the last five quarters, leaving room for investments and dividend growth.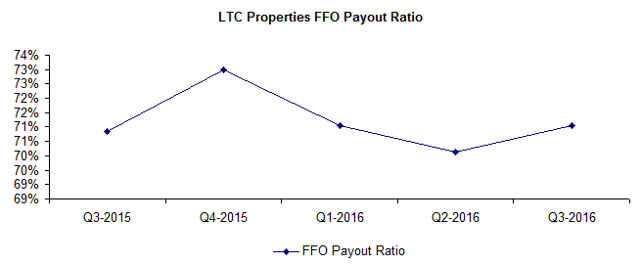 Fairly Valued, But A Good Income Vehicle Regardless
LTC Properties' shares are selling for ~15.6x Q3-16 run-rate funds from operations, which is a fair price to pay. At this price point LTC Properties is neither cheap nor expensive, but rather fairly valued given its safe yield and prospects for dividend growth.
Your Takeaway
LTC Properties is a compelling choice in the healthcare REIT sector. The REIT has amassed a good property portfolio to play the long term trend of rising senior-related healthcare spending, and robust operator relationships should nurture the healthcare REIT's growth. Though shares aren't a bargain anymore, LTC Properties has good dividend coverage, and management has been willing to pay shareholders an ever increasing dividend. An investment in LTC Properties throws off a dividend yield of ~5 percent. The REIT pays monthly. Buy for income.
If you like to read more of my articles, and like to be kept up to date with the companies I cover, I kindly ask you that you scroll to the top of this page and click 'follow'. I am largely investing in dividend paying stocks, but also venture out occasionally and cover special situations that offer appealing reward-to-risk ratios and have potential for significant capital appreciation. Above all, my immediate investment goal is to achieve financial independence.