Continuing a group of articles investigating internet investments, from IoT, streaming, and data carriage, this article will focus on several potential large-cap and mid-cap cybersecurity investments for the new year. Cybersecurity is more and more on the front pages of international newspapers, and governments are increasingly vocal about the potential dangers of online attacks. With increasing data theft a current trend, 2017 has the potential to be an excellent year for cybersecurity investments. Businesses are nervous, and plenty of companies rightly think they can sell a cure.
Over the next two years, market revenues are predicted to grow by around $6 billion. Investor interest continues to increase, as does business demand, more so in the wake of rumored U.S. Federal cybersecurity legislation.
Katrina Manning - Tripwire.com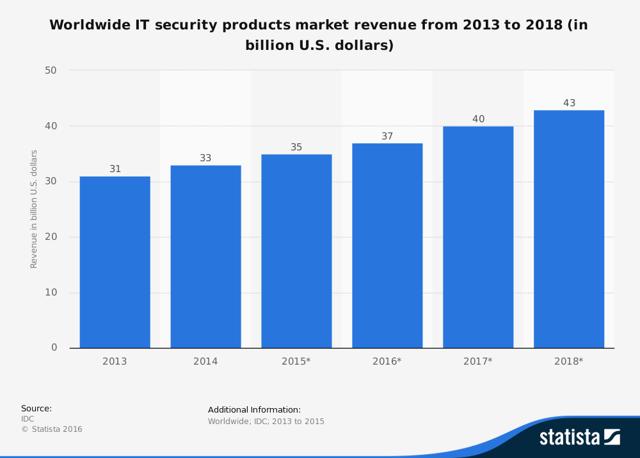 Worldwide IT Security Market to 2018 (forecast). Source: Statista
It is not only that the market is expected to grow which ought to pique investor interest, it is that it may have to. Steve Morgan, founder and editor in chief of Cybersecurity Ventures, notes that over the next four years the cost of cybercrime may double, from $3 trillion the last time it was measured in 2015, to $6 trillion by 2021, inclusive of damage caused data-theft and data-loss, stolen money, productivity losses, intellectual property theft, fraud, and reputational damage, amongst other issues. It is very reasonable to invest in a market because demand is increasing. But a broad-based want for a new product or service is an entirely different thing and one which might set your heart beating a little faster. This does not mean that cybersecurity is any less a risky investment than any other but, merely, assuming the collapse of the IT infrastructure, or a retreat to national Intranets won't happen, the industry will grow. As Mr. Morgan further notes: "global spending on cybersecurity products and services for defending against cybercrime is projected to exceed $1 trillion cumulatively over the next five years, from 2017 to 2021."
Cybersecurity deals above $50m. Source: Hampleton Partners.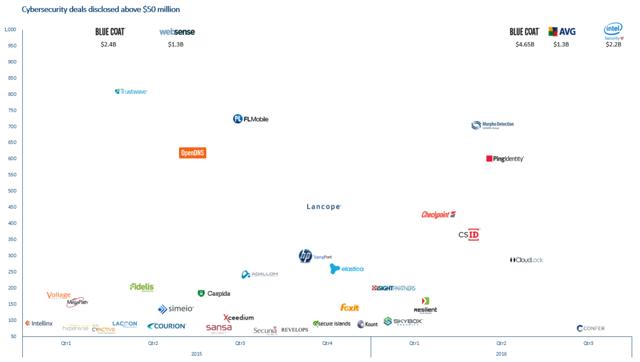 Market-share in Cybersecurity per process type. Source: Hampleton Partners.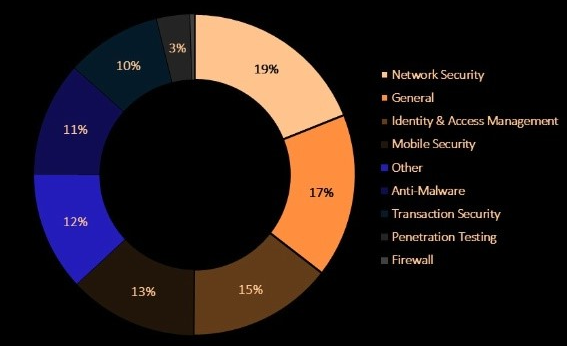 The Investments:
Within the cybersecurity market, as a growth sector, there are four key areas you might choose to invest in, if that is you aren't going to try and get in on the funding rounds of start-ups: large-cap, mid-cap small-cap, and ETFs. Each has its own distinct advantages and disadvantages, and an investment spread may keep your sector-specific risk diversified. This article will focus only on large-cap and mid-cap companies, with another article to come looking at small-caps and ETFs in the sector.
Of the large-cap companies, some big players will miss out from this analysis, including Cisco (NASDAQ:CSCO), and IBM (NYSE:IBM), two technology giants who are cybersecurity market leaders, generating roughly $2 billion from the market each year. Indeed, according to BusinessWorld, both companies saw their cybersecurity business grow a further 10% in Q3 2016. I leave these companies out since they don't offer a pure-play in this specific market and are already well known. The large-cap companies considered instead are Symantec (NASDAQ:SYMC), Check Point Software Technologies Ltd. (NASDAQ:CHKP), and Palo Alto Networks Inc. (NYSE:PANW). The three mid-cap stocks are Trend Micro (NYSEARCA:TYO), Fortinet (NASDAQ:FTNT), FireEye (NASDAQ:FEYE) and ProofPoint (NASDAQ:PFPT).
Cybercrime Predictions. Source: CBRonline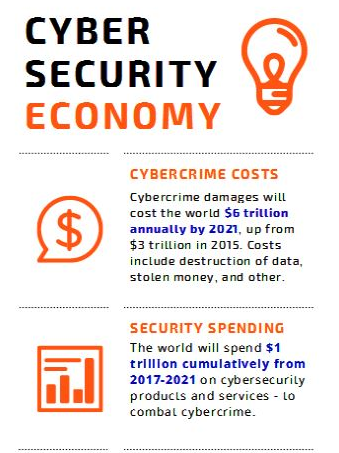 The Large Caps:
Symantec
Symantec Share Price - One Year. Source: Bloomberg

Symantec is one of the best known cybersecurity companies. It operates in two key parts of this security ecosystem: consumer security and enterprise security. It is the market leader in seven segments and took in over $3.6 billion in revenues in 2016. CEO Greg Clark is bullish about future prospects and the company has certainly been active in terms of M&A, with $7 billion in acquisitions. Recent acquisitions include, Blue Coat Systems and LifeLock, the former offering products such as web-filtering, and anti-malware clients, which boost Symantec's R&D department as well as its current business, whilst the latter offers growth in the identity protection market.
In the few days of 2017, the company's share price has risen by 3.18%. Over the past year this figure is 49.39%. The company has a market capitalization of $15.37 billion, and last offered a dividend yield of 1.22%. If you want a strong and steady cybersecurity investment with both an R&D and M&A focus, Symantec may be just that.
Symantec Financials. Source: FT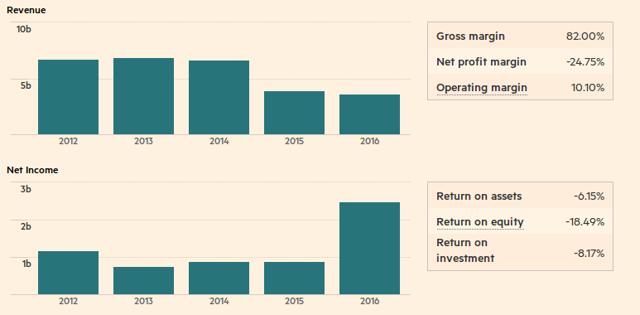 Check Point Software Technologies Share Price - One Year. Source: Bloomberg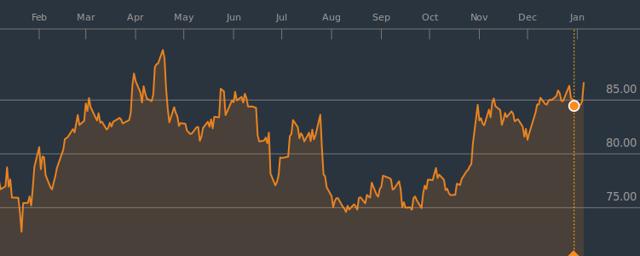 Check Point is another big pure-play cybersecurity beasts. According to Gartner, it possesses the largest market share in terms of firewalls. The company has over 100,000 different clients and its CEO is credited with inventing the firewall. The company has a market cap of $15.16 billion, which has seen 2.6% appreciation in the past year, and is up-beat about the upcoming year. Its founder has also developed a reputation for a slow-and-steady approach for long-term growth, as against the all-or-nothing approach some technology stocks have become synonymous with. Perhaps, a less flashy stock than others, Check Point is still worthy of consideration.
Check Point Forecast. Source: FT

Check Point Security - Financials. Source: FT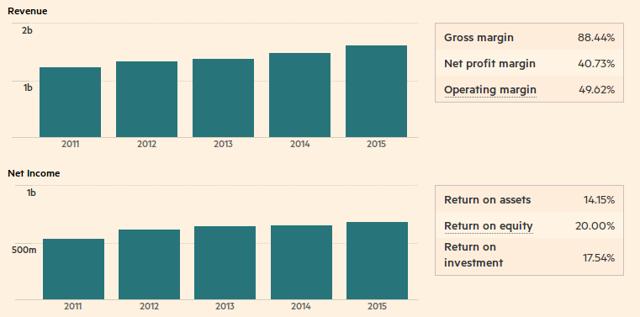 Palo Alto Networks - Share Price One Year. Source: Bloomberg

Palo Alto Networks provides three key cybersecurity products: firewalls, endpoint protection, and the threat intelligence cloud. The company has a wide market base, operates globally, and has appreciated by more than 170% over the past five years. Despite this, 2016 was a rough year for the company, with share prices falling by 21%. Palo Alto Networks shares do seem, however, to have found a level of resistance around the $120 mark, and some analysts suggest if security concerns continue to increase, the company could prove quite undervalued by the years end. Over the last few days alone, Palo Alto's share price has risen by 5%, following a broad market trend for the new year.
Palo Alto Networks Financials. Source: FT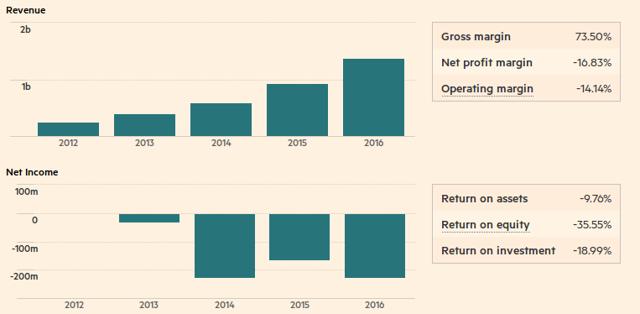 The mid-cap stocks:
Trend Micro Inc.
Trend Micro Share Price - One Year. Source: Bloomberg (Click to enlarge)

The sole non-U.S. held company in this list, Trend Micro Ltd. is a Japanese listed company with a serious investment in fighting ransomware, the frustrating and also damaging trend for locking down computers with password blocks unless a ransom in paid. The company with a $5.16 billion market cap suffered a fall in its share price over the last year, dropping by 12%, but has already climbed 3.5% over the past few days. Its dividends are a healthy 2.63%.
Trend Micro is attempting to corner specific areas of the cybersecurity market, including the job of dealing with the aforementioned ransomware, alongside endpoint attacks, and network validation issues. It is pushing out all the stops and generating interest in its products, including a free to access resource centre for companies worried about such risks. Indeed the company was in the news for helping to secure the arrest of members of an international criminal network believed to have stolen over $60 million through compromising email accounts. Furthermore, its products, such as Deep Discovery Inspector, have often been recognized as a "highly recommended system" by NSS Labs, achieving 99.8% detection rates.
Trend Micro Financials. Source: FT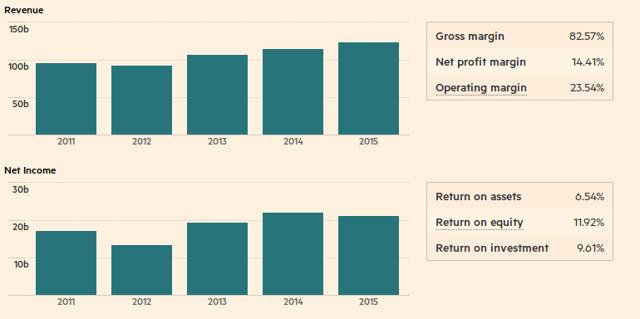 Fortinet
Fortinet Share Price - One Year. Source: Bloomberg

Fortinet, a security company with a $5.34 billion market capitalization, has had somewhat of a flat year overall in terms of its share price. That said if you'd spotted the dip, there was a significant profit to be made in investing in the company between February and October. Still, with revenues just topping $1 billion, the company which provides over 280,000 customers with their online security needs, has grown strongly and has strong cash reserves of $1.2 billion. It is also debt-free. Since its initial IPO, Fortinet has seen gains of over 320%. The company is the fourth largest cybersecurity pure-play around, and offers a host of products including: firewalls, antivirus programs, an intrusion-prevention system, antispyware, antispam software, VPN access, web-filtering, and wireless security. Analysts, including those at the FT, believe Fortinet will outperform the market in 2017.
Fortinet Forecast 2017. Source: FT

Fortinet Financials. Source: FT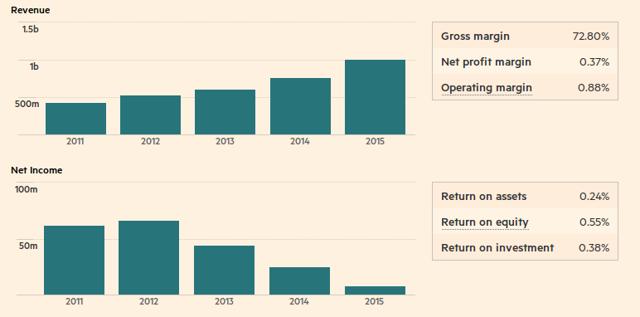 FireEye

FireEye, whilst perhaps not debt-free like Fortinet, and not a steady Eddie like Check Point, or a big beast like Symantec, still offers something: the potential of a rebound. The company lost 38% of its value in 2016, but has already climbed by 5.8% in 2017. It is innovative, having invented its own VM security platform to provide real-time government and enterprise threat detection, and its involvement in "Specialized Threat Analysis and Protection", as the market leader, ought to see it benefit from potentially increased government security spends in 2017.
FireEye Forecast. Source: FT

FireEye Financials. Source: FT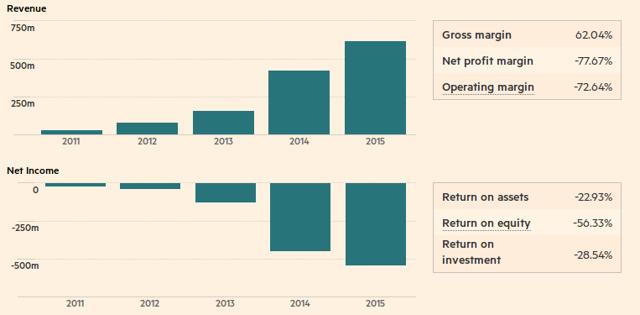 Proofpoint
Proofpoint Share Price - One Year. Source: Bloomberg

Proofpoint has had a steady time of late, in share price terms, rising 24.86% over the last year, and it's already up 8.99% in 2017. The $3.27 billion company provides security platforms through a suite of cloud-based protection programs, enabling the monitoring of business actions, such as employee email usage to ensure data-leaks are kept at a minimum. Its key offering is that it provides an on-demand service, so clients have no need of hefty upfront payments. It should be noted, however, that the company has seen a year-over-year fall in income of 65.72%, posting a loss of $106.45m despite increasing revenues, with increased costs bearing the blame.
CEO Gary Steele is nonetheless focused on a strong 2017, expecting recent reports of Russian hacking may boost government spending, and thus, earnings. Additionally, having 25% of the Fortune 100 as already established customers, means that should global cybersecurity spends rise, as they seem likely to, Proofpoint should stand to benefit. The company believes that, through targeted M&A and continuing research on improving its current threat surveillance systems, that 2017 will see a turnaround in its losses. If this is the case, share prices will continue to climb.
Proofpoint Forecast. Source: FT

Proofpoint Financials. Source: FT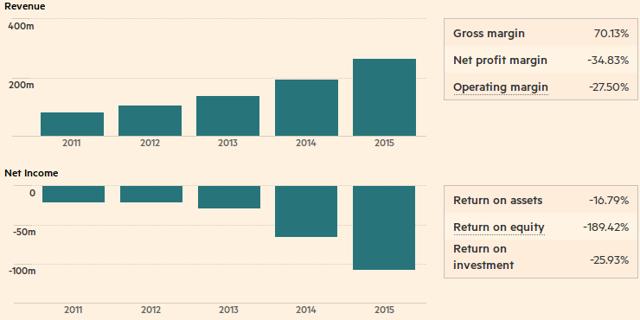 (Oisin Breen, Technical Analyst at Accendo Markets)
Disclosure: I/we have no positions in any stocks mentioned, and no plans to initiate any positions within the next 72 hours. I wrote this article myself, and it expresses my own opinions. I am not receiving compensation for it (other than from Seeking Alpha). I have no business relationship with any company whose stock is mentioned in this article.
Additional disclosure: CFDs, spread-betting and FX can result in losses exceeding your initial deposit. They are not suitable for everyone, so please ensure you understand the risks. Seek independent financial advice if necessary. Nothing in this article should be considered a personal recommendation. It does not account for your personal circumstances or appetite for risk.