I launched coverage on Globalstar (NASDAQ:GSAT) in August of 2013. The shares traded at 67-cents. I viewed them as worth three times as much -- $2.00.
In reached my price target in just four months. Before a year had passed, the stock topped $4.50. With my valuation target met, I dropped coverage… but kept an eye on the company and its stock.
For the record, my investment premise was not based on prediction of whether the FCC would approve GSAT's spectrum for Terrestrial Low-Power Service (TLPS). The premise was based on the odds of approval - risk/reward. On the most simplistic level, think of it this way - if approval was worth $4 and failure was worth $0, a 50/50 chance of success was worth $2.
My analysis was much more complicated, but that gives you the gist. In short, GSAT didn't need approval to be worth more than $0.67. Mr. Market agreed. In fact, even after GSAT encountered roadblocks and bearish articles, the stock remained above my initiation price.
Fast forward to December 23 and we find that the FCC announced the adoption of Globalstar's revised petition for terrestrial authority. All else being equal, that would have justified a $4 share price. However, a few things have changed since 2013. The question begs, do these changes increase or decrease the value of the FCC's decision to GSAT's market cap?
This morning, Globalstar held a conference call to discuss the FCC's order allowing for its Terrestrial Low-Power Service.
CEO James Monroe III thanked vendors that included Microsoft (NASDAQ:MSFT), Sprint (NYSE:S), Sony (NYSE:SNE), Qualcomm (NASDAQ:QCOM), EchoStar (NASDAQ:SATS), Samsung (OTC:SSNLF) and Cisco (NASDAQ:CSCO) for their support. I took that a potential foreshadow of things to come. He went on to explain that "The original proposal was to focus on a set of rules to implement 22 Mhz of spectrum in the 2.4 channel by combining 11.5 of Globalstar's license spectrum with 10.5 in the unlicensed band."
The 11.5 was approved, but the combination was not. However, Monroe went on to state that the value of the 11.5 proposal had increased dramatically since the original proposal's submission. This is because of advances in technology, which has given GSAT a much greater range of viable commercial options.
"The power levels that we received were just as we requested… totally adequate for Globalstar to roll out its range of proposed services in a robust manner."
John Dooley, Managing Director at Jarvinian Ventures (and wireless technology consultant) stated that "Globalstar has a very few peers when it comes to an ability to augment the satellite spectrum authority with terrestrial spectrum authority. In fact, until a couple of weeks ago, only Dish Network had been successful in doing anything like this. As good as that may be, to the degree that this authority may go beyond the U.S. and eventually expand many regulatory demands around world, Globalstar is entirely unique."
After an in-depth technical discussion, an investor said this during Q&A: "Jay, I think there is a lot of misinformation in the marketplace about the value of the spectrum you control… I think you did a great job of talking about the technical side of the value of your asset, particularly the importance of small cells in the continuing evolution of the networks, the benefits of TD (LTE) versus FT and also the uniqueness of your asset internationally. But if we take it one step further for us Wall Street guys, so that we can think about, how to think about value. There's been some out there that have proclaimed, that there should be discount placed in your spectrum because of the power restrictions vis-à-vis where the AWS3 auction traded, do you agree with this?
CEO Monroe replied, "I'd certainly understand if people would like to put a discount on it making that argument. The reality of where the networks are going in the future is denser and denser and denser, and as John said we're ideally positioned in order to take advantage of it. I would certainly understand if somebody wanted to flip us like discount on that. I could also make an argument of why AWS-3 is a perfect comp, because it too is over time trying to become a densification app now. So, I hate that I can - can't get you a precise answer on something like that, but I'm - certainly there is a discount, it would be much."
The investor continued: "That's helpful. So, the average sale price in the AWS-3 auction was $2.19 megahertz, Bob. If I apply that value to your domestic asset loan, I get to a value $7.9 billion, that math right?"
Monroe: "Yes. I agree with that math."
The investor reviewed the rest of GSAT's assets to derive an "equity value of $8.7 billion, which is$6.60 per share". When asked if the math sound right, Monroe said, "Yes, I understand the math that you're through and I don't disagree with any of it.
Monroe elaborated:
"Like you, it's difficult for anybody to value the international opportunity at this moment. But that opportunity is large, I mean, certainly if you just take a single example, and you say, the value that you ascribe to spectrum in the United States is the same in a heavily, heavily, heavily spectrum constrained market like Europe, and Europe is 150% of the number of people as the United States is, at $500 million discounted international opportunity is much, much, much larger.

But, given that those approvals have not taken place, but some of them well, I think that, that $500 million make sense. The math on the NOL is very straightforward, and I agree with your math there. Leading out the L-band, I agree with your premise, it is valuable, but leave it out for present purposes. So, I think I agree pretty much with the way that you pull together your calculations."
During the call, CEO Monroe addressed the other major factor weighing on investors' minds - financing:
"Recently some of the detractors have focused on Globalstar's capital raising needs and I'd like to talk about that for just a little bit. The company does in fact plan to raise a modest amount of capital in 2017 and 2018. We'll have to meet any unmet principle and interest needs -- that is, cash that's not provided by operations and other sources. We've just completed a $1 billion capital program… and in December, the final deliverables from Hughes and Ericson completed the ground infrastructure. So now, we've got second generation ground, and second generation constellation network rebuild programs behind us.

The satellite system that we're operating today, it's young, it's providing high-quality service, and we'll soon be enhanced by a whole series of the new products that come out as a result of the second generation ground infrastructure. These products include a two-way SPOT product, which will be in the market sometime during the first quarter of the year. It's a truly remarkable device -- cost effective and provides people the opportunity to be on the network basically, wherever they are in the globe along with the well-known SPOT functionality for SOS.

We've got Sat-Fi2. Sat-Fi2 is another astounding product, which will allow you pair with any smart device phone, laptop, tablet and be online anywhere you are in the globe. We are totally committed to our MSS business, and we always have that. With the second generation products, we will continue to grow, prosper and importantly for all us here at Globalstar saves lives every day.

Through the first nine months of this year, versus the first nine months of last year, our adjusted EBITDA grow grew over 60% year-over-year and all of that from generation one products, not even the generation two products, that was just describing. We believe that over the next couple of years, we'll have continued growth, driven by the new products… and the core satellite business can produce EBITDA of $50 million to $60 million, versus approximately $25 million, today.

Assuming that the company can continue to maintain this consistent growth for the balance of 2017, Globalstar will only need to raise $70 million or $80 million, representing about 5% of the company's market cap. Most of this can be dealt with by adjustments in our principal and interest schedule, if the bank agreements are so altered. We have a terrific relationship with our senior lenders and that relationship is, as I said previously is long term. We are always in discussions with them… and clearly, getting approval from the SEC FCC is an important element of our discussions.

So any so-called massive near-term dilution, I think that's what I it said one report, was just wrong. For any capital raising efforts to come up in the coming years, thermal intends to as always, meaningfully participate. We have always been supportive of the company, we've been supportive of the company, when times were times were dire. Post FCC approval, we are even more bullish on Globalstar's long-term prospects. The company will maintain an active plan to expand the shareholder base and obtain additional sell-side analyst coverage, which will certainly help in the trading liquidity in the company's stock. And of course, I mean, I kind of goes without saying, but based upon how quickly we mature up our strategic discussions with third-parties, all of the issues associated with these small capital raises are mooted."
I expect the bull/bear battle to continue. Personally, I find myself sitting on neutral ground - neither siding fully with the bulls or bear. However, that does leave me bullish on the stock . Net-net, I don't buy into the argument for a $6.60 valuation (though $6.60 is within my range of Risk/Reward outcomes (see below). However, I do still believe that something in the ballpark of $4.00 is a fair value for GSAT, considering the ruling. This is due to the increased utilization-value of the spectrum, offset by the scaled back proposal that ultimately passed (all of which was discussed above and in-depth on the call).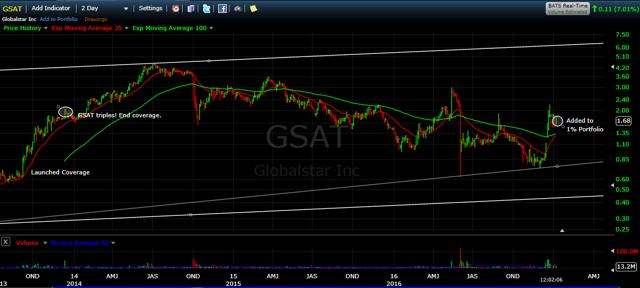 Either way, I see a much improved floor placed under GSAT's shares. Interestingly, I see the July 1.5 puts trading for 30-cents. Writing (shorting) these puts will produce a profit of up to 100% as long as GSAT sits above $1.20 in late-July. Accordingly, I am adding the July 1.50 puts to my Official 1% Portfolio (as a short), effective immediately.
Though I am not adding GSAT to my Official Portfolio, I have purchased the shares for my personal account (in addition to writing the puts).
Disclosure: I am/we are long GSAT.
I wrote this article myself, and it expresses my own opinions. I am not receiving compensation for it. I have no business relationship with any company whose stock is mentioned in this article.
Additional disclosure: The information in this article is for informational and illustrative purposes only and should not be regarded as investment advice or as a recommendation regarding any particular security or course of action. The opinions expressed in Pipeline Data, LLC publications are the opinions of Mr. Gomes as of the date of publication, and are subject to change without notice and may not be updated. This content may also be published at PipelineDataLLC.com at a prior or later date. All investments carry the risk of loss and the investment strategies discussed by Mr. Gomes entail a high level of risk. Any person considering an investment should perform their own research and consult with an investment professional. Additional trading disclosures can be found in the Important Disclosures section at PipelineDataLLC.com.