As most investors know by now, President-elect Trump (with broad-based Republican support) intends to cut the capital gains tax in 2017. This article will review how that affected the stock market since Election Day, what it means for how individual stocks will react this year, and some of my stock selections.
First of all, be prepared for winners to become losers and vice versa. January is here and things are playing out as discussed in my recent articles. The January Effect is already in effect. In fact, it's operating in turbo mode due to a variety of factors. The anticipated capital gains cuts are one. Stimulative and pro-U.S. fiscal policy is another. As part of that, a less-restrictive regulatory environment is shaping up to be a major contributor.
As a case in point, President-elect Donald Trump has nominated Jay Clayton to be SEC chairman. This is very good news for small stocks. As a former partner at Sullivan & Cromwell, Clayton will do a lot to encourage wealth creation. Specifically, IPOs and M&A should benefit. Also, his background and mentality will do well for small businesses because he will unwind a lot of the restrictions, albeit needed, under Dodd-Frank.
Seeking Alpha contributor Michael Markowski recently explained how Dodd Frank sent microcaps into a bear market. Beginning in mid-2012 through 2016, a large swath of microcaps fell by 50% while the broader markets rose by a similar amount.
Adding to this extraordinary divergence is the fact that small-cap value stocks have traditionally outperformed every other class. This has been the case in almost every decade going back to the 1940s:

Things are starting to turn around, but we're very early in the cycle.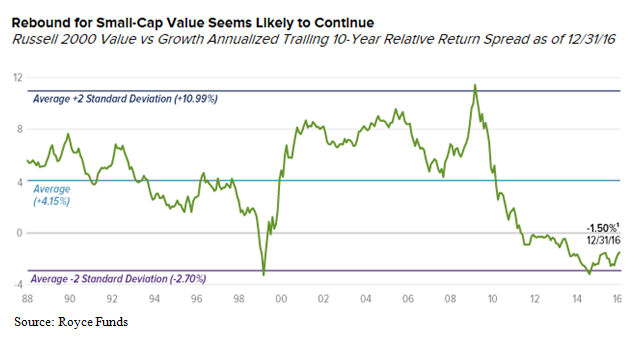 Here are some of my predictions for 2017 and some information on a couple of my personal holdings:
Prediction #1 - The next 12 months will present investors with the greatest treasure trove of opportunities since 2009.
For those who remember 2009, the market started with a 25% free fall. However, it ended the year with a 25% gain. That's a 50% swing. Those who bought at the bottom earned close to 70%. Now that's what I call opportunity!
Unfortunately, after that, it got harder. The market didn't rise another 70% for four years. The most recent two years have been even tougher - the market has only risen 10%.
But on Election Night - whether you were elated or disgusted by the outcome - something changed.
The markets reacted violently. First, they plummeted. Then, they rallied. They've been rallying ever since. Since the Election Night lows (just two months ago), the market has returned as much as it had in the prior two years.
In other words, volatility is back.
But that could be really good or really bad for you. Volatility can kill you just as quickly as it can make you rich. It all depends on whether you're riding the train or getting hit by it.
Prediction #2 - 2017 will be more like 2009 than any year since.
Though flawed, the following still has validity for investors: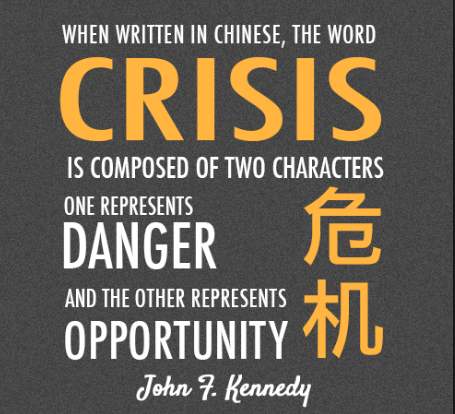 Credit: workplacepsychology.net
If you've been paying attention to the news and world events, a number of crises are ripe to unfold in 2017. Some will create bullish opportunities. Some will catalyze incredible losses.
2017 will not be like 2010 when central banks rode to the rescue of the global economy, enriching all who invested in anything. We will enter 2017 with the markets near or at all-time highs. 20 days later, a new U.S. President will take office. It's no secret that his administration will pose a stark contrast to that of the past eight years.
Things are going to change.
Good will become bad. Bad will become good. Everything will lurch in the winds. We're already seeing it in action. For proof, you only need to observe the recent action in biggest winners and losers during the Obama administration:
| | |
| --- | --- |
| Top S&P Stocks Under President Obama | |
| 1. Delphi Automotive (NYSE:DLPH) | 8500% |
| 2. General Growth Properties (NYSE:GGP) | 2700% |
| 3. Regeneron Pharmaceuticals (NASDAQ:REGN) | 2400% |
| 4. Netflix (NASDAQ:NFLX) | 1900% |
| 5. Priceline.com (NASDAQ:PCLN) | 1900% |
| 6. Under Armour (NYSE:UA) | 1600% |
| 7. Skyworks Solutions (NASDAQ:SWKS) | 1600% |
| 8. Amazon.com (NASDAQ:AMZN) | 1400% |
| 9. Qorvo (NASDAQ:QRVO) | 1400% |
| 10. United Rentals (NYSE:URI) | 1200% |
| | |
| Worst S&P Stocks Under President Obama | |
| 1. Transocean (NYSE:RIG) | -75% |
| 2. First Solar (NASDAQ:FSLR) | -65% |
| 3. Chesapeake Energy (NYSE:CHK) | -65% |
| 4. HP (NYSE:HPQ) | -60% |
| 5. Diamond Offshore Drilling (NYSE:DO) | -55% |
| 6. Southwestern Energy (NYSE:SWN) | -50% |
| 7. Marathon Oil (NYSE:MRO) | -45% |
| 8. Staples (NASDAQ:SPLS) | -45% |
| 9. NRG Energy (NYSE:NRG) | -35% |
| 10. Frontier Communications (NYSE:FTR) | -35% |
Many of the winners have been held aloft in the rally, but Tech stocks (like AMZN) have been lagging the broader market. Meanwhile, the losers have gone bonkers. Many such examples are going to unfold in the year ahead.
There's only one problem - there's a lot more cash sloshing around than there was in 2010. The same can be said for information. Combine the two and you have a recipe for the most competitive investing environment in history. As was the case in 2009, the winners will be those who observe what is going on in real time, see it for what it is, and act swiftly/accordingly
Prediction #3 - It's Going To Be A Wild Ride
CNBC had a great segment on this. I took particular note of the speaker's thoughts on taxes. Investors are anticipating that Trump/Republicans will lower capital gains tax rates this year. I discussed the implications of this in my last article, Trump Trades: Tax-Cut Implications Will Be HUUUUUGE.
In short, the anticipated cuts catalyzed the sale of many stocks at the end of 2016 (specifically, those which were producing capital losses). It also incentivized investors to hold on to winners. I've been seeing this phenomenon in action via my Risk/Reward charts. It's been a long time since I saw so many stocks at Risk/Reward highs and so many others at Risk/Reward lows, simultaneously.
If this plays out the way I suspect, the market could do well in 2017, but not without a substantial correction before the summer begins. Savvy investors could profit greatly in the coming months by shorting stocks at Risk/Reward highs and buying stocks at Risk/Reward lows. That's always been a good strategy, but it could move to a whole new level as the year progresses.
In addition to the ideas I've recently presented, here are a couple more ideas on the long side:
Radisys (NASDAQ:RSYS): RADCOM (NASDAQ:RDCM) was my biggest money maker of 2016. RADCOM, along with companies like Silicom (NASDAQ:SILC) are benefiting from the telecom industry's burgeoning transition to SDN/NFV network architecture. Seeking Alpha contributor, Mike Arnold, has covered this topic extensively.
The short story is that Amazon, Google (NASDAQ:GOOG) (NASDAQ:GOOGL), and Facebook (NASDAQ:FB) (among others), arguably represent the greatest threat the telcos have ever faced. To combat the encroachment, the telcos need SDN/NFV to bring down costs, improve service, and ratchet up their flexibility. This is why RDCM, SILC, and RSYS had such good years in 2016... and 2017 promises to be the year when SDN/NFV crosses the chasm.
I've been waiting for the right opportunity to add RSYS and/or SILC to my list of investments. The recent 3 1/2 month pullback in RSYS appears to be presenting us with that opportunity: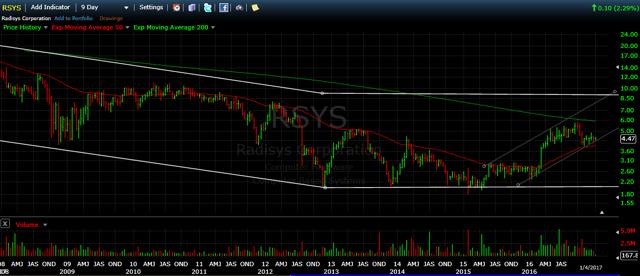 Accordingly, and effectively immediately, I'm adding RSYS to my Official 1% Portfolio.
Despite the stock's 23% correction, the company reported Q3 revenue of $55 million, beating Wall Street estimates by $5 million. In addition, Radisys is experiencing acceleration in its customer pipeline, due in part to its eight-figure role at a major customer, Verizon (NYSE:VZ).
To top it off, the space is experiencing accelerating M&A activity. CEO Brian Bronson and CFO Jon Wilson will present at the Needham & Company's 19th Annual Growth Conference in New York City on Tuesday, January 10.
Mattersight (NASDAQ:MATR): I've been covering MATR on Seeking Alpha for a couple of years now. You can get up to speed by reading my prior articles and instablogs on the stock.
Since my last update, a few positive events have unfolded. First, the business finally seems to be building some momentum. Q4 is expected to be its best in years. Also, though not announced yet, we have learned that MATR has been granted a new patent to start the new year.
This event comes amid the hiring of a new CFO. Both are good news. The CFO hiring came after an exhaustive search. It will enable incumbent CFO David Gustafson to focus more on business operations.
Incoming CFO David Mullen was formerly the CFO of Navteq Corporation (which was acquired by Nokia (NYSE:NOK)) and Allscripts Healthcare Solutions (NASDAQ:MDRX) - two substantial businesses. After evaluating his background, one of my mentors concluded that Mullen is among the most qualified CFOs he could imagine MATR attracting.
Best of all, the stock is among the ones I have found to be trading near a multi-year Risk/Reward low: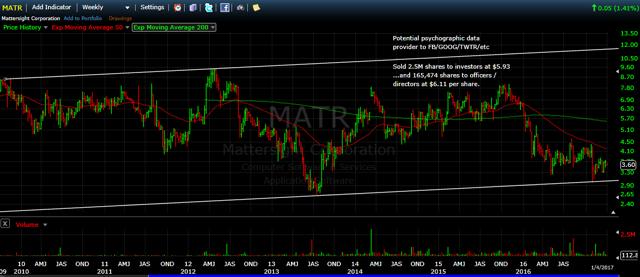 For some additional ideas, investors can check out Samadhi Partners' Top 10 Tech M&A Picks For 2017. By chance, three of my personal holdings are on this list (RDCM, New Relic (NYSE:NEWR), and Twitter (NYSE:TWTR)). It should be noted that NEWR and TWTR are not among my Official Portfolio selections.
To get our analysis and latest stock picks in real-time, sign up for my free newsletter at PipelineDataLLC.com. As a reminder, reading my Investment Methodology is critical to understanding the lessons, secrets, and rules I utilize to buy and sell my stock selections.
Disclosure: I am/we are long MATR, RSYS, RDCM.
I wrote this article myself, and it expresses my own opinions. I am not receiving compensation for it. I have no business relationship with any company whose stock is mentioned in this article.
Additional disclosure: The information in this article is for informational and illustrative purposes only and should not be regarded as investment advice or as a recommendation regarding any particular security or course of action. The opinions expressed in Pipeline Data, LLC publications are the opinions of Mr. Gomes as of the date of publication, and are subject to change without notice and may not be updated. This content may also be published at PipelineDataLLC.com at a prior or later date. All investments carry the risk of loss and the investment strategies discussed by Mr. Gomes entail a high level of risk. Any person considering an investment should perform their own research and consult with an investment professional. Additional trading disclosures can be found in the Important Disclosures section at PipelineDataLLC.com.
Editor's Note: This article covers one or more stocks trading at less than $1 per share and/or with less than a $100 million market cap. Please be aware of the risks associated with these stocks.