If I made a list of stocks I'm really fascinated to watch in 2017, Netflix (NASDAQ:NFLX) has to be near the top. The streaming giant is approaching a key point in its history. As the company has promised to start delivering material profits this year and beyond, we're at the point where sub growth may not be able to achieve past growth levels. With the stock basically at an all-time high, it seems there may be more risk than reward with Netflix in the short term.
Let me start off with the least important segment, DVD. Sub losses accelerated in Q2 and Q3 of 2016, with the company likely ending below 4 million at the end of the year. Should the pattern continue, it's likely that the service could end up losing Netflix money sooner rather than later, forcing management to make a decision. The last time these executives tried to do something with the DVD business, it wasn't pretty for the stock.
We've already started to see some cracks in the growth story for the US streaming business. That is to be expected in some fashion, as the company gets close to 50 million subs and a saturation point. As you can see in the chart below, however, the recent price raise has accelerated declines in the year-over-year paid sub growth figure.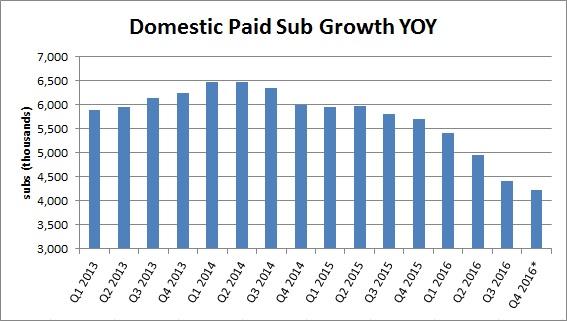 *Guidance given in Q3 investor letter.
Netflix may face a tough comp in Q1 2017. In the year ago period, Fuller House launched in late February, but season two of the show was released in early December 2016. Additionally, the company has pushed back the launch of House of Cards' new season each year, going from early February with season 1 to March 4th with last year's season 4. Netflix gained 2.23 million total subscribers in Q1 2016, but that might be tough to match this year thanks to the impact of the price raise, a business closer to saturation, and the original content release schedule.
Things don't get easier when it comes to comps in the international business. Netflix expanded to 130 new countries in Q1 2016, which is expected to increase international subs by almost 13 million for the full year. Can Netflix get close to that in 2017, especially when the Q1 comp is more than 4.5 million subs? Netflix will need to do a lot more investing in local language programming, which comes at a higher cost. Let's say Netflix adds 13 million global subs this year. While that may seem like a lot, it's a bit less than 2016's projection of about 17 million. Will investors still be rushing into the stock then?
While Netflix shares have done well in recent months, there are two other things that have increased also: Bond yields and the US dollar. Since the company's Q3 report, as seen below, the Dollar Currency Index is up more than 4%, which will have a negative impact on the company's international business. International revenues were projected to be 40% of the company's streaming total in Q4, up more than six percentage points in the past year. Rising bond yields also hurt a business that seems to raise new money almost yearly given its huge cash burn, as well as the fact that rising rates could negatively impact consumer spending in the US.

(Source: cnbc.com)
Netflix will be a very interesting stock to watch in 2017. Sub growth will likely slow in absolute terms, while the company looks to focus on delivering material profitability. Investors in the past have favored this name for its subscriber growth, but will the start of a slowdown impact things? With a rising dollar hurting international results and the next potential bond issue being more costly, this stock scares me a little near its all-time high. The average Street target on the stock is $124, which seems fair currently, but that is below current levels.
Disclosure: I/we have no positions in any stocks mentioned, and no plans to initiate any positions within the next 72 hours.
I wrote this article myself, and it expresses my own opinions. I am not receiving compensation for it (other than from Seeking Alpha). I have no business relationship with any company whose stock is mentioned in this article.
Additional disclosure: Investors are always reminded that before making any investment, you should do your own proper due diligence on any name directly or indirectly mentioned in this article. Investors should also consider seeking advice from a broker or financial adviser before making any investment decisions. Any material in this article should be considered general information, and not relied on as a formal investment recommendation.