In Part 1, I used some metrics that measured what I want in dividend stocks. I evaluated some, but certainly not all of the stocks in the Utility sector. I will probably add more utilities in the future, but you have to start somewhere.
The spreadsheet identified 3 interesting stocks; Brookfield Infrastructure Partners (NYSE:BIP), WEC Energy Group (NYSE:WEC), and Consolidated Edison (NYSE:ED). Since I already own BIP in an after tax portfolio, I'm obviously comfortable owning it, and will add some more to my IRA.
But what about the others? Are WEC and ED worthy additions to my IRA? Although I'm comfortable with the metrics I used to find them, they really only tell me what both have done in the past.
In Part 2, I'll look at WEC more closely and see if that view supports IRA ownership. I'll get to ED some other time.
WEC Overview
WEC was Wisconsin Energy Corp. until it acquired Integrys Energy Group in June, 2015, and became WEC Energy Group. WEC has an A- credit rating and serves 4.4 million customers in the Upper Midwest through 8 subsidiaries.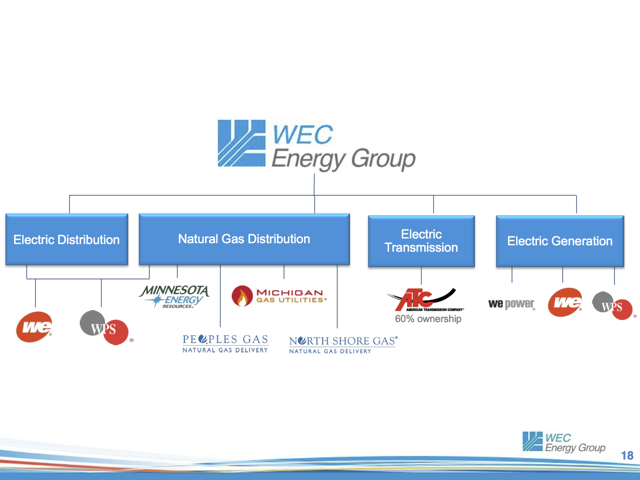 Source: WEC December Investor Presentation
WEC's operations generate revenues as shown below: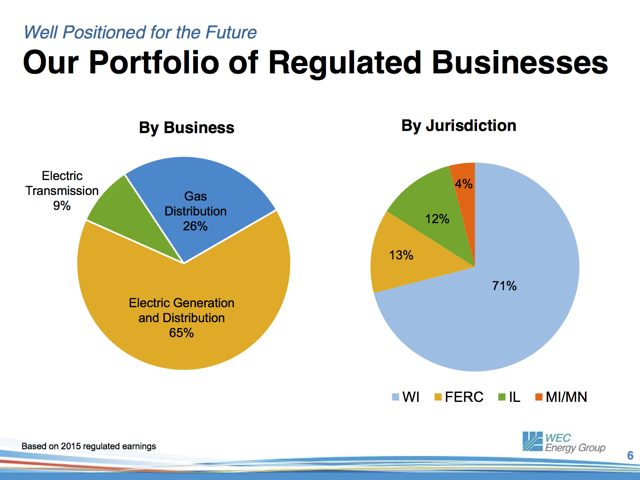 Source: WEC December Investor Presentation
This growth is supposed to grow earnings in the following areas: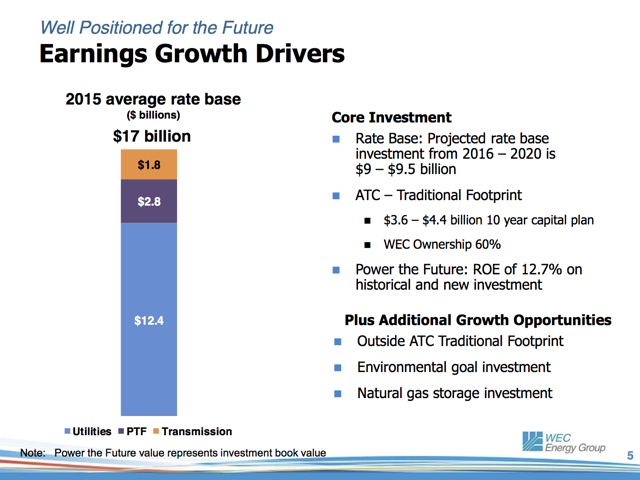 Source: WEC December Investor Presentation
Management claims these growth drivers will lead to the following outcomes for dividends and value: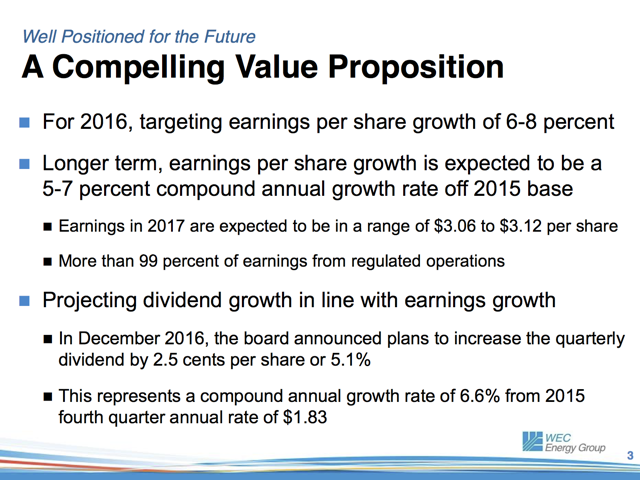 Source: WEC December Investor Presentation
OK, enough with the slides. I'd rather not use this many, but here's what I got from them:
Seven of WEC's 8 utility companies generate 91% of WEC's current revenue base. Nine percent of WEC's revenue comes from ATC.
WEC projects 5-7% long term revenue growth in a highly regulated rate environment. I doubt WEC's consumers will pay 5-7% higher annual compounded utility costs, so that sounds like cost efficiency savings to me.
That means ATC and PTF (Power the Future) will be the main company growth drivers going forward.
Dividend growth will trend with earnings, so the past 5 year dividend growth rate of 13.66% is no longer relevant.
So I need to decide if 5-7% dividend growth from now on is still worth it. In an earlier article I presented this flowchart: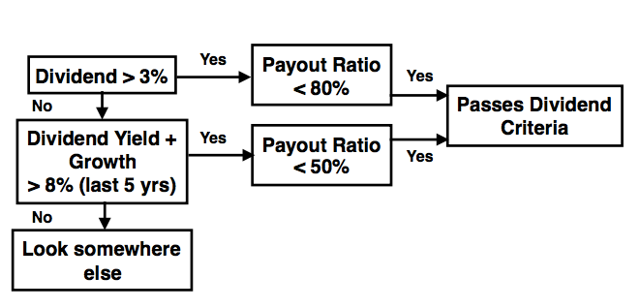 At 3.63% the dividend is certainly over 3%, and at 71% the payout ratio is under 80%. Combine that with expected future dividend growth of 5-7%, and I'm still interested. I'm buying utility stocks because they're safe, solid, and predictable dividend generators. This combo seems to fit the bill so I might as well keep moving forward with WEC.
Understanding WEC's Future Growth
I need to figure out what PTF and ATC are all about, since WEC is counting on them to help drive growth.
ATC
ATC stands for American Transmission Company, and is a multi-state transmission utility located in Michigan's Upper Peninsula and Eastern Wisconsin. ATC does sneak over the Illinois border. ATC distributes power from the generation station to the consumer. In that sense, ATC is like a mid-stream oil and gas pipeline company, like Enterprise Products Partners (NYSE:EPD).
A number of cities, electrical co-ops and electrical companies, including WEC, own ATC. Per the slide above, WEC owns 60%. WEC plans to invest from $3.6 to $4.4 billion from 2016 to 2025. WEC expects this to average $197 million in annual rate base growth from 2016 to 2019 (December Presentation, slide 12). Since the 2015 transmission rate base was $1.8 billion, this should increase the rate base by nearly $800 million.
ATC and Duke Power also have a joint venture with additional transmission lines in California (Path 15) and the multi-state Zephyr Power Transmission Project. This would connect wind farms in Wyoming with the Southwest. They also have more regional transmission line projects projected into Minnesota. It looks like WEC has plans to break out from its traditional regional utility provider status, and I see that as a good thing.
PTF
PTF stands for Power the Future. The only real information I could find was this slide: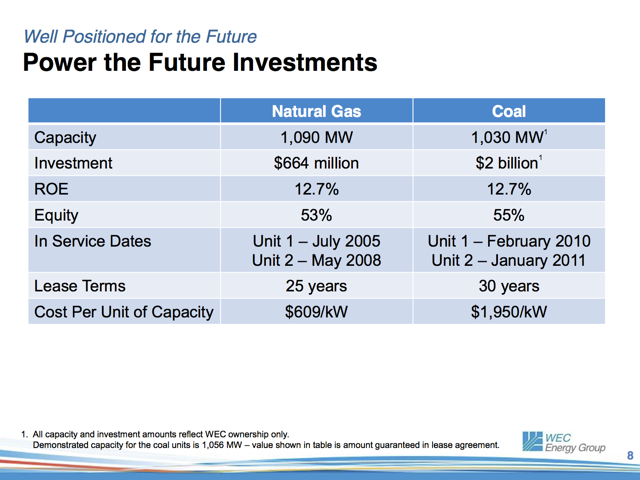 Source: WEC December Investor Presentation
I searched the WEC Annual Report, web page and conference call transcripts looking for something that provides a program overview. Referring to the "Earnings Growth Drivers" slide above, it's important enough to call out, but there's not a lot of available information.
So I called Investor Relations to find out more about PTF. The IR person told me that PTF was over. I asked, Over? How can it be over when you specifically call it out in your slides? It's $2.8 billion out of $17 billion in the 2015 rate base, so if it's over why even call it out?
The answer is that PTF was an upgrade of coal-fired plants that started in the early 2000's and ended in 2011. WEC (which was Wisconsin Electric at the time) cut their dividend to fund the upgrades. She specifically mentioned how unhappy shareholders were when that happened, so I can see why they might try to point out the benefits that ultimately accrued from the shareholder's sacrifice.
PTF resulted in excess generation capacity that's being sold on the open market (using ATC lines), until the WEC customer base grows enough to use the excess power.
Generation Assets
Speaking of coal fired plants, WEC generates most of its power from coal. Here are some statistics taken from the December Investor Presentation:
Coal generation - 5,044 MW
Natural gas - 3,753 MW
Renewables (wind farms, biomass) - 483 MW
Hydro - 169 MW
Natural gas is the first item listed on the slide, so WEC is naturally trying to highlight a cleaner generation profile, since natural gas emits far fewer greenhouse gases than does coal. A 170 MW natural gas plant is planned at Presque Isle which WEC claims will allow for retirement of the existing coal plant.
Investor Relations was quick to point out the renewables and hydro generating assets during our conversation, but coal is still king at WEC. Which leads to one of the two risks I mention below.
Risks
Environmental Liabilities
While I had the IR representative on the phone, I asked about what I thought could be two potential risks:
Environmental liabilities from coal fly ash disposal
Rate payers switching to alternative energy sources, such as solar.
I just moved from East Tennessee. I lived near TVA's Bull Run coal plant, and worked near TVA's Kingston coal plant. If Kingston sounds familiar, that's because in 2008 a dike failed and released 4.2 million cubic meters of Kingston plant fly ash into the Clinch River. Cleanup costs alone totaled over $1.1 billion, so I'm keen to know whether WEC could face similar issues with their coal fly ash.
The IR rep said that WEC doesn't use the same disposal approach. Instead they sell the ash to local contractors for road construction. I'll admit, turning something that costs money into something that generates money is always impressive.
Sounds good, but I decided to back check anyway. Here's what Note 18 from the 2015 Annual Report says about the subject:
We have continued to pursue a proactive strategy to manage our environmental compliance obligations, including:

the beneficial use of ash and other products from coal-fired and biomass generating units...
It looks like there'll be no billion dollar ash spill in Wisconsin, so I can cross that off my worry list.
Alternative Energy
The cost of photovoltaic solar generation is rapidly dropping. I wanted to know if WEC was seeing or projecting any significant loss of its customer base to Solar City type solar installations.
The IR rep asked me a question: "How familiar are you with Wisconsin?" My answer - "Not very". She continued by saying that WEC has not and does not see a significant deterioration of their customer base due to stand-alone solar installations, as the weather doesn't make solar a popular option. So I left it at that and decided not to worry about an eroding customer base due to solar installations.
Summary
In Part 1 I finally figured out that I'm looking for 3 things in a dividend stock:
Dividend Adequacy
Dividend Growth
Dividend Safety
So how does WEC fit the bill for these criteria?
With a current dividend of 3.67%, the dividend is adequate.
With an expected dividend growth rate of 6-8%, I can expect decent dividend growth.
WEC seems to be a pretty well run company. I think the dividend is safe.
Based on my analysis, I opened a position in WEC for my IRA. I like to use cash-secured puts as a way to buy stock, but WEC's puts looked distinctly unattractive, so I bought a position at the market. As always, I'm interested in what the SA community thinks. I'm convinced it's the finest research and feedback investing tool available, and I look forward to any feedback.
Disclosure: I am/we are long WEC, BIP.
I wrote this article myself, and it expresses my own opinions. I am not receiving compensation for it (other than from Seeking Alpha). I have no business relationship with any company whose stock is mentioned in this article.