I actually turned modestly bullish on Ruby Tuesday (NYSE:RT) in September, arguing for a bottom-timing trade, before bailing just a few weeks later after a disappointing fiscal Q1 report. (RT fiscal years end in May.) Shares did indeed rise of late, bouncing off lows around $2.40 into the mid-$3s earlier this week. Still, my long-held skepticism toward the stock as an investment has held firm: I don't particularly like the casual dining space as a whole, and RT's inconsistent marketing and inability to drive any sort of traffic continue to be significant impediments to any real turnaround. There's long been a bull case based on the company's real estate holdings, but the cash costs required in a recent divestment of 95 locations have eroded that case, and with no apparent interest in a more aggressive value-creation strategy, there's no clear way for RT to unlock the value in those buildings.
Ruby Tuesday's fiscal Q2 report on Thursday, which has sent shares down 23% as of this writing, seemed a microcosm of the problems that have dogged the stock for years, particularly since real estate-based support around $6 finally gave way earlier this year. Even with a new CEO, there appears to be no real attempt to change strategy - or even promote any kind of coherent strategy to either consumers or investors. Yet there's still reason to look at the real estate and wonder if RT really can be worth less than $2, or what an activist might be able to accomplish. And there's still reason to think investors might try, again, to time the bottom, particularly if RT falls further from a current price of $2.72.
From a long-term standpoint, however, Q2 strikes me as a significant blow to what little bull case there was. Ruby Tuesday now is at a point where it's markedly unprofitable, and considering the impact of operating leases, the real estate SOTP valuation doesn't work if profits and cash flow aren't at least around breakeven. All told, this is a mess of a company, and it's not as if the casual dining space is an easy one even for the better operators. The latter problem isn't changing, and there's little evidence Ruby Tuesday has any ability to fix the former.
What Is The Freaking Strategy Here?
I've long argued that a core problem here is that Ruby Tuesday has no coherent message. Of late, under both former CEO J.J. Buettgen and new CEO Lane Cardwell, the company repeatedly has emphasized its Garden Bar, even calling itself "a salad concept with a full menu" in an investor presentation earlier this year. RT is now doubling down on its salad bars, rolling out expanded selections and new dressings across the chain after a series of market tests. As Cardwell put it on the Q2 conference call, the Garden Bar "appeals to customers' desire for fresh, healthy options. [And,] importantly, the new Garden Bar allows us to [benefit from] the healthy halo for which we are already so well known."
But the Q2 release also cited new appetizers including Philly Cheesesteak Potstickers and a Italian Five-Cheese Skillet, and the quarter featured a six-week hamburger promotion through social media. The company also heavily advertises its American Rib Festival each year. So there's a "which is it?" problem: is Ruby Tuesday pushing healthy or not? While management is talking up the salad bar, the few national TV ads that run are backing $12.99 three-course dinners (including full-sized desserts, natch) and social media is emphasizing six weeks of burgers that look like this: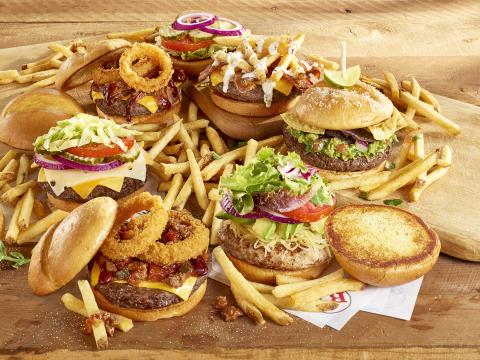 source: RT press release
So while RT is planning to push the Fresh New Menu - which didn't much impact Q3 - and the expanded Garden Bar - which will launch in January - I'm still not sure there's a coherent overall branding strategy here. 'Fresh' and 'healthy' is an interesting tack to take in a very crowded casual dining space. But "we've got salad and also ribs and giant $7 burgers" doesn't necessarily come across as 'fresh' and 'healthy'.
There's also the question of whether RT even knows how to market itself. CMO David Skena was hired in July 2015 due to his experience with online and social media advertising; RT immediately went to a digital-only strategy, only to walk that decision back early last year. Every time the company goes away from TV, comps fall, as I pointed out in an article some eighteen months ago. And surprise, surprise: the social media-driven burger promotion "did not generate the necessary traffic lift", as Cardwell put it on the Q2 call. That statement came three months after Cardwell said on the Q1 call of the same promotion that "the customer response has been overwhelmingly positive, leading to a significant pickup in traffic and visits". Meanwhile, the company put its $12.99 three-course meal on TV in November and comped positive for the month, although Cardwell pointed out the company had an easier comparison.
RT is planning to put some TV muscle behind the Garden Bar, and that's pretty much the last hope for the chain at this point in terms of any real differentiation and any real turnaround in sales. While RT continues to highlight reasonable results relative to the industry, those results are skewed by an ever-easier comp base after years of same-restaurant sales declines. Meanwhile, Cardwell somewhat casually pointed out that checks are guided to decline under the New Fresh Menu, which seems a significant problem given that restaurant-level margins collapsed in Q2 under the weight of significant and not entirely effective promotional activity.
More broadly, there still isn't any real reckoning from management relative to the situation Ruby Tuesday is in. To hear Cardwell, the company is on the brink of an epic transformation, and other than a somewhat disappointing Q2, everything is on track. Customer satisfaction is through the roof, everyone loves the salad bar, and "the white textured background [of the new menu]...better communicates freshness and affordability to guests". But if RT is hoping that a menu will communicate what its advertising clearly doesn't, there's essentially no hope for the company.
The Numbers And Valuation
Still, there's the real estate. Average prices for sales appear to be coming down, with 25 properties in the contract phase at $1.6 million each, down from levels closer to $2 million in past sales and an appraisal of properties used as loan collateral. But that's still enough to support the current enterprise value of about $355 million. RT owns 269 of its restaurants (84 are encumbered, but those mortgages are included in the enterprise value calculation). At $1.5 million each, RT could generate ~$400 million in proceeds, enough alone to value the stock above $3.50.
The problem is that those numbers are theoretical. First, there are costs involved in closing restaurants; a recent round of 95 closures involved $32-$36 million of pre-tax expense (that guidance was pulled down on the Q2 call, one modest piece of good news). Cash proceeds from 34 sales are guided to $45-$50 million, or $1.3-$1.5 million each. The ~$300K per store closing cost essentially wipes out the equity value in this scenario, and RT couldn't execute sale-leasebacks since they would swamp restaurant-level profitability at current levels. That doesn't even get to the $600 million-plus in operating lease commitments on the books at the end of FY16.
At the end of the day, what hope RT has is as a turnaround play; there's a reason the stock hasn't seen an activist since 2011. While some combination of real estate monetization/footprint shrink/capital structure change seems likely a potential avenue to value, there are obstacles in the way, even with RT gaining more flexibility on its debt. The way to play the real estate actually is through the 2020 Senior Notes, which yield over 8% at current and are callable beginning in May (at 101.9, and at a par a year later).
Regardless of the real estate value, the operating leases alone mean RT has to do something to stabilize its business, and there's simply little reason for optimism on that front. The company refuses to admit that anything really is that wrong - from the Q2 call, it sounds like the company just had a bad quarter, not a bad decade - and I'm highly skeptical that a Garden Bar is going to overcome a brutally competitive space, traffic declines, and a poor overall marketing strategy.
My overall skepticism toward marketing and execution hasn't changed much, but it also needs to be emphasized just how poor Q2 really was. The 4%+ comp decline was the worst in recent memory, and restaurant-level margins fell 410 bps to 11.5%. That's almost 27% of per-dollar four-wall profit wiped out year-over-year. Underperforming promotional activities were cited as the cause of margin compression - the $6.99 burger deal is the likely culprit - and the comp decline despite an increase in dollar spend in marketing of 2% across a footprint that is nearly 17% smaller than it was a year ago. In other words, Ruby Tuesday promoted heavier, marketed more, removed lower-performing stores from its comp base, and still saw significant same-restaurant sales declines despite a relatively easy comparison. That is an awful, awful performance, across the board.
Thinking a salad bar is going to fix those earnings borders on delusion. The company needs substantive change, which should start with Skena's removal as CMO (Cardwell, for better or for worse, is locked in given his contract and the cost of severance relative to equity value at this point). And until there's even a bit of evidence that RT is interested in changing, there's no point in trying to time the bottom here.
Disclosure: I/we have no positions in any stocks mentioned, and no plans to initiate any positions within the next 72 hours.
I wrote this article myself, and it expresses my own opinions. I am not receiving compensation for it (other than from Seeking Alpha). I have no business relationship with any company whose stock is mentioned in this article.