I'm anticipating Advanced Micro Devices (NASDAQ:AMD) to gain some meaningful ground in the consumer MPU (microprocessor) market in 2017, which I've mentioned on numerous instances in prior articles. Notwithstanding, the degree to which AMD can capture share in the high-end of both the MPU/GPU market could surprise the staunchest of skeptics and the most optimistic of bulls.
While I have yet to update my financial estimates, I will be working towards those efforts in my following article.
The Intel versus AMD situation
Price sensitivity in the OEM space is well-known. Assuming AMD were to price its Ryzen family competitively, it would reduce PC OEM BoMs (bill of materials), translating into significant market share gains for AMD's updated AM4 platform. The performance per clock is expected to increase by 40% from AMD's prior processor family, which should bring performance in line with high-end Skylake variants (6900k)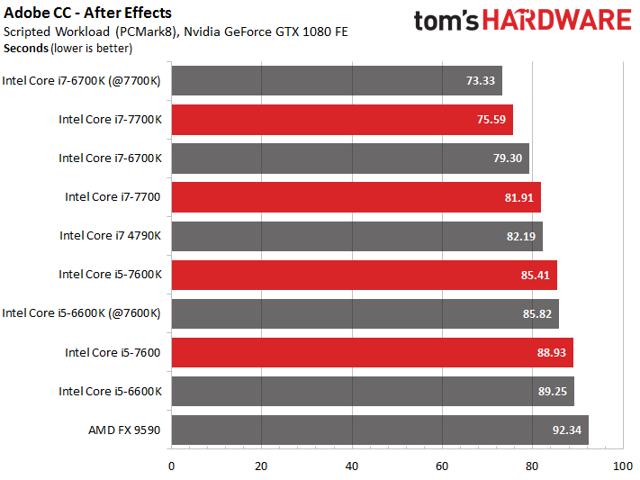 Source: Tom's Hardware
Intel's (NASDAQ:INTC) performance per clock for upcoming Kaby Lake architecture hasn't improved (literally). Simply speaking, Intel just packaged the same architecture, and clocked it somewhat higher to exhibit a modest performance boost in the high-end of the segment. Benchmarking sites like AnandTech and Tom's Hardware reported that a similarly clocked i7 6700k would perform at the same level of Intel's upcoming 7700k. That's even after the much-hyped improvements from speed shift, i.e. Intel turbo boost. Basically, anyone with a i7 6700k could overclock to the same base clock of a 7700k and produce the same performance.
Kabylake's lower-watt variants for fanless tablet/Ultrabook designs have better power efficiency at the lower voltage bands, which builds on top of Intel's efforts in dynamic voltage and frequency scaling. This does little to thwart AMD's efforts in the laptop business, as AMD competes in the 15W and 35W TDP segment. Whereas Qualcomm (NASDAQ:QCOM) provides the internals for much of the 2W to 4W smartphone/tablet segment.
While Intel hasn't generated any meaningful traction in the mobile market, high-end laptop convertibles (2-in-1s) remain an important market segment for Intel. I'm not anticipating AMD to launch any ultra-low power variants of its Zen architecture in 2017. However, AMD will launch laptop components in the second half of 2017, just in time for the holiday season, so it will be a while before Intel reports declines in laptop MPU units.
Nvidia versus AMD
The GPU business is low-volume when compared to MPUs and caters to PC enthusiasts in general. So, in a general sense, the degree to which AMD succeeds is partially driven by Vega's performance comps to the GTX 1080/1080TI line-up in conjunction with broad awareness of the upcoming product line-up.
To gain GPU share, AMD needs to gain traction/awareness from consumers who may not be as familiar with the price/performance argument favoring AMD in the sub $500 price category. If AMD sold the RX 490/495 GPUs for $100 less than Nvidia (NASDAQ:NVDA), it would still need to compete by improving branding. Nvidia has plenty of loyalists, so prying away market share isn't just a matter of performance (though it does help). Hence, I'm not anticipating AMD to simply take all the share in the high-end of the GPU segment even if it were to price its high-end lineup at lower price points. However, even modest share gains could translate into heightened y/y sales growth for the GPU/semi-custom business. I'm optimistic, though I'm not willing to prognostic Nvidia is doomed.
Of course, I have modeled a conservative growth rate for the GPU/semi-custom segment. But, it's worth noting that overall GPU shipments declined around the time Nvidia launched Pascal. Despite a decline in overall industry shipments (year on year), Nvidia came away with substantial revenue growth (appx. 50% y/y) in Q3 due to higher ASPs and launch of AI-specific GPUs.
I'm anticipating GPU shipments to tick higher throughout 2017. The impact of higher GPU volumes in conjunction with higher pricing should translate into meaningful y/y revenue growth for AMD's GPU/semi-custom business. Furthermore, ASPs for custom silicon should move higher in light of a mid-console refresh (Xbox Scorpio and PS4 Pro). The impact will be most significant in Q3 2017 as console builds tend to accelerate prior to Q4's seasonality.
AMD lost Nintendo's (OTCPK:NTDOY) business for its upcoming console (Nintendo NX). However, I'm not too worried, as Nintendo lost significant ground in the console space. Currently, Nintendo Wii U accounts for 12.5% of the current generation console installed base. So, the negative headwind for AMD's y/y semi-custom shipments is likely limited to five-or-ten percent of AMD's console business (Nintendo spends less on components). So, I could imagine AMD's console business growing in the next year, given higher pricing on chips, and potential console shipment growth.

Source: Barclays Americas Research
It's also worth noting AMD's recent announcement of Radeon Instinct Accelerators (MI6, MI8 and MI25). The accelerator business is mostly dominated by Nvidia and Intel. But, any incremental datacenter wins for accelerators (like the Google announcement) could add to bottom line results.
While it's too early to quantify the impact from hardware accelerators, the launch of additional hardware lines is additive to earnings and sales. Furthermore, AMD wouldn't need to sell tons of hardware accelerators to break-even as the design builds on top of AMD's pre-existing graphics/software architecture. Low-volume production of add-in-boards tends to generate lower yields, but custom silicon tends to generate higher pricing per unit offsetting lower fab efficiency.
Furthermore, Radeon Instinct is expected to have similar functionality to CUDA (Nvidia's parallel computing platform) with performance per watt matching figures reported by Nvidia. Of course, AMD could be hyping its efforts in machine-learning algorithms and AI, and could be thwarted by competing products by Xilinx, Intel or Nvidia further down the road. Even so, I could imagine AMD winning some data centers, as competition is healthy for cloud providers and implementation of new hardware doesn't introduce much complexity for most IT administrators/datacenter designers.
Conclusion
I continue to reiterate my high conviction buy recommendation on AMD. While quantifying the implicit gains in MPUs, GPUs and custom silicon remains difficult - I believe financial results will exceed expectations set by the consensus going into the next fiscal year.
Those on the sidelines have concerns over valuation or whether there's enough room to generate alpha/returns. While these are valid concerns, I believe the stock is reflating back to a reasonable pricing premium in line with tech/semiconductors.
Articulating a compelling value case goes well beyond the scope of this article. Nonetheless, I will be putting together a kitchen sink analysis to figure out the projected earning/sales from the updated product cadence for FY'17.
Disclosure: I/we have no positions in any stocks mentioned, and no plans to initiate any positions within the next 72 hours.
I wrote this article myself, and it expresses my own opinions. I am not receiving compensation for it (other than from Seeking Alpha). I have no business relationship with any company whose stock is mentioned in this article.