While immunology and oncology are the key focus areas for AbbVie (NYSE:ABBV), the company also believes in the growth potential of the hepatitis C or HCV segment. However, before the future growth prospects, I would like to make the reader aware of the company's current performance in the HCV segment.
Viekira Pak has faced strong competition from Zepatier in 2016
Launched in the U.S. in the first quarter of 2015, AbbVie's HCV drug, Viekira Pak, was expected to be a tough competition to Gilead Sciences' (NASDAQ:GILD) HCV portfolio. When at its peak, Viekira had even managed to attain a 40% market share in the USA.
However, today, virology and especially HCV has become a hyper-competitive field. Gilead Sciences has been continuously launching new generation drugs in this segment. Bristol-Myers Squibb (NYSE:BMY) also has its HCV drug, Daklinza, vying for additional market share.
But the biggest blow to Viekira Pak has been Merck's (NYSE:MRK) Zepatier, launched in the first quarter of 2016. Approved by the U.S. Food and Drug Administration (FDA) for genotype 1 and genotype 4 HCV patients due to high sustained virologic response demonstrated in Phase 3 trials, Zepatier has been a pain point, both for Viekira Pak as well as Gilead Sciences' HCV franchise.
Zepatier was introduced in the market at a deeply discounted list price of $54,600 for the 12-week duration of therapy. AbbVie misjudged Merck's strategy as the company believed that Zepatier was mainly targeting the medical exception route. Patients generally initiate medical exception for drugs not covered by health insurers. Merck managed to grab hold of a significant share of this market due to its low pricing strategy.
Further, Merck's pricing strategy has allowed Zepatier to make inroads in public segments such as Veteran Affairs or VA. As AbbVie refused to compete on price with Merck, the former has lost a significant portion of its HCV market share, which is now in the single-digit range.
And Viekira Pak also had its own safety issues
On October 22, 2015, the FDA issued a warning announcement stating that Viekira Pak may cause serious liver injury in HCV patients with advanced liver disease. This warning was also required to be mentioned on the drug's label. The acknowledgement of a drug-related safety risk always affects overall physician and patient confidence in the drug. A similar trend unfolded for Viekira Pak, which witnessed a dent in demand due to this label change.
While Viekira Pak has performed decently in international markets, especially japan, it is not sufficient to offset the low demand in the US. AbbVie has thus started focusing on its next-generation HCV therapies to relaunch itself in the virology segment.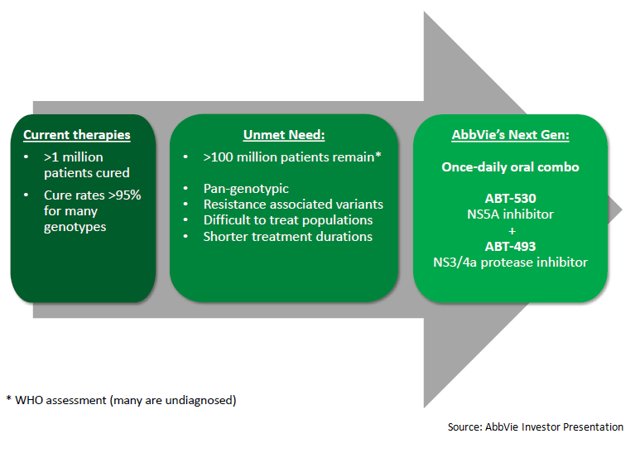 But does the HCV segment still make business sense?
With more than 1 million HCV patients already cured and drugs showing cure rates higher than 95%, it can be safely said that existing HCV therapies have proved to be truly transformational. However, while much has been achieved, much more still remains.
There are more than 100 million HCV patients in the world who are not yet treated for the disease. Some of these patients are suffering from drug resistance-associated variants of the HCV virus. Then there are difficult-to-treat HCV patients as they suffer from genotype 3 variant of the disease or even liver cirrhosis.
While Gilead Sciences' Epclusa has filled in the need for pan-genotypic HCV therapy, demand for more tolerable drugs requiring smaller duration of therapy has continued to be robust. AbbVie believes that its next-generation HCV therapy, a combination of ABT-530 and ABT-493, to be taken orally once a day, can capitalize on this demand in the HCV segment.
Investigational next-generation HCV therapy may be AbbVie's key to commercial success in the virology segment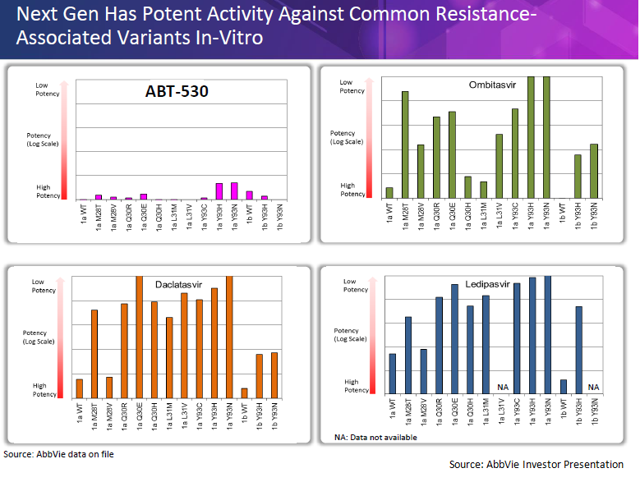 In in-vitro studies, ABT-530, a novel NS5A inhibitor, demonstrated higher potency than other NS5A inhibitors in HCV patients suffering with resistance-associated variants of the disease.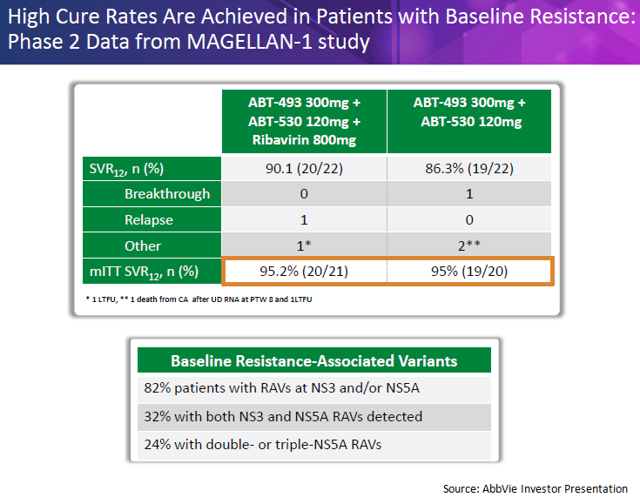 The combination therapy of ABT-530 and ABT-493 has also demonstrated a solid sustained virologic response of 95%, both in the presence and absence of ribavarin in the Phase 2 MAGELLAN-1 study, in patients with genotype 1 HCV with baseline resistance. The above diagram also explains the categories of resistance-associated variants included in the trial.
AbbVie's next generation HCV therapy has also demonstrated 100% cure rates in patients suffering from non-cirrhotic genotype 3 HCV as well as compensated cirrhotic genotype 3 HCV. Similar strong cure rates have also been reported for genotype 2 and genotype 4 HCV patients. Results across all HCV genotypes are expected to be encouraging in AbbVie's Phase 3 trials expected to test efficacy of the combination regimen for a shorter eight weeks duration of therapy.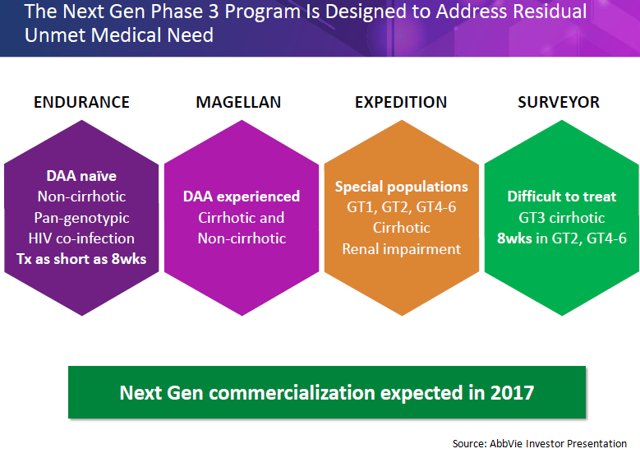 The above diagram further shows the design of the Phase 3 program for AbbVie's next generation HCV therapy. Based on positive results from these trials, the company expects to commercialize the therapy in 2017.
On November 11, 2016, AbbVie presented positive data from Endurance-1, Endurance-3, and Surveyor-2 studies, which have demonstrated efficacy of the combination regimen across all HCV genotypes. The company's confidence in the efficacy of its next-generation regimen can be estimated from AbbVie's future plans for the drug to be part of a head-to-head trial in non-cirrhotic genotype 3 HCV patients.
So can it help boost AbbVie's profitability?
On September 30, 2016, AbbVie received breakthrough therapy designation from the FDA for its combination HCV regimen as a treatment option for genotype 1 HCV patients who did not respond to direct acting antivirals or DAAs. Based on results from the MAGELLAN-1 study, this designation emphasizes on the FDA's confidence in the drug's efficacy and safety profile.
With the strong clinical profile of AbbVie's next generation HCV regimen established, it boils down to AbbVie's negotiations with health insurers and competitive dynamics. As Zepatier has managed to snatch the market with its pricing strategy, AbbVie may also have to opt for price discounts to push its innovation in the market. However, a higher focus on resistance-associated variants may prove to be a differentiating factor for AbbVie's therapy and in turn result in solid sales in future years.
Disclosure: I/we have no positions in any stocks mentioned, and no plans to initiate any positions within the next 72 hours.
I wrote this article myself, and it expresses my own opinions. I am not receiving compensation for it (other than from Seeking Alpha). I have no business relationship with any company whose stock is mentioned in this article.