As we begin the new year, market strategists routinely give their outlook for the new year. And each year everyone is grossly wrong, in general. This year, with an unconventional, populist U.S. president taking office and financial markets wound tighter than a drum, anything is possible and most pundits risk to be even more wrong than usual with 2017 predictions. Given this caveat, this week's Commentary offers our current thinking where different asset classes maybe headed as we begin the new year.
Equity Markets
Developed equity markets spent 2016 rallying on any news, good or bad. Central bank policy decisions, Brexit, Trump, Italian referendum, geopolitical crises in Syria and North Korea, and terrorism…risk assets found reason to move higher in the face of all these events. As we enter 2017, the S&P 500 Index is trading at its highest level to trailing earnings in nearly 13 years, and its highest level to trailing sales in almost 16 years. The valuation argument should come into play sometime in the new year, especially if Trump-induced economic growth disappoints. In all aspects, developed equity markets are priced for perfection. In the U.S., if parts of Trump's fiscal policy get delayed or watered down by Congress, or don't have the growth impact that everyone seems to expect, current equity speculation may unwind quickly. Moreover, few seem worried that growth this year ends up lower because of the impact of the dollar and higher rates. In Europe, equity investors have blind faith in Mario Draghi and the European Central Bank (ECB) to keep the quantitative easing program running until 2018. Again, no one seems to be particularly worried about the fall-out of negative interest rate policy (NIRP) or the destabilizing effect of the euro currency potentially heading to all-time lows against the dollar in 2017.
We see U.S. equities finishing 2017 below current levels. Although we calculate fair value on the S&P 500 (NYSEARCA:SPY) to be around 1750, no one has a crystal ball to foresee when, or if, the index will fall to this level in 2017. However we believe that in overvalued markets, priced to perfection, there are too many potential sources of disappointment to naively assume that U.S. stocks will cruise another 10% higher this year. As we begin 2017, we have not seen a meaningful pull-back in the S&P 500 in almost one-year. We remain distrustful of one-way markets. When everyone starts playing a market in the same direction, this is usually the time when the majority is proven wrong.
S&P 500: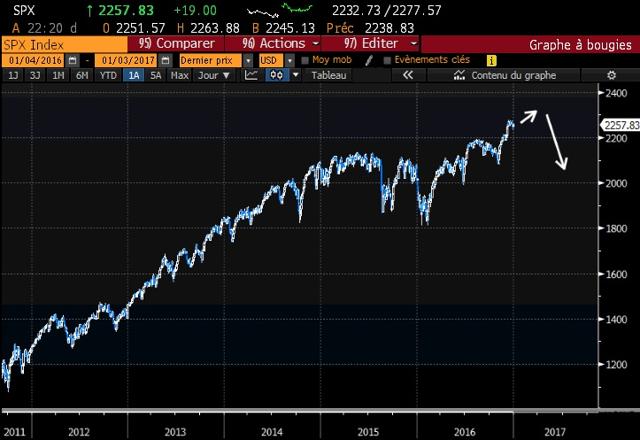 With European equities enjoying their ECB-sponsored quantitative easing festival, we see more upside in Europe before the party comes crashing down. Look for the German DAX (NYSEARCA:EWG) to climb back to 2015 highs at 12,400 before gravity and the plethora of euro zone problems set in. The perception of negative consequences from Brexit will resurface in 2017. Expect major European indexes to finish 2017 in negative territory, although there may be plenty of excitement in the interim.
German DAX: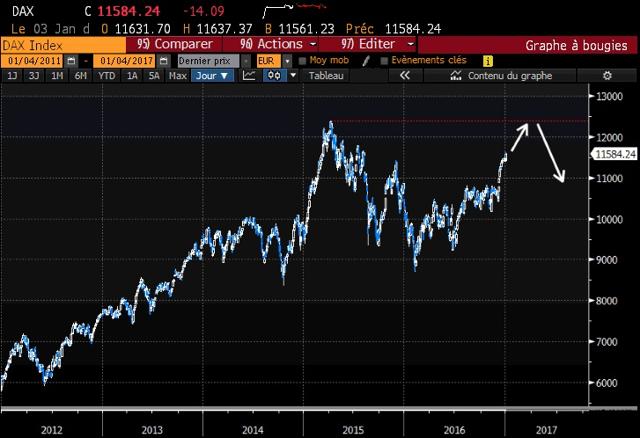 Japanese equities (NYSEARCA:EWJ), like European equities, will continue to enjoy excessively accommodative monetary policy in 2017. NIRP and asset purchases are the core business of the Bank of Japan (BoJ). While astute observers recognize that central bank actions encourage excessive risk taking, incoherent valuations, and will eventually lead to a financial market meltdown, in the interim investors are going to bid up equities beyond all limits of reason. The weakening yen also gives a nominal excuse to rush into Japanese companies, as a weak yen bolsters profits for Japanese firms. Whenever panicked global investors finally move to a risk-off allocation, you can be sure that the yen will start a disorderly appreciation. And what pushed Japanese equities higher in the past months will also pull them down just as fast.
Nikkei: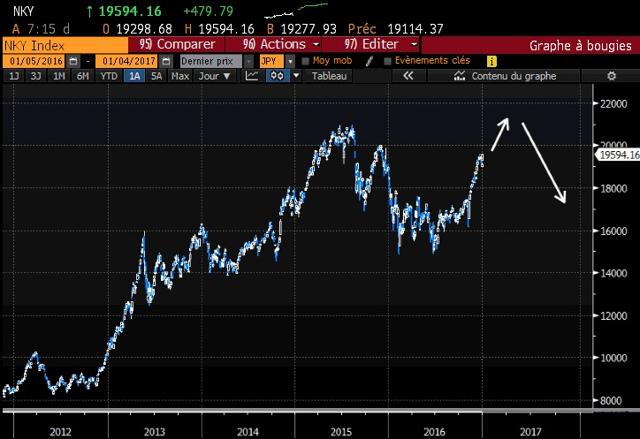 Emerging market equity markets have not been "administered" by central banks as have U.S., European, and Japanese equity markets. And the difference is immediately apparent in the chart of the MSCI Emerging Markets Index below. Emerging market equity (NYSEARCA:EEM) performance will have to rely on global economic growth. It is not impossible to see a decoupling between developed and emerging markets equities should the financial market bubbles burst, independent of expanding global economic growth. With a P/E around 12x earnings, and stronger economic growth rates, a true buy-and-hold investor would be much more advised to park money in emerging market equities today.
MSCI Emerging Market Index: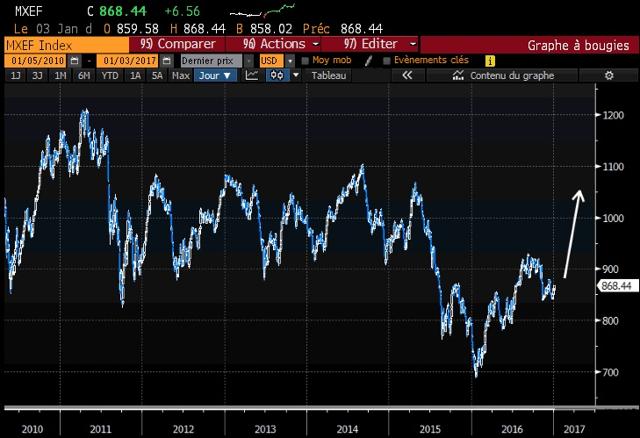 Bond Market
Rates on U.S. government 10-year T-Notes (NYSEARCA:IEF) broke above the three-year falling trend line following Trump's election win (see below). From a technical point of view, this potentially represents a major trend reversal higher in rates. Fundamentally, Treasuries had been very over-bought for some time as investors have been chasing after yield. The perspective of massive fiscal spending under Trump, along with tax cuts, inevitably implies that U.S. debt will also be increasing massively. More borrowing (supply of Treasuries) will push yields higher. And a more indebted federal government reduces the credit quality of U.S. Treasuries, which should increase the risk premium and yields. On this basis, we forecast U.S. 10-year yields to break above the 3% barrier in 2017 and trade between 3% and 4%.
The risk to our scenario is that Trump and Congress end up compromising on a watered down spending bill and tax cuts. This will both reduce the market's forecast for increased borrowing by the Treasury and likely provoke a sell-off in risk assets, priced for perfection. Should equities sell-off sharply, the outflow of cash from equities will likely go into the bond market, pushing yields back down. We can also count on the Fed not to deliver three rate hikes in 2017 as FOMC members currently forecast. A reversal in Fed policy could also pull the whole yield curve down.
U.S. 10-year Treasury yield: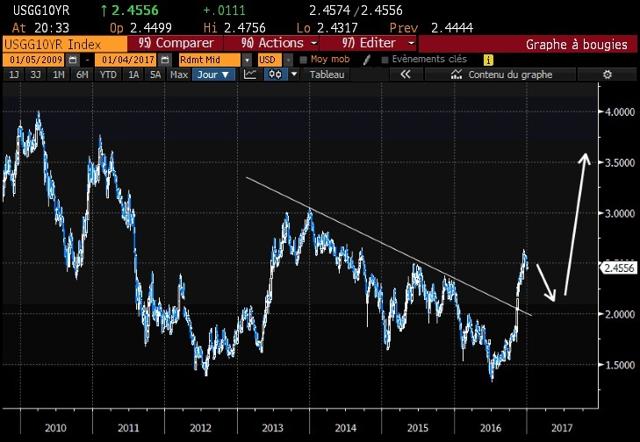 In Europe, the 10-year German Bund yield recently exited negative territory. With the ECB's massive bond-buying program, it is difficult to imagine European yields backing up. We expect the 10-year German yield not to deviate too far from 0.50% in 2017.
German 10-year Bund yield: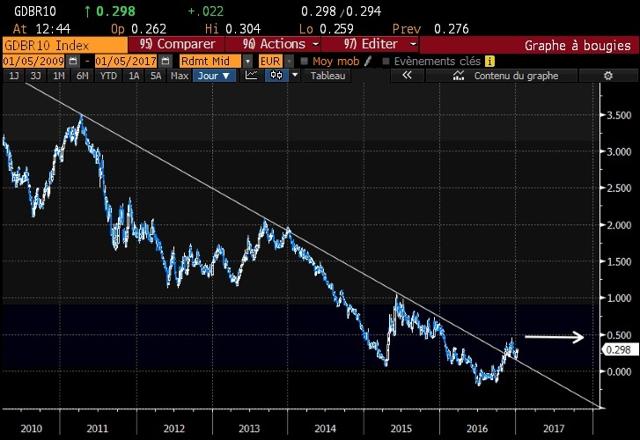 Commodities
West Texas crude oil (NYSEARCA:USO) broke out this past December to a new high since the summer of 2015. We had noted several times in our Daily Updates the inverted head-and-shoulders pattern forming on crude oil. The break of the neckline in green at roughly $52/barrel (see chart below) has not been clean (passing back below once already). Despite the head-and-shoulder figure, we are only mildly bullish on crude oil. We can expect crude to trade up to $60/barrel this year, but we do not see crude reaching the figure's target around $78/barrel. First, continued dollar strength should restrain oil prices. Second, oil's recent move higher on OPEC's production cuts should not be sustainable. Oil traders tend to buy when OPEC announces production cuts, then buy more as OPEC negotiates the terms of the production cuts, then traders finally sell when OPEC's final agreement disappoints (as it usually does). Barring a booming global economy in 2017, which we do not see, demand for oil should not be sufficient to send crude above $60/barrel.
West Texas Crude Oil: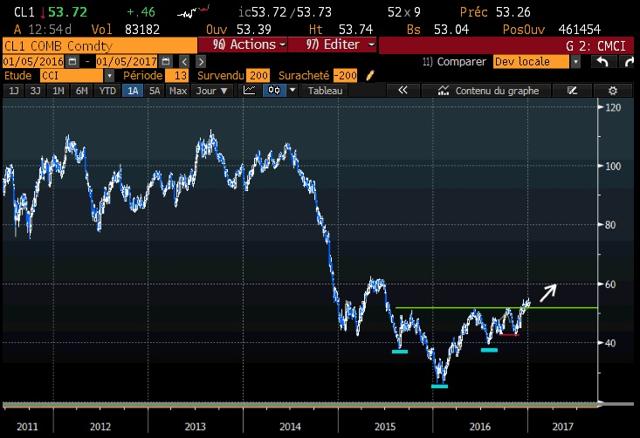 We remain bullish on gold (NYSEARCA:GLD) for both technical and fundamental reasons. Technically, gold broke above major, multi-year falling resistance early in 2016 (red line in chart below). Despite the sharp pullback in the second half of 2016, the price on gold just successfully retested this trend line, as resistance became support. This is a very bullish development for gold. Fundamentally, gold is a store of value that central banks can not devalue. In a world of money printing, it is naive not to anticipate future inflation (albeit inflation has for the time being remained confined to financial markets). The safe haven quality of gold should also be sought after this year, as there is a significant risk of the perfect scenario now being priced into equities not occurring in reality. We see gold at least retesting $1,400/oz in 2017.
Gold: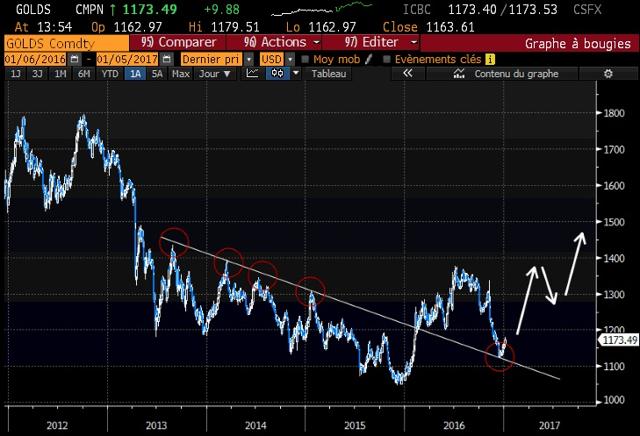 Silver (NYSEARCA:SLV) similarly broke a multi-year falling resistance line in early 2016, suggesting that the bear market in silver has ended. Expect silver to trade in-line with gold in 2017. We see silver at least retesting $20/oz in 2017.
Silver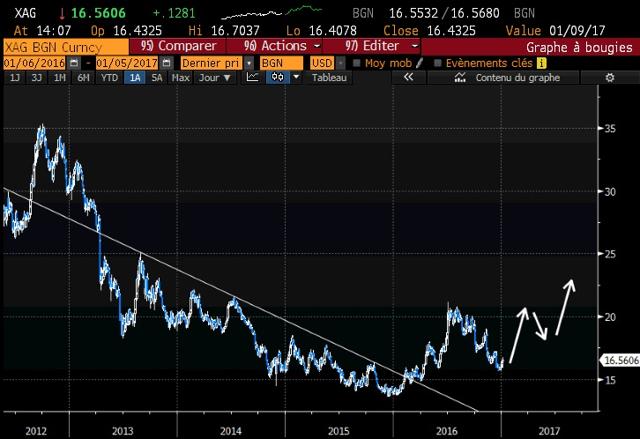 Currency Markets
The ongoing theme in currency markets is the persistent strength of the U.S. dollar. Since the Federal Reserve ended quantitative easing in 2014 and started a nebulous discussion of a rate hike, the dollar began climbing against most world currencies. In 2015 and the first three quarters of 2016 the dollar index fluctuated within a rather narrow +/-7% trading range. The election of Donald Trump, bringing hopes of stronger U.S. economic growth, reignited the dollar rally, with the dollar index breaking to a 13-year high. The Federal Reserve's forecast to add three more rate hikes in 2017 added more tailwind to the dollar.
Dollar Index: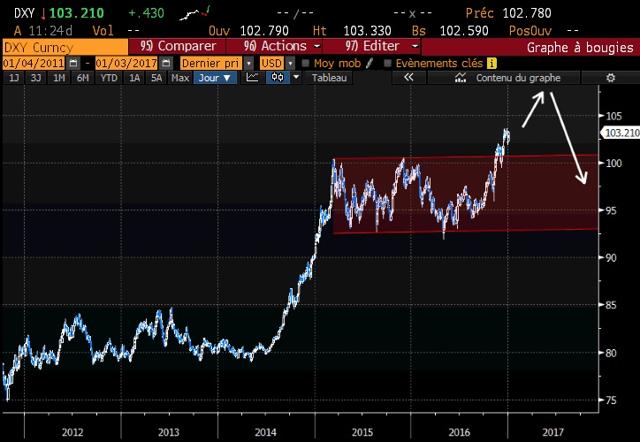 While the dollar index may have more upside based on positive momentum, as discussed above, the longer-term outlook for the dollar is less constructive. Again, blowing a hole in the U.S. deficit and seeing U.S. national debt increase by another $10 trillion under Trump should destabilize the U.S. economy and the dollar. The strong dollar should also hurt U.S. firm profits, reducing sales and profitability, and weakening demand for the dollar. The Fed will also likely intervene in this case to support U.S. equity prices and the economy, attenuating (or reversing) it's forecasted rate hikes. The dollar strength should likely set in motion factors which should eventually bring the dollar back down.
Against the euro, we can foresee the dollar attaining parity on the back of momentum and investor exuberance. European Central Bank quantitative easing will continue after March, pulling down the euro against major world currencies. Technically, the euro has broken to multi-year lows against the dollar, as the 2015 support level gave way in the final quarter of 2016.
EUR/USD: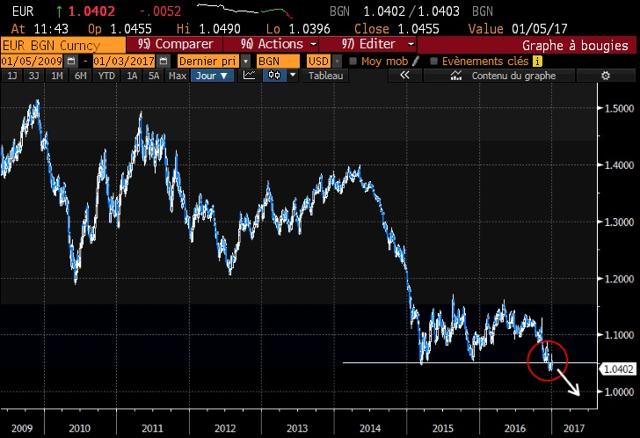 Against the yen, we believe that the dollar will continue progressing, perhaps to 2015 highs near ¥126, provided the Bank of Japan (BoJ) remains on the easing path and we don't see a general market panic. The USD/JPY trend will continue in favor of the dollar until investors begin preparing portfolios for the risk-off trade. Despite BoJ easing, we believe that the yen will once again be sought out as a safe haven once markets begin repricing risk.
USD/JPY: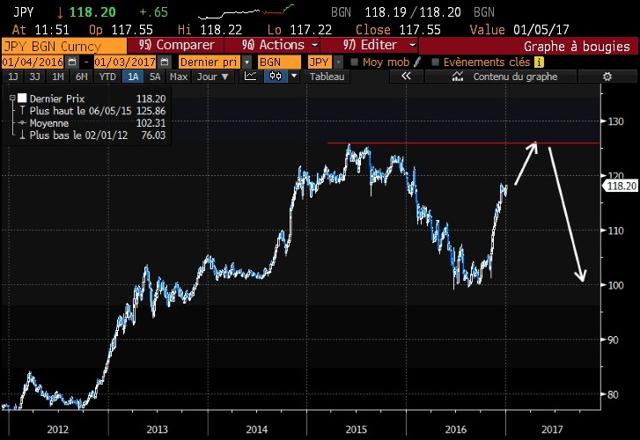 The British pound was sold in reaction to Brexit. At the same time U.K. stocks surged with Brexit. Our guess is that the Brexit bark will be worse than the Brexit bite, and the U.K. economy will not collapse when the U.K. leaves the European Union. If we had to pick one under-valued currency to buy today, it would be pound sterling.
GBP/USD: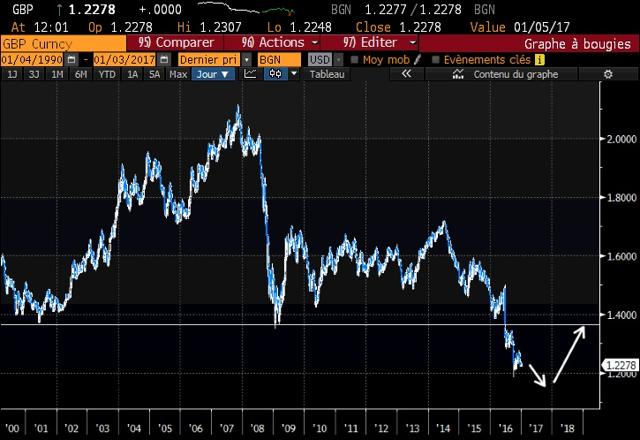 Economic Outlook
Although the effects of Trumponomics will not be fully felt by the economy this year, we see U.S. economic growth picking up slightly in 2017. Expect real GDP to climb at an annualized real rate of 2% to 3%, below estimates of overly-optimistic Wall Street economists. Actual measures that will be implemented by the Trump administration will take a substantial amount of time before they will be felt in the economy and translate into higher activity. In addition, the dollar headwind typically has a marginal impact on a growing overall economy. However the dollar's recent swings are big enough put a real crimp on growth. Nevertheless, purchasing managers' indexes remain positively oriented and the Fed will continue to be extremely supportive of economic growth. The economy should continue to decouple from equity markets in 2017. We are quick to remind readers that it is not impossible to see a bear market in equities as excess valuations are unwound, even as economic growth remains positive.
In Europe, we remain more pessimistic on the economic outlook for the euro zone. Asset purchases and NIRP will not be sufficient to jump start euro zone growth, which we expect to remain anemic. Expect 1% annualized real GDP growth for the euro zone, at best. Europe's debt problems, Brexit, and unintended consequences of the ECB's unconventional monetary policy tactics put risk to the downside.
Our economic outlook for Japan is a carbon copy of our outlook for Europe. With an economy driven by central bank policy and unexceptional macro indicators, we don't expect growth much higher than 1%, even with the tailwinds provided by the weak yen.
Finally, we expect that growth in emerging economies will to be supported by improving commodity prices. Continued dollar strength and uncertain trade policies under Trump could pose risks for growth in developing markets. We see emerging economies as a whole growing at 4% this year. Assuming this stable growth rate, emerging equity performance will depend on dollar strength, commodity prices, and any contagion from a sell-off in developed market equities.
Conclusion
We expect 2017 to be even more challenging than 2016 for investors. The "good news" of Trump's economic program has been largely priced into equities. Equity valuations already reflect expectations for much stronger earnings. Optimism among investors is now excessive, if not approaching euphoria. In markets priced for perfection, even slight disappointment can bring sharp selling. Hopes that Trump and Congress will work in harmony is unrealistic. Moreover, the initial concerns of markets of seeing Trump as president are still valid. Instigating trade wars and preventing market-directed free-trade is not an economically efficient outcome. A foreign policy blunder (likely started by a Trump tweet) is very possible. Finally, the debt problems which caused the Financial Crisis have only been swept under the rug. The U.S. and Europe have "solved" debt crises by adding more debt. Financial markets are living on borrowed time, although we don't foresee the day of reckoning occurring in 2017.
A Chinese proverb (actually a curse) says "may you live in interesting times". This is one prediction that we can be sure of for 2017.
Disclosure: I/we have no positions in any stocks mentioned, and no plans to initiate any positions within the next 72 hours.
I wrote this article myself, and it expresses my own opinions. I am not receiving compensation for it (other than from Seeking Alpha). I have no business relationship with any company whose stock is mentioned in this article.