Investment Thesis
e.l.f Cosmetics (NYSE:ELF) is an undifferentiated and low profitability retailer in a highly competitive industry trading at an EV/EBITDA of ~46x and Forward P/E of ~78x with high debt levels, which make it an interesting short candidate.
About e.l.f Beauty
e.l.f Cosmetics is a retailer based in New York City. Founded by Joseph Shamah and Scott Vincent Borba in 2004, the company sells products mostly at the $1, $3, and $6 price points. Items include bath and skin-care products, mineral-based makeup, professional tools, eyeliners, lipstick, glosses, blushes, bronzers, brushes, and mascara, etc.
The cosmetics retailer priced its initial public offering at $17.00 a share to raise $141 million, and the stock opened at $24 a share on its first trading day (September 22, 2016). The company is majority owned by TPG Growth II Management, LLC, which acquired the company in January 2014. TPG e.l.f Holdings, L.P. owned 56.8% of shares prior to the offering.
The items first retail on the e.l.f. site and the company waits to see how consumers react before deciding whether to move to sell them in other retailers or its own bricks-and-mortar stores. The products are available in 19,000 stores in the U.S., including Wal-Mart, Target and CVS Health. The company also had nine e.l.f. stores in the New York area as of August 2016.
Still, the company notes that its products take up an average of five feet of space in the cosmetics sections of major retailers, while legacy brands have an average of 15 to 18 feet.
Millennials, multi-cultural consumers and passionate makeup buyers are its core customers, according to the company.
Millennials flock to the makeup because of its low price point as well as the company's use of social media. e.l.f. has a large following on Instagram, Facebook and YouTube, a necessary new marketing tool for the cosmetics industry.
The company is also helped by those enthusiastic makeup buyers, who drive the overall makeup category. In 2015, consumers bought an average of more than nine units per transaction on e.l.f.'s site.
The following chart provides a high level overview of current valuation metrics and share price performance since IPO:
Source: Yahoo Finance Website
Attractive Short Candidate
I believe that the company is an attractive short candidate for 4 key reasons:
1) High Valuation: The share price is up ~73% since IPO and the company with its current market capitalization of ~$1.3 billion is trading at a very high EV/Revenue of 6.6 and EV/EBITDA of 46.0. Its GAAP financial statements show slowing growth, unpredictable cash flow generation, as well as declining EBITDA. I am not sure how such a high valuation can be justified here.
2) High Debt Levels: The company has net debt of $148 million as at September 2016 with Net Debt / EBITDA ratio of ~5.0. Also, based on the most recent quarterly statements, one can see that the Cash Flow from Operations minus Capital Expenditures figure for this business is NEGATIVE.
3) Poor Products: My own opinion is that despite all the hype, the products are poor and a lot of customers are not going to be repeat customers here.
The following reviews and ratings for the company's products are provided on the GoodGuide Website: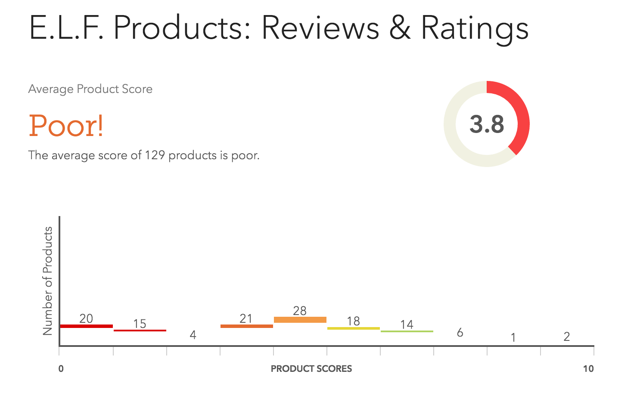 Source: Goodguide Website
4) Highly Competitive Industry: e.l.f. operates in a highly competitive cosmetic retail industry with much larger players (e.g. Revlon, Cover Girl, as well as cheaper brand players such as Ulta and NYX). I am not quite sure what e.l.f.'s competitive advantage and differentiation are in this highly competitive market.
Short interest increased by 20% from Nov. 30th to Dec. 15th. It's currently 7.4% of float.
In a nutshell, I would recommend investors to AVOID or SHORT the shares of e.l.f.
Disclosure: I/we have no positions in any stocks mentioned, but may initiate a short position in ELF over the next 72 hours.
I wrote this article myself, and it expresses my own opinions. I am not receiving compensation for it (other than from Seeking Alpha). I have no business relationship with any company whose stock is mentioned in this article.