Investing these days seems to be very complicated with different forces pushing and pulling at one another. Often though I find that people tend just to pay attention to the equity market (NYSEARCA:SPY) and forget about the other three markets, the bond, currency and commodity markets. In my article earlier this week, I highlight that I would go through the sectors that I thought could benefit in 2017. Everyone that reads my work knows that I pay attention to all the markets because when you start piecing them all together, they start telling a very different story then what you seeing by watching one market.
Currency fluctuations and yield movements can have a significant impact on helping to find opportunities in the equity market. This becomes simple once you can begin to understand the relationships.
Yields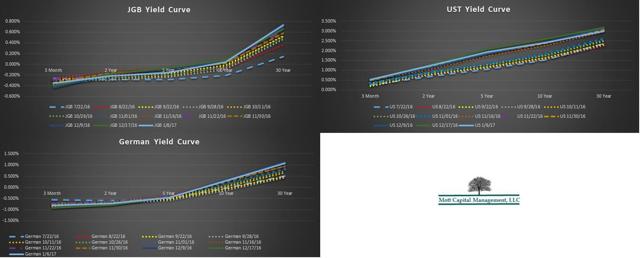 (Mott Capital Management, LLC)
Globally, the yield curve has steepened significantly since the summer. However, it seems to be easing back some over the past couple of weeks. We can see this better in the 10-2s chart.

(Mott Capital Management, LLC)
We can see since the middle of December, the 10-2s spreads have been tightening after a couple solid months of widening. The bigger question is this change a new trend? We can see in the 10-10s chart that recently the US 10-Year Treasury spreads vs. the Bund, and JGB is perhaps beginning to reverse months of widening. However, is this a shift or not? It may be too soon to tell. Why do we care about the direction of yields? Well, because it influences those freely traded FX markets.
FX
Euro (NYSEARCA:FXE)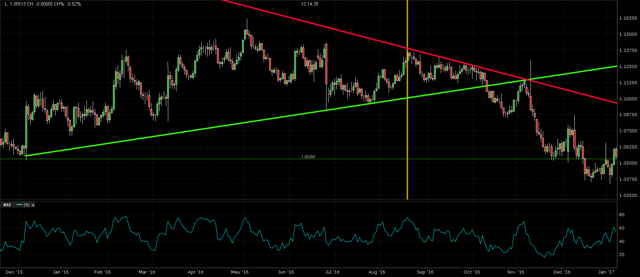 (Interactive Brokers TWS)
The orange vertical line you see drawn on the chart is around the middle of August for the chart above of the Euro, around the same time we began to see the spreads between the 10-year Treasury and 10-Bund widen. You can see the Euro weaken from around 1.13 to the Dollar all the way down to where it is now around $1.05.
Yen (NYSEARCA:FXY)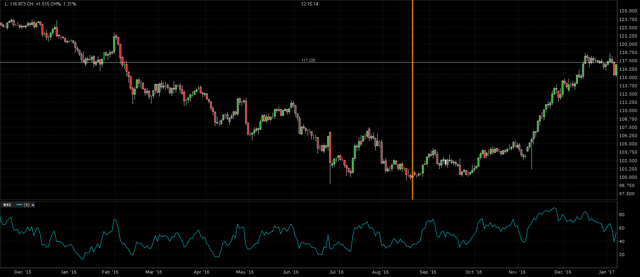 (Interactive Brokers TWS)
Same thing here in the Yen. We can see as the 10-year Treasury yield widened and the Yen weakened. From around 100 Yen to today's 117 Yen to the Dollar.
Let's not mince words - these are big moves in a relatively short time frame. We are talking about a 7% move in the Euro and a near 17% move in the Yen.
Sectors
So how do we use this information to determine what it could mean for different market sectors? Well, the first sector that immediately comes to mind when yields move higher are financials (NYSEARCA:XLF). Higher yields should be good for the banks that borrow short and lend long. As the spread between the short dated and long dated yield grows, the banks should become profitable. We see the an example of the widening spread in the 10-2 chart above.
XLF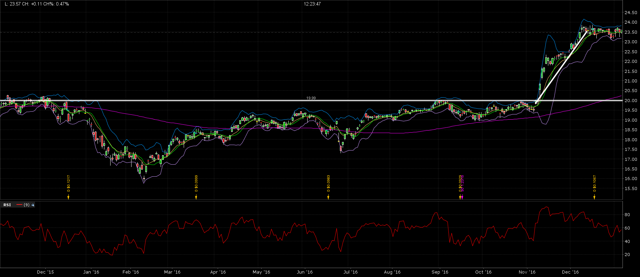 (Interactive Brokers TWS)
Next, we can start thinking about imports. Companies that buy goods from overseas should do well also. Companies that are in the Discretionary (NYSEARCA:XLY) and Technology (NYSEARCA:XLK) sectors.
XLY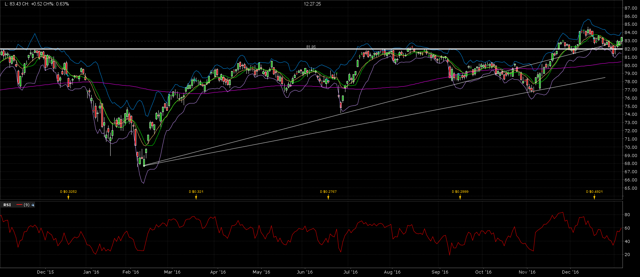 (Interactive Brokers TWS)
Why haven't the discretionaries performed well yet? In my opinion, we are probably not going to see the benefit until we start seeing quarterly results.
XLK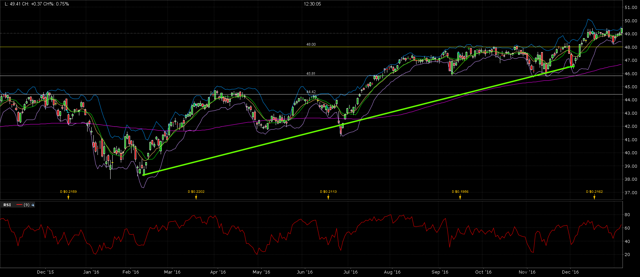 (Interactive Brokers TWS)
Sectors likely not to do well in a strong dollar, rising rates world include gold (NYSEARCA:GLD).
GLD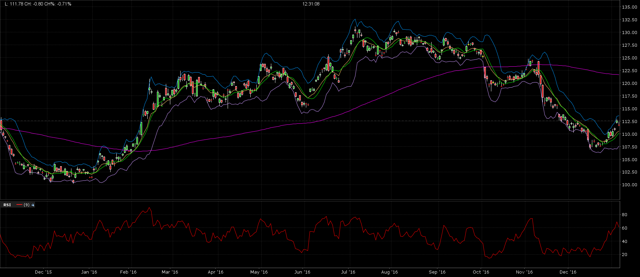 (Interactive Brokers TWS)
Staples and utilities are likely not going to do well. Higher rates are not good for higher yield equities, and utilities (NYSEARCA:XLU) and staples (NYSEARCA:XLP) are likely to fall into that category. Also, the other harm to a staple is if they fall into the multinational bucket. Meaning that they export goods or have goods they sell overseas. When these companies report their earnings back into dollars, they are likely to lose out on the exchange rate.
XLU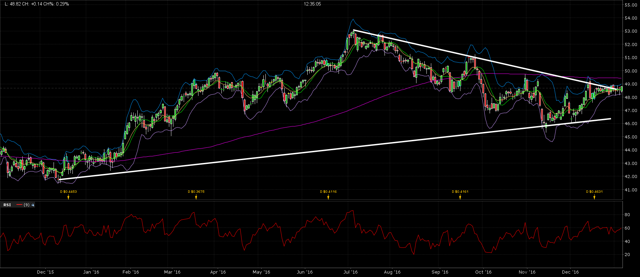 (Interactive Brokers TWS)
XLP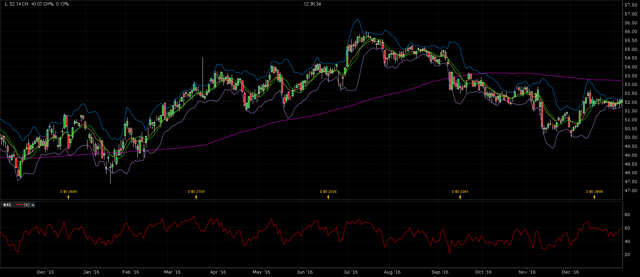 (Interactive Brokers TWS)
You can even put healthcare (NYSEARCA:XLV) and the big pharmas into this camp.
XLV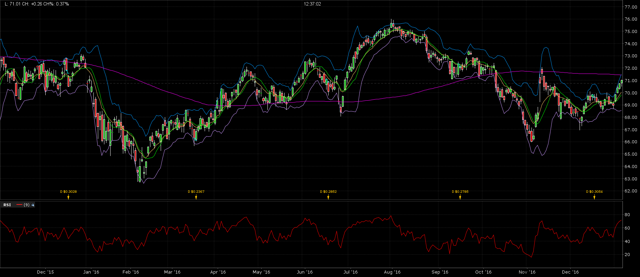 (Interactive Brokers TWS)
Question Marks
Materials should be weaker, but they are not because of expectations for fiscal policy. In fact, materials (NYSEARCA:XLB) have rallied because of the expectations of infrastructure spending. If you don't see a bill that is big enough to appease investor appetite, materials will be something you don't want to own.
XLB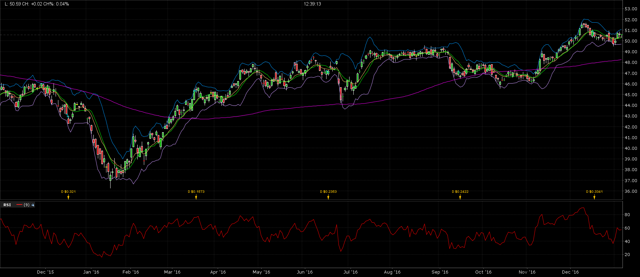 (Interactive Brokers TWS)
That leaves us biotech (NASDAQ:IBB). Biotechs, for the most part, are start-ups or early stage companies. So higher yields could affect funding cost, but that is about it. Even so, rates are still extremely low, so I don't see that being much of an issue. Biotech has political risk at the moment, but I think that risk subsides with time. In fact, it looks like the group just broke out today.
IBB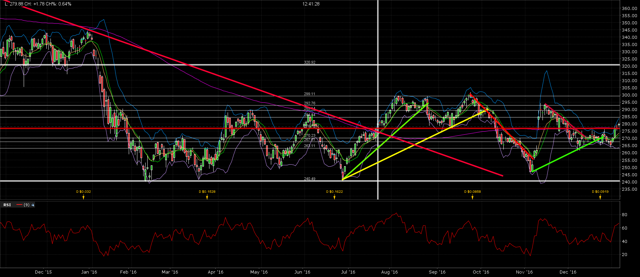 (Interactive Brokers TWS)
Summary
We will have to keep an eye on the spreads between the 10-Year Treasury, Bunds and JGBs. If the move lower we saw this past week is a sign of a new trend, we would have to readjust our thinking on many of these. I hope today was a good illustration as to why I pay attention to the bond, currency and equity markets because quiet frankly it helps me to find themes and trends in the market. In fact, I do a whole video column showing you just how I go about do this. I will also include a free sample scorecard for you to view.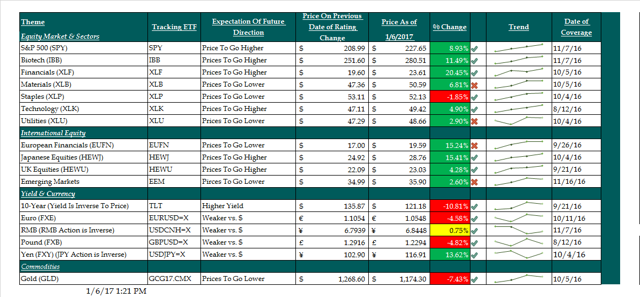 This chart is for informational purpose to track our view on the sectors we are watching. This chart is not a recommendation to buy an ETF; the ETF is being used for tracking purposes solely.
Also, here is our latest Reading The Markets Video, talking about some of these themes and trends.
If
Remember in our research area we offer video market commentaries and track market themes and trends. If you'd like to get a full listing of the different items we currently have a rating or view on, you can find a list in our research area. Remember, if you like reading these commentaries, make sure you follow us with that little "+" button at the top of the page next to our name.
Disclosure: I/we have no positions in any stocks mentioned, and no plans to initiate any positions within the next 72 hours.
I wrote this article myself, and it expresses my own opinions. I am not receiving compensation for it (other than from Seeking Alpha). I have no business relationship with any company whose stock is mentioned in this article.
Additional disclosure: Mott Capital Management, LLC is a registered investment adviser. Information presented is for educational purposes only and does not intend to make an offer or solicitation for the sale or purchase of any specific securities, investments, or investment strategies. Investments involve risk and unless otherwise stated, are not guaranteed. Be sure to first consult with a qualified financial adviser and/or tax professional before implementing any strategy discussed herein. Past performance is not indicative of future performance.